'Ted' & 'Magic Mike' Huge at Friday Box Office!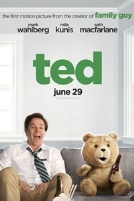 Topping the Friday box office with close to $21 million (incl. $2.625M in midnights), Ted from Universal knocked the stuffing out of the competition and is off to a great start and possible weekend gross in the $45 to $50 million plus range depending on word-of-mouth and the strength of the eventual Saturday and Sunday numbers.
Warner Bros.' Magic Mike also had a tremendous and surprising Friday gross of $19.4 million according to studio estimates. A $40 million plus weekend is in the cards for "Mike" as women continue to get their beefcake fix this weekend. It seems that women truly made this the first of their "girls night out" activities this weekend and as such stuffed Mike's g-string with lots of box office singles!
"Brave" from Disney/Pixar came in third with $10.328 million, but will obviously have a big boost on Saturday and Sunday when family films traditionally earn the lions hare of their weekend gross and should earn $35 to $40 million for the weekend. The film passed the $100 million mark in North America on Friday with a total of $108 million after just 8 days in release!
Lionsgate's "Madea's Witness Protection" gives Tyler Perry yet another solid debut with about $10.4 million on Friday and a possible $25 to $30 million for the weekend which is better than the low $20 million gross that was anticipated.
A terrific weekend is in the making with Friday revenues up nearly 20% over the comparable Friday a year ago when "Transformers" 3D led the weekend.