'Ted' & 'Magic Mike' Lead Strong Box Office!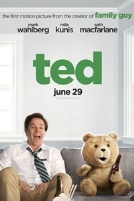 Four newcomers entered the fray in this crowded pre-Fourth of July weekend with "Ted" from Universal, Warner Bros.' "Magic Mike," Lionsgate's "Tyler Perry's Witness Protection" and "People Like Us" from Disney all making their wide release debuts. This was a very tough weekend to predict but "Ted" and Magic Mike came out on top!
Seth MacFarlane and Universal bring the R-rated comedic fantasy Ted to 3,239 theaters this weekend and a much bigger-than-expected $54.1 million worth of box office bear stuffing was the result. Starring Mark Wahlberg and Mila Kunis the pure insanity of the concept had audiences buzzing all weekend long and the date-crowd lined up in droves this weekend. The red band trailer created a sensation when it hit the internet many weeks ago and the buzz has been building ever since. Giovanni Ribisi makes an impression in a supporting role that has to be seen to be believed and Kunis and Wahlberg are well cast in their roles. However, it is Seth MacFarlane's foul-mouthed teddy bear that steals the show along with a couple of cameos that will have audiences pleasantly shocked. This was the biggest R-rated comedy non-sequel debut ahead of "The Hangover" ($44.979M) and the third highest R-rated comedy debut behind "Hangover 2" ($85.9M) and "Sex and the City" ($57.038M).
R-rated films were well represented this weekend with Warner Bros.' "Magic Mike" taking it all off for an appreciative female fan base with much better-than-expected $39.1 million. Much like the "Sex and the City" films, this movie will be the centerpiece for a perfect "girls night out" and as we have seen in the past, this can be a powerful draw at the box office. Channing Tatum, who has been on a box office roll of late will bring out his devotees as well as fans of Matthew McConaughey and Joe Manganiello who take it all off for acclaimed director Steven Soderbergh. A terrific marketing campaign as well as solid word-of-mouth could fuel an even stronger than expected debut for this film that is tailor-made for the female demographic. Magic marketing gave the film a terrific better-than-expected debut as women stuffed the box office with singles and giving Soderbergh (beating 2004's "Ocean's Twelve" ($39,153,380) the best debut of his career if estimates hold. Channing Tatum is box office gold (had "The Vow" ($41.2M debut in Feb.) and "21 Jump Street" ($36.3M debut in March).
Disney/Pixar's 13th movie release, "Brave" in 3-D should had another solid weekend but was hurt a bit by all the increased competition in the marketplace with a 49% drop and $34 million in its second weekend of release. Kelly MacDonald voices the bow and arrow wielding protagonist Merida along with a terrific cast that includes Billy Connolly, Emma Thompson, Julie Walters and Robbie Coltrane. With $66 million in its opening weekend the film gave the Pixar brand its latest (and 13th) number one debut and a modest second weekend drop of 35 to 40% should give it the competitive edge this weekend. "Brave" hit the bullseye on the $100 million target in North America on Friday after just eight days of release and now has a North American total of $131,685,000 through Sunday after just 10 days in theaters.
The prolific and popular Tyler Perry brings his latest, Madea's Witness Protection from Lionsgate to 2,161 theaters this weekend with an impressive $26.35 million. The PG-13 rated comedy stars Perry playing a total of three characters in the film about a Wall Street banker who is the victim of a ponzi scheme set up that finds himself and his family in the home of their Aunt Madea and the comedy that ensues. A truly bankable brand, Perry and particularly his films that feature "Madea" in the title have always been consistent performers at the box office. This is the first Tyler Perry summer release and drew a major crossover audience (70% African American vs. normal 80% for Perry), and is the fourth best debut for Perry despite facing huge competition this weekend as his fan base supported the film.
Paramount Pictures PG-rated "Madagascar 3: Europe's Most Wanted" from Dreamworks Animation entered its fourth weekend with around $168 million in North America. A weekend gross of $11.8 million enabled it to cross the $180 million mark as it continues to draw family audiences despite increased competition from Brave. The 3D family favorite is also a global hit as it continued to play in 7,011 cinemas in 44 countries in its fourth weekend and brought in $16.2M, pushing its international cume to $244.2 million and the worldwide total to $424.2 million.
Disney's "People Like us" starring Chris Pine, Elizabeth Banks and Michelle Pfeiffer follows Pine as a high energy salesman who is called back to California for his estranged father's funeral and the family drama that develops. The film opened with $4.3 million in 10th place which was a bit disappointing for this engaging PG-13 drama that also stars Olivia Wilde.
This was a surprising "Up" weekend vs. the comparable frame a year ago when Paramount's "Transformers: Dark of the Moon" led an extended holiday weekend that benefitted from a Monday, July 4 holiday and gave the film a record Fourth-of-July haul of $97.8 million for Friday through Sunday and a four-day total of $115.9 million.
Next week three newcomers enter the summer movie sweepstakes with Sony's "The Amazing Spider-Man," Paramount's "Katy Perry 3-D" movie and Universal's Oliver Stone drug epic "Savages."
Weekend Box Office (Estimates)
Top Movies for Weekend of June 29, 2012
Movie Weekend Gross Total to Date
1 Ted (R) $54.1M $54.1M
2 Magic Mike (R) $39.1M $39.1M
3 Brave (PG) $34.0M $131.7M
4 Tyler Perry's Madea's Witness Protection (PG13) $26.3M $26.3M
5 Madagascar 3: Europe's Most Wanted (PG) $11.8M $180.0M
In international box office news Fox's "Ice Age: Continental Drift" is off to an incredible start!
This from Fox International:
Shattering box office records on its way to a US $78 million International opening weekend from 9,505 screens in 34 markets the animated box office hit had #1 openings in all 34 markets, with an additional #1 ranking in the UK, from previews alone (UK opens officially on July 13). Industry Biggest Opening Weekend ever in: Argentina, Colombia, Peru, Central America, and Chile
Industry Biggest Animated Opening Weekend ever in: Norway, Sweden, Ecuador and Bolivia
Biggest Fox Opening Weekend ever in: Mexico and Brazil
14 new markets (19 countries) open the film this coming week, including Germany and Holland, followed by an additional 16 markets/29 countries day & date with the US, including UK and Russia. South Korea and India release on July 26 and 27, respectively, followed by Italy on September 28.
Sony's The Amazing Spider-Man is also spinning a huge box office web in the international marketplace.
This info courtesy Sony Pictures:
In its first weekend of release, THE AMAZING SPIDER-MAN grossed an estimated $50.2 million in 13 overseas markets. Our favorite swinger was amazing indeed in Asia while Europe remains under the influence of the Euro Cup football championships until tonight, with school vacations in full effect starting tomorrow.
KOREA earned $13.4M on 1,213 screens, capturing a 71% market share. The KW15.8B total for Thursday to Sunday is the 3rd biggest of all time for a Hollywood film, behind only the 2nd and 3rd TRANSFORMERS films. This is 24% bigger than SPIDER-MAN 3 and 10% more than The Avengers.
JAPAN opened with $11.4M on 1,092 screens, pulling in an estimated 84% of the country's Saturday-Sunday weekend box office.
INDIA grossed $6.0M on 1,236 screens, the biggest opening ever for a Hollywood film, 74% bigger than SPIDER-MAN 3, 73% more than AVENGERS, and more than double the lifetime box office of DARK KNIGHT.
The PHILIPPINES bowed with $3.2M on 529 screens, capturing the entire market in its opening weekend. This is the 4thbiggest Friday-Sunday opening ever (behind AVENGERS, TRANSFORMERS 3, and TWILIGHT: BREAKING DAWN.)
TAIWAN did $2.9M on 268 screens while taking in 73% of the market's weekend total. It is the 2nd biggest Fri-Sun weekend of the year (behind AVENGERS.)
HONG KONG earned $2.7M on 158 screens, pulling in 84% of the total market. This is the 4th biggest Friday-Sunday opening of all time (behind just TRANSFORMERS 3, AVENGERS, and HARRY POTTER AND THE DEATHLY HALLOWS PART II.)
SINGAPORE grossed $2.5M on 128 screens, the 3rd biggest Friday-Sunday opening of all time (behind TRANSFORMERS 3 and AVENGERS.)
THAILAND opened to $1.9M on 320 screens, capturing 81% of the market. 10th biggest Friday-Sunday opening of all time.
VIETNAM grossed $425K on 41 screens, the 6th biggest Friday-Sunday opening of all time (and the 5th biggest Hollywood film.) It has surpassed the lifetime box office total of SPIDER-MAN 3.
In Europe, GERMANY grossed an estimated $4.2M on 755 screens (50% market share), HOLLAND earned $850K on 113,AUSTRIA opened to $480K on 85, and SWITZERLAND did $290K on 130.
More:
Channing Tatum on 'Magic Mike': A Movie for the '50 Shades of Grey Era'
'The Avengers' Joins 'Titanic' and 'Avatar' in $600 Million Club
'Amazing Spider-Man': What 'Tracking for $125 Million' Actually Means