'Teenage Mutant Ninja Turtles': How Is Kid Cudi Involved?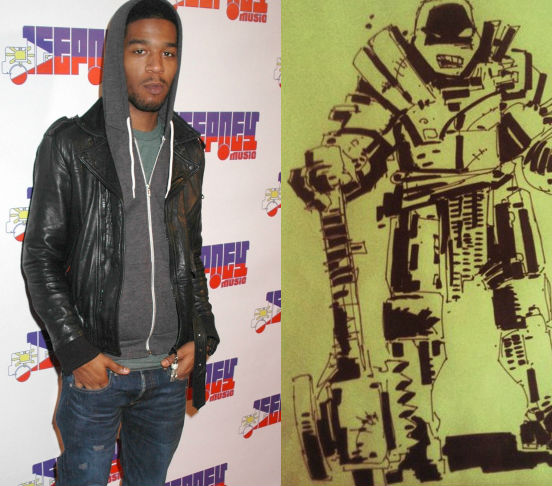 Over the course of the past few days, some mysterious rumors have materialized about the already controversial topic of producer Michael Bay's developing Ninja Turtles movie. It appears that hip-hop artist Kid Cudi will be somehow involved with the project. Cudi alluded to involvement in Ninja Turtles on his Tumblr, posting a piece of original artwork from the film's production, and citing a relationship with Ninja Turtles producers Andrew Form and Brad Fuller, concluding with a "Hint hint mane," (which, of course, makes it official). The Turtle portrait certainly looks like it could have come from outer space.
Furthermore, Fuller himself Tweeted the following message yesterday: "Kid Cudi In 'Ninja Turtles'? Rapper Drops Hints About Potential Involvement In Michael Bay's Remake," linking to this article from HuffPo. While it does look like Cudi is involved with the pic, it's still unclear how he is involved. Will he be acting? Providing original music? Turtle-wrangling?
Although Cudi is first and foremost a music artist, he has some acting experience. He starred as Domingo Brown throughout the HBO series How to Make It in America. Could Cudi be taking on a major role — perhaps one of the Turtles themselves? If so, which would suit him best? The diplomatic Leonardo? The rebellious Raphael? The free-spirited Michelangelo? The intellectual Donatello?
And if Cudi is on board solely as a soundtrack contributor, what might his hip hop rendition of "Heroes in a Half-Shell" sound like? Probably not this…
More:
TMNT: Why Michael Bay Should Make Crazy Changes
Michael Bay to Ninja Turtles Fans: Chill Out!
Wrath of the Titans Director Jonathan Liebesman May Helm New Teenage Mutant Ninja Turtles
[HuffPo]