'Texas Chainsaw 3D' Stars Alexandra Daddario and Trey Songz Promise Big Scares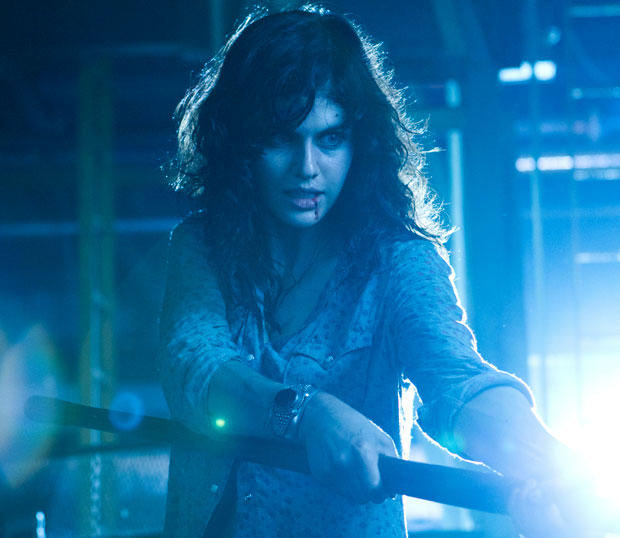 Just when you thought Leatherface had finally put his chainsaw to rest, he's back for blood – this time in 3D. Texas Chainsaw 3D, the newest installment of the franchise, picks up right after the original massacre in 1974, as the townspeople decide to exercise some justice of their own, burning down the Sawyer house and every last member of its creepy family.
Years later, 20-something Heather Miller (Alexandra Daddario) receives word that she has inherited a Texas estate from a biological grandmother she never knew she had. Embarking on a road trip, Heather and her friends decide to investigate her inheritance – including the locked-up basement. Can anything but trouble ensue?
"Expect to be scared," cautions singer-turned-actor Trey Songz, who himself had to be convinced to join the bloody escapade. "John [Luessenhop], the director, told me how much he wanted me to be a part of this film, but guys like me don't last very long in these films, so we had to have a couple of conversations about that," he says with a laugh.
Whether it was the prospect of being mauled in 3D or the opportunity to be part of the iconic franchise, the actor is now singing the horror flick's praises. "To have the chainsaw, blood and guts coming out, into you, that will definitely send you jumping out of your seat," promises Songz. Adds Daddario, "It's a really fun, scary ride!"
Watch the clip to hear about Daddario's fears of joining the epic series, what the actors love about Leatherface, and their theories on why he eventually always catches up with his victims.
Follow Carita on Twitter @CaritaRizzo
[PHOTO CREDIT: Justin Lubin/Lionsgate]
More:
Bad Trip: 'Texas Chainsaw' and the Horror Trope
How Will Horror Movies Continue to Frighten Us?
'Texas Chainsaw' 3D Adds Pretty People to Cast

'Buckwild' Stars Talk 'Jersey Shore' Comparisons: 'I Ain't Paying For No Tan' (EXCLUSIVE VIDEO) (Celebuzz)

Oscars 2013: Best Picture Race Is Down to 'Lincoln' Versus 'Zero Dark Thirty' (Moviefone)