'Texas Chainsaw 3D': Will There Still Be a Massacre? — POSTER
To date, there have been six Texas Chainsaw Massacre feature films released. Starting with the original horror classic in 1974 and its plainly named sequel in 1986, the franchise has spawned titles such as Leatherface: The Texas Chainsaw Massacre III (1990), Texas Chainsaw Massacre: The Next Generation (1994), and The Texas Chainsaw Massacre: The Beginning (2006). But the newest title has the most notable deviation: Texas Chainsaw 3D. There is no Massacre. This leads to the question: will there, in fact, be a massacre?
There's got to be. After all, look at the new poster for the film. All those heads! That screams "massacre" right there. So why opt away from such a mention in the title, then? Maybe for the element of surprise. Maybe for the simple appeal of brevity. Or maybe, just maybe, this episode of the series won't actually focus on the massacre, but on the chainsaw itself. The deadly weapon that has been cursed with the fate of killing innocents all over the Lone Star State. Did anyone ever think about how the chainsaw feels about all this? No. All you thought about were those… people. Typical.
Texas Chainsaw 3D comes out January 2013.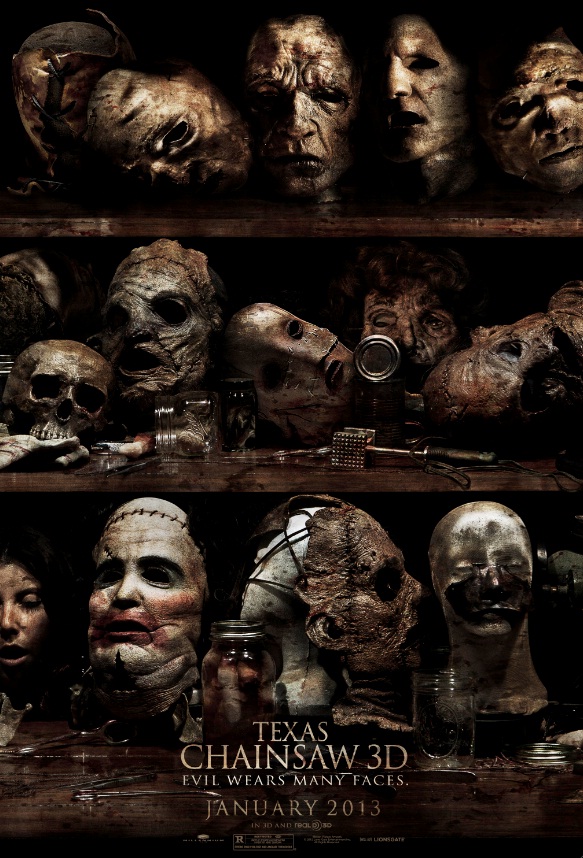 More:
'The Possession' Stars Talk On-Set Hauntings — VIDEO
'Hansel and Gretel: Witch Hunters': Why Does Gretel Have to Get Kidnapped? — TRAILER