Zac Efron Mixes Raunch and Sentiment in 'That Awkward Moment' Red-Band Trailer
We're not falling for it, Zac. We're smarter than that. You can't take Nicholas Sparks novel, drench it in a vat of testosterone, and call it a raunchy comedy for guys. It's just doesn't work that way.
That's exactly what Zac Efron and director and writer Tom Gormican are attempting with his new comedy That Awkward Moment. The film stars Efron, Michael B. Jordan, (who is clearly trying to win points for the Oscar race here), and Miles Teller, three dude-bros that swear off love after one of them is dumped. Single life is totes sweet and full of hijinks until all three of them fall into relationships that threaten to break their promise to each other.
Efron and company are trying pull the wool over our eyes with a genre-bending ruse. The trailer absolutely screams raunchy comedy but it also whispers the sweet nothings of romance into our ears. Stealthily running under the surface of all the sex jokes and naked Viagra gags, there's a sentimental love story begging us to believe in love again, … but we refuse to believe in love, not again.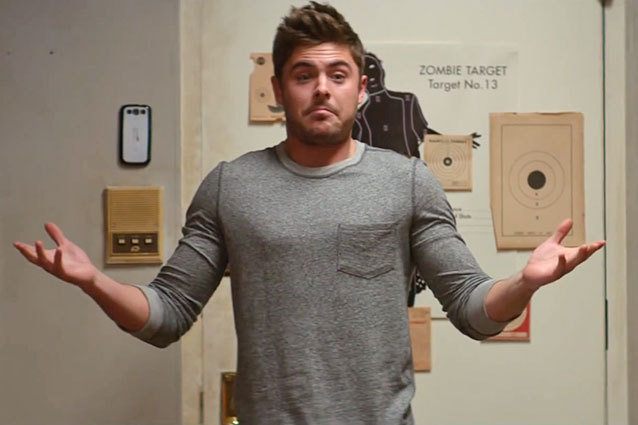 Yahoo Movies/YouTube
It seems that Zac and company are trying to make a romantic film that they think will appeal to men, or maybe even a romantic raunch-fest that they think both men and women would enjoy together. With this movie, it seems like the filmmakers are trying to break out of limiting categories that seperate supposed "guy movies" and "girl movies," and mashing them together into something else entirely, a feat that a film like Judd Apatow's Knocked Up managed succesfully. We're getting equal parts romance and shirtless Zac Efron for the ladies, and an extended "rock out with your cock out" joke so the guys can laugh at the two hallmarks male-targeted humor, simple rhyming and penises. But really, who says guys can't enjoy a little romance too.