The 20 Best Movies of 2012 (and the 5 Worst)
Year's end is close upon us and the Hollywood.com staff is finally ready to weigh in on the best of the best of big screen. We sat through movie after movie, January through December, to give you a definitive list of 2012's stand out films. Who made the cut? Read on for our writers' picks for the best movies of the year:
The Best
21 Jump Street (Picked By Kate Ward)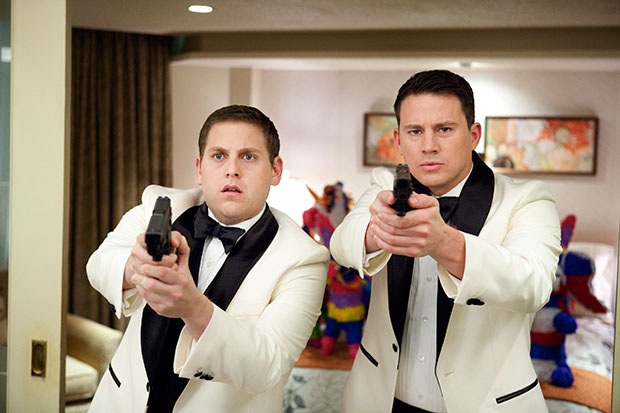 The reboot of the 1980s series starring Johnny Depp had everything going against it: It was released during the industry's March dead zone, which also happened to coincide with disinterested audiences' increasing desire to give all Hollywood reboots the boot. But 21 Jump Street jumped past all these hurdles, becoming not only one of Hollywood's few entertaining reboots, but one that showcased the surprising comedic talents of 2012's A-list breakout Channing Tatum. And in a year full of blockbuster tentpoles (The Hunger Games, Breaking Dawn — Part 2, and The Dark Knight Rises) and Oscar bait (Argo, Les Misérables, and Django Unchained), how could you not lend some support to 2012's true underdog?  
Amour (Picked By Matt Patches)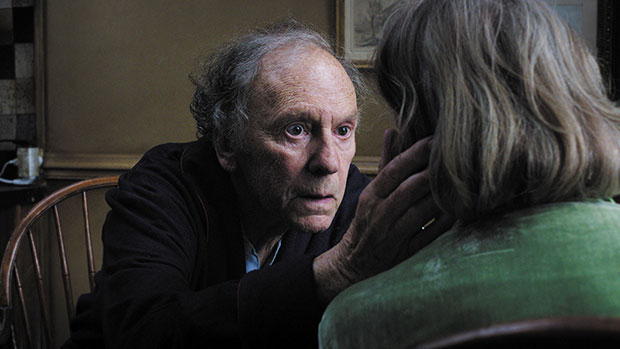 In the last 20 years, Michael Haneke has explored every facet of human evil, no act of violence or shame too perverse for his cinematic journeys. Amour is new territory for the auteur, certainly his sweetest film to date, yet continuing his trend of forcing us to confront our deepest fears as emotional beings. With two powerful performances by French actors Emmanuelle Riva and Jean-Louis Trintignant, Haneke's film follows an elderly couple who grapple with staying sane in the final moments of their lives. Anne (Riva) is bed-stricken and barely aware of her surroundings. Georges (Trintignant) dedicates his every minute to taking care of her. The audiences watches, inspired, shocked, and warmed by the simple, raw drama of it all.
Anna Karenina (Picked By Abbey Stone)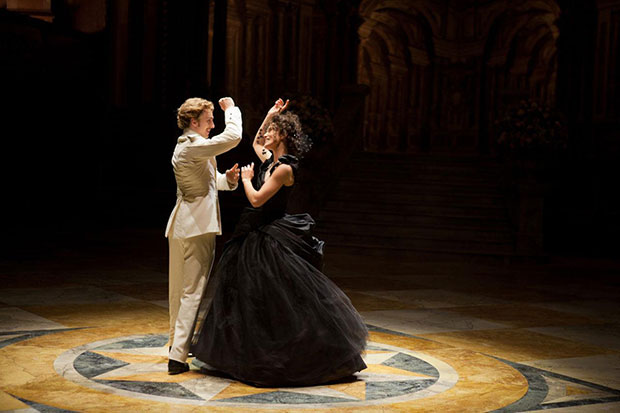 Jon Wright's luscious, highly stylized adaptation of Leo Tolstoy's classic story of love and despair divided critics, but I was captivated by it. A departure from Wright's sweeping retellings of such literary masterpieces as Pride and Prejudice and Atonement, Anna Karenina is claustrophobic, physically and figuratively. By trapping his characters in the ever-moving sets of an imperial theater (used to its best advantage in a heart-stopping horse race scene), Wright illustrates the rigid, suffocating bounds of Russian society life. Tom Stoppard's screenplay, meanwhile, takes Tolstoy's tome and strips it down to simple language that conveys the most elemental of human desires. The gorgeous costumes, actors, and landscape (a literal breath of fresh air when you venture outside the stifling theater) all compliment one another to create the film's mesmerizing dreamscape. 
Argo (Picked By Kelsea Stahler)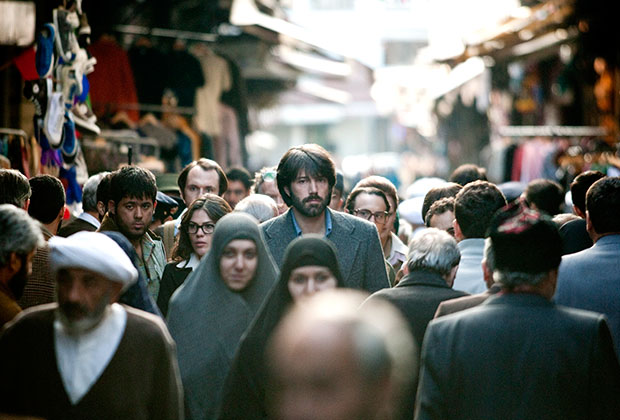 It may be a mind-bending thought to suppose that a Ben Affleck film may be in the running for an Oscar, but Argo is unavoidable in the conversation about who'll take the awards stage in February of next year. But the reason it stands out as a favorite in 2012 isn't owed to any fancy behind-the-scenes footwork. This film hearkens back to an older time in both setting and style; it's got a few frill and all the suspense and soul audiences require of a great movie. Heck, it's even got a few moments of tense humor, which is practically requisite of a film that involves the production of a fake Star Wars rip-off as a resolution to a harrowing hostage situation. Argo is by no means the most perfectly-crafted film of 2012, but it rises to the top tier as one of the more solidly enjoyable and diverting films of the year. And since it's based on a true story, you might even learn a thing or two.
The Avengers (Picked By Sydney Bucksbaum)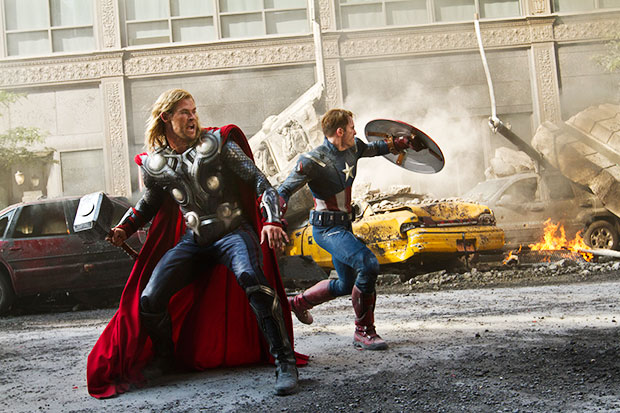 The Avengers rounded up all the Marvel movie superheroes in what could have been a film reminiscent of Michael Bay: gratuitous action and destruction of major cities, with little to no plot. Thankfully, with Joss Whedon at the helm, we were gifted with a snarky, funny, cinematically stunning, emotionally deep look at what motivates the men and woman behind the masks. Plus, watching the Hulk throw Loki around like a wet towel was insanely gratifying. This movie got us extremely excited for the next phase of the Marvel superhero movies, beginning with Iron Man 3, which will commence immediately after the events of The Avengers. We'll finally get a chance to see what happens after all the death and destruction of superhero fights.
Beasts of the Southern Wild (Picked By Aly Semigran)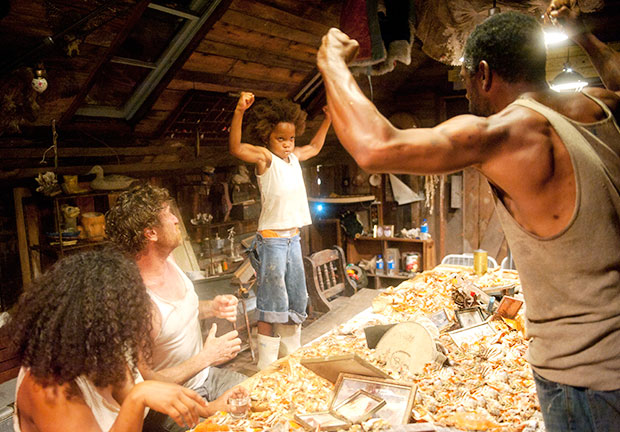 Benh Zeitlin's stunning debut about a brave, fierce little girl named Hushpuppy (miniature force of nature Quvenzhané Wallis) living in a post-storm bayou with her detiriorating, alcoholic father Wink (fellow impressive newcomer Dwight Henry) is an exhilarating, overwhelming experience. (To call it a tearjerker might imply you've had any tears left afterwards.) While the film may, in part, be about the awesome power of nature, it's really about love and the incredibly strength we can find in ourselves in the most challenging situations. In addition to the brilliant performances and masterful direction, Beasts also had the best musical score of any film this year. 
Cabin in the Woods (Picked By Shaunna Murphy)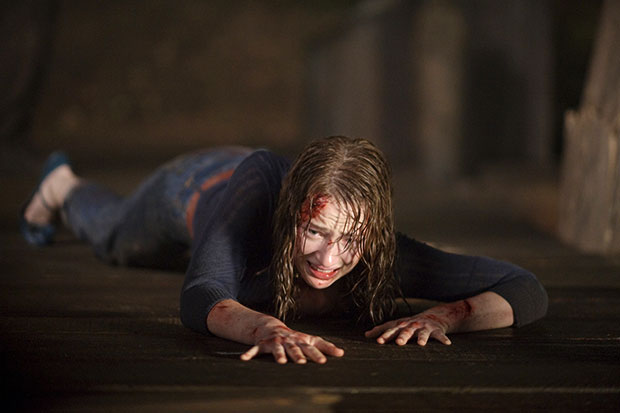 After an eons-long release delay, Cabin in the Woods finally made its way to theaters this spring — and for this, I thank the vicious, vengeful Gods. I would gladly sacrifice a gaggle of idiots for this perfect blend of (dare I say it?) meta, self-aware horror-comedy. The dialogue and wink-wink horror tropes were endlessly entertaining, while still being pretty scary — and not just while you're stoned, though Fran Kranz' Marty makes a pretty good case for legalization. Also, it's Bradley Whitford's best work in years. Also also, Richard Jenkins.
Cloud Atlas (Picked By Matt Patches)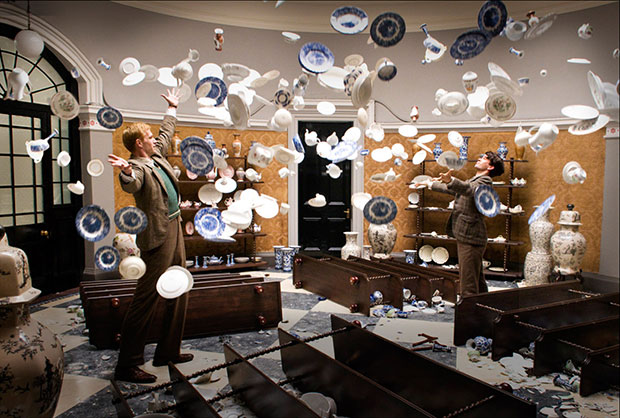 Cloud Atlas was an ambitious movie the directors of The Matrix spent years trying to convince investors could work, but the result was worth the wait. A sprawling, interconnected story chronicling life's biggest challenges and the human spirit that overcomes them, Cloud Atlas is a big screen experiment that makes full use of its canvas. Spanning the 19th Century to the post-apocalyptic future, the Wachowskis, working with co-director Tom Tykwer, used special effects and A-List actors to tackle grand themes with a three-hour movie that stands as one of 2012's only true epics.
The Comedy (Picked By Matt Patches)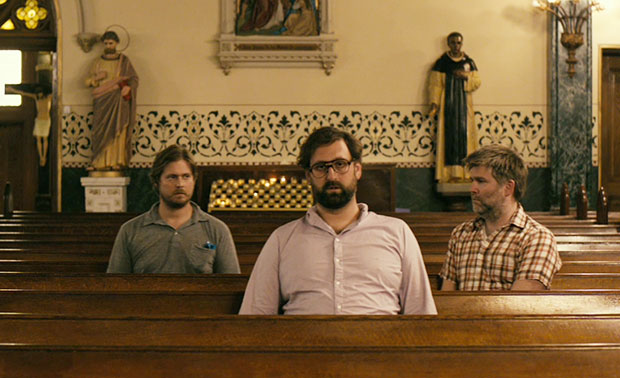 Tim Heidecker has made a career out of pushing the boundaries of "acceptable" comedy, but little did we realize he was only scratching the surface of the artform's subversive nature. In The Comedy, the actor loses himself in Swanson, a terrorist of the deadpan variety. Heidecker takes privileged young people to task in a tour-de-force performance that's hilarious, terrifying, and completely mesmerizing. Director Rick Alverson strips down the New York City landscape to its ugliest, laying on a rumbling soundscape to ensure our descent into Hell isn't too comfortable. The Comedy isn't easy to swallow, but for anyone looking for a challenge, it's a satisfying meal.
The Deep Blue Sea (Picked By Christian Blauvelt)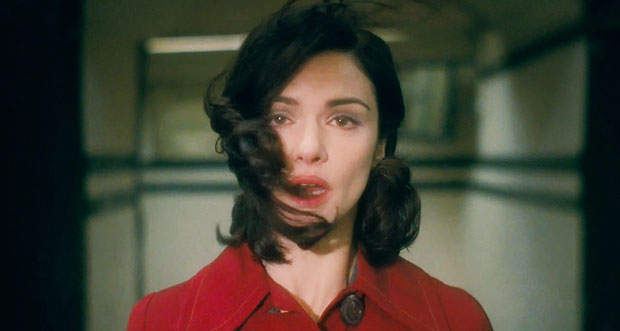 A tear-stained reverie of faded love and heartbreak, director Terence Davies' first narrative film since 2000's equally devastating The House of Mirth is the year's most thoughtful, introspective character study. Rachel Weisz, in a career-best performance, plays a woman in 1950s London caught between her uncontrollable, adulterous passion for a former RAF pilot (Tom Hiddleston) and her awareness that he's a total cad, unworthy of her (or any woman's) love. So she thinks that suicide is the only way to reconcile head and heart. Set during the course of one day—the day on which Weisz' character has decided to end her life—Davies' delicate camera expands the parameters of the Terrence Rattigan play on which it's based through a mosaic of flashbacks that chart the progression of her affair, including the most haunting depiction of The Blitz you'll ever see.
The Hunger Games (Picked By Leanne Aguilera)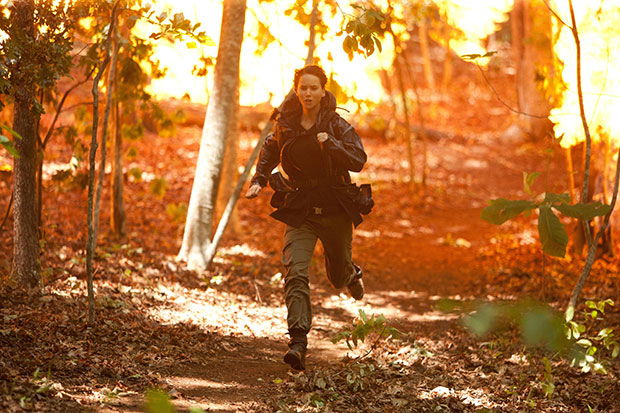 "May the odds be ever in your favor." This past March, audiences were led through a whirlwind of raw emotions and heart-pounding adventures as 24 tributes schemed, fought, and killed in the brutal quest to be the winner of the 74th Annual Hunger Games. The first installment of Suzanne Collins' best-selling trilogy The Hunger Games was triumphantly transferred to the big screen, overall becoming the highest grossing female-led action film of all time. And for many book fans, hearing Jennifer Lawrence desperately call out, "I volunteer as tribute!" brought chills of excitement and satisfaction to know that they have cast the perfect Katniss Everdeen to eventually rise up against the Capitol as the Mockingjay that we all know, fear and love."
Lincoln (Picked By Kelsea Stahler)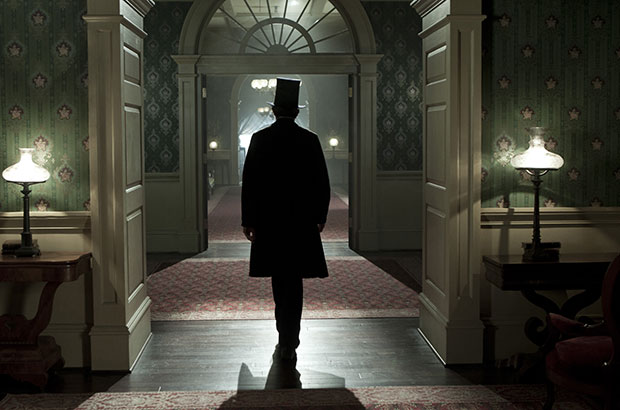 This historical drama couldn't have come at a more appropriate time. Just as our country teeters on a precipice, demanding compromise and change, Lincoln sweeps into to tell the story of one of the nation's most honorable politicians as he affected one of those most important and necessary changes in our history through less-than honorable means. Daniel Day-Lewis is could not be more perfect to capture the intimate portrait of the 16th American president, a man many of us presume to know from school-day history lessons. The film glosses over a few historical points of Lincoln's move to pass the 13th Amendment before the end of the Civil War, eschewing them for the more dramatic moments, but in a landscape of Captain Americas and Iron Men, it's a comfort to enjoy a film about an American hero whose strength was of conviction instead of brawn.
Magic Mike (Picked By Aly Semigran)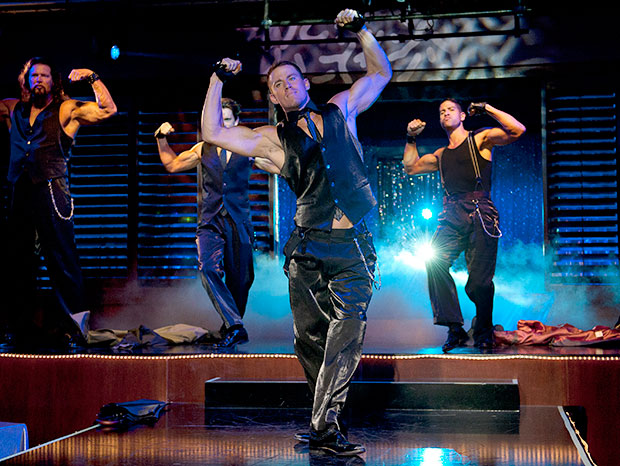 Don't call it the Channing Tatum stripper movie. Steven Soderbergh's sleek, smart, and — yes, sexy — slice of Americana is so much more than that. Part buddy comedy, part cautionary drama, the well-written and well-acted (Channing, who knew?) Magic Mike was a genuine risk taker that paid off big as the thinking woman's fantasy antidote to Fifty Shades of Grey. Plus, Matthew McConaughey's supporting turn as an sociopathic strip club owner is worth losing your shirt over.
Madagascar 3: Europe's Most Wanted (Picked By Lindsey DiMatinna)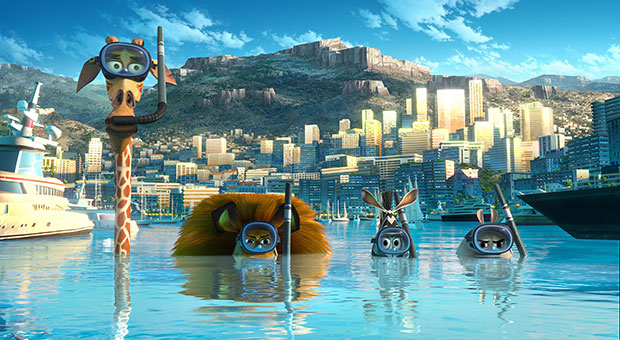 This movie was so much fun. I love all the crazy plot lines, especially watching Alex fall in love. But, the circus performance at the end was totally brilliant, especially in 3D. The 3D effects made all the action in this movie come alive right in front of me and made me feel like I was a part of the cartoon story. Yes, I am still a kid at heart.
Moonrise Kingdom (Picked By Alicia Lutes)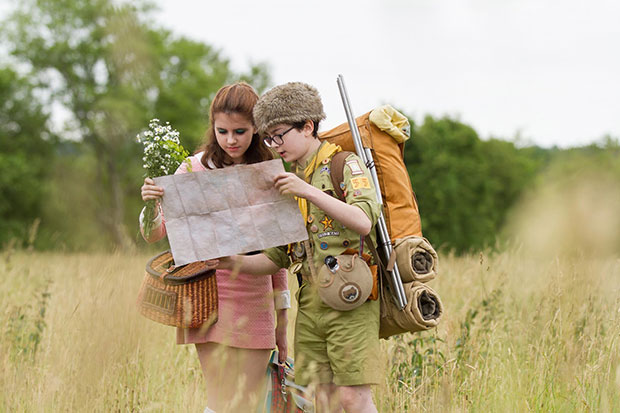 It's almost too easy for people to find reasons to dislike or poo-poo the work of Wes Anderson. It's "too precious" or "too indie," detractors cry in a flurried, expected manner. But with his 2012 release, Moonrise Kingdom, we saw Anderson's deft hand take a well-guided stab at childhood, romance, and the heart one develops from living in those moments. It's whimsical in the way all childhood memories are, but grounded in a wonderful story outside of its beautiful scenery and charms. Richly-developed characters, a need to escape, and the raw emotion of living—this is what makes 'Moonrise Kingdom' a highlight of 2012. Performance highlights include Bill Murray (duh), Frances McDormand, Bruce Willis, and our young heroes Jared Gilman and Kara Hayward.
Oslo, August 31 (Picked By Christian Blauvelt)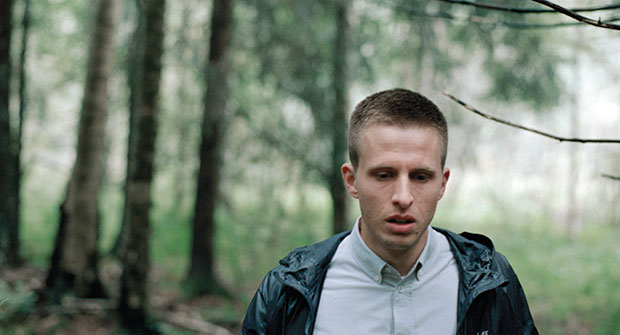 Norwegian director Joachim Trier's second film, 'Oslo, August 31,' lets the world unfold during the course of a single day through the eyes of a character contemplating suicide. In this case, it's Anders (Anders Danielsen Lie), a 34-year-old guy with intellectual pretensions who's let out of a drug-rehab clinic for one day to attend a job interview with a magazine. As the title suggests, the movie is also something of a city symphony for Norway's capital, which Trier (yes, he's distantly related to Lars) calls "the suburb of Europe." 'Oslo' is purely a cerebral affair, with a character who rationalizes his irrational choices in a way that's stunningly logical…and all the more unsettling for it.
The Perks of Being a Wallflower (Picked By Michael Arbeiter)
It's no easy feat to turn a universally life-changing coming-of-age novel into an equally powerful feature film. Granted, it doesn't hurt to have the novel's author at the helm of the movie — such is the case The Perks of Being a Wallflower, which author Stephen Chbosky adapted from the very book that turned high school around for so many sad and lonely teenagers into a piece of cinema with just as dynamic an emotional force. The film's starring players — a Logan Lerman stuck in his own head, an Emma Watson drenched in self-contempt, and (best of all) a hilarious and heartbreaking Ezra Miller as a young man charged with defending his sexual orientation against the world around him — breathe a life so vivid into Chbosky's magical words, serving the story with just as much affect as the incarnates of yourself and your friends that you imagined to be fostering these roles upon first reading the book. From the softer, sweeter moments, to the dark and hard-to-watch turns, Perks is wholly real, reminding even those of us who read about and related to Charlie so many years ago just what it's like to be him. And to feel, if only for a second, infinite.
Silver Linings Playbook (Picked By Anna Brand)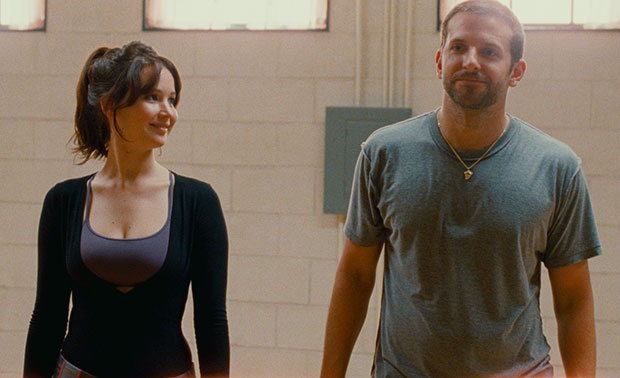 When you put Bradley Cooper in a movie without a strange baby and booze and smack a mental illness on him, doubts will soar. The same way Jennifer Lawrence without a bow and arrow undoubtedly creates skeptics. But leave it to these off-beat stars (with a 15-year age difference!) to bring seamless honesty and perfect chemistry. The blue collar setting – much like the director's The Fighter – is captured in such a relatable way it's almost desirable. Even though we get an ending as unrealistic as the time Matthew Mcconaughey chased down a taxi on a bridge and got to Kate Hudson just in time in How to Lose a Guy in 10 Days, it didn't take away from the thought-provoking story and spot-on acting. Not even a little bit. In fact, it was what we wanted all along.
Sleepwalk with Me (Picked By Michael Arbeiter)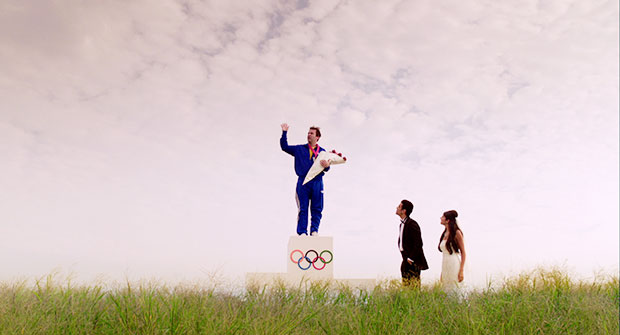 Sleepwalk with Me is not at all just a celebration of standup comedian Mike Birbiglia, nor of standup comedy in general. It is a celebration of storytelling. Birbiglia channels his own ascension of the industry in this semi-fictional account of the comic's early career, romantic relationships, and struggles with a chaotic sleep disorder. In the sentiment of the age-old "write what you know" adage, Birbiglia's film expresses the philosophy that the greatest stories — be they funny or serious in nature — are those infused with the most honesty and intimacy. When Birbiglia's author surrogate Matt Pandamiglia embraces his flaws and shortcomings, he learns just how much merit lies within the stories he has at his disposal. And beyond just influencing his career as a standup does this lesson influence his life — in the most laugh-out-loud and sincere fashion imaginable.
Zero Dark Thirty (Picked By Matt Patches)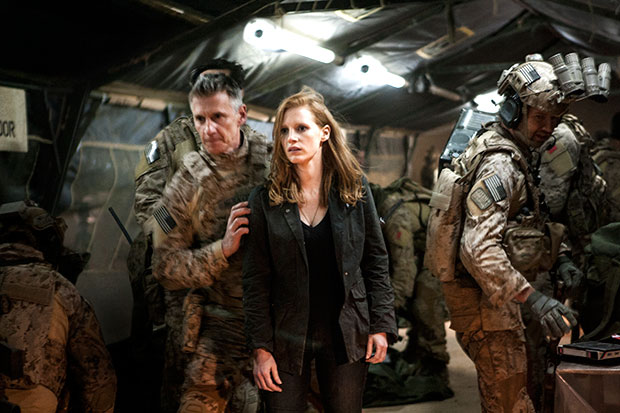 Director Kathryn Bigelow and writer Mark Boal continue to mine high drama from real life circumstances, following The Hurt Locker with a how-can-this-possibly-be-true true story behind the investigation that led to the assassination of Osama bin Laden. Like a modern All the President's Men, Zero Dark Thirty finds emotion in the facts, keeping us on the edge of our seats as Jessica Chastain's Maya loses herself (and her friends) to the hunt. We know how the story ends, but impressively, getting there never seems predictable.
The 5 Worst:
Abraham Lincoln: Vampire Hunter (Picked By Aly Semigran)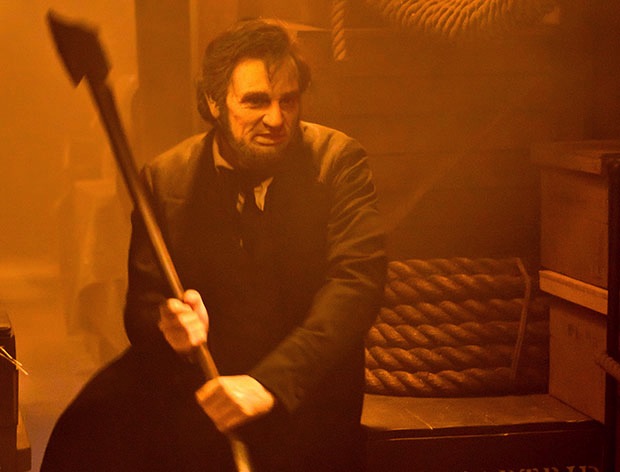 No one was in on the joke here. Not the audiences who wisely skipped out on the adaptation of Seth Grahame-Smith's comic novel of the same name and especially not filmmaker Timur Bekmamtebov, who played this dreck up as if it were a legitimate period piece without having his actors (including the talented, Benjamin Walker, who deserves better) so much as a wink or a nod to its overtly absurd premise. Joyless, poorly executed, and, considering it came out the same year as the masterful Lincoln, downright embarrassing.
Brave (Picked By Matt Patches)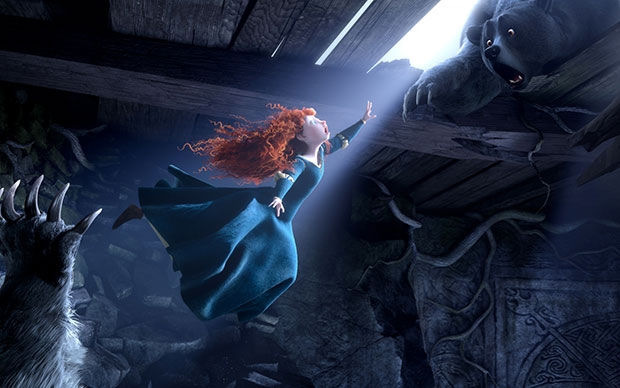 Pixar's perfect streak took a major bump after Cars 2 and the hope was Brave, the animation studio's first fairy tale, could get them back on track. No dice. Princess Merida's tale had potential, but never ran with it, taking a hard left in the middle of Merida's cry for independence to explore a wacky tale of a Bear and her daughter. With a feeling of being slapped together, Brave missed the mark. Attribute it to high expectations — the film demands the scrutiny thanks to years of near-perfect work.
Chasing Mavericks (Picked By Brian Moylan)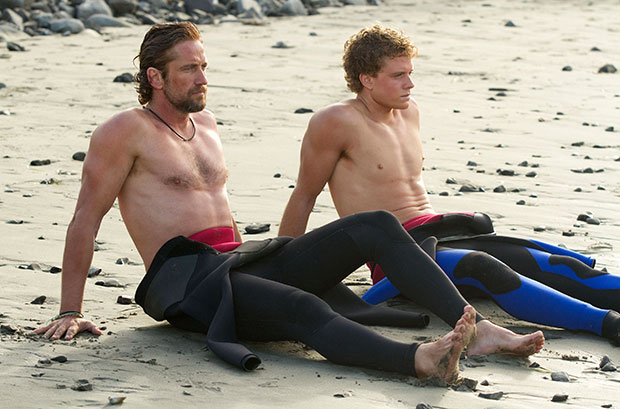 A good movie should have sympathetic and interesting characters who follow a narrative arc. There should be development and consistency and rousing performances and new revelations about the human condition. In the absense of all of those there should at least be enough robots, lasers, superpowers, and aliens to keep you distracted for a couple of hours. Chasing Mavericks has none of those. Based on the true story of a young man whose neighbor teaches him to surf the biggest wave in California, this Gerard Butler vehicle lurches from scene to boring scene through some tired melodrama and stock sportsporational set pieces. Aside from some top-notch surfing footage this is a complete waste of time, even more so that there could be a revelatory story somewhere in there.
The Raven (Picked By Matt Patches)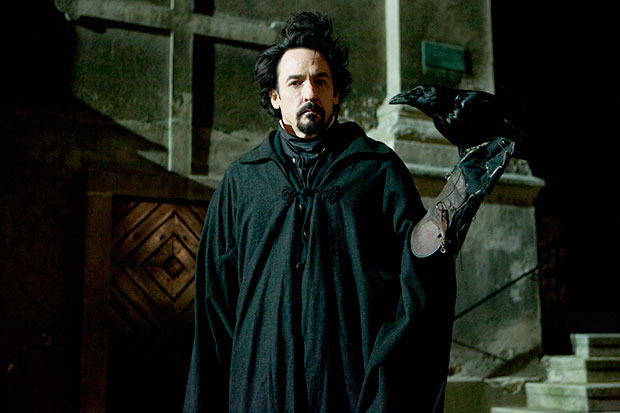 With cinematography inspired by your local diner's split pea soup, writing at which airport mystery novelists would turn up their noses, and acting from the school of crazy Nic Cage, The Raven had all the pieces to be a so-bad-its-good cult classic. Instead, the Edgar Allen Poe serial killer flick is impenetrable dreck, the only reminder of the meandering film's stakes being John Cusack's hysterical (and overly repeated) scream of the name "EMILY!" every few minutes. Emily made a smart move — she disappeared from the movie.
The Master (Picked By Christian Blauvelt)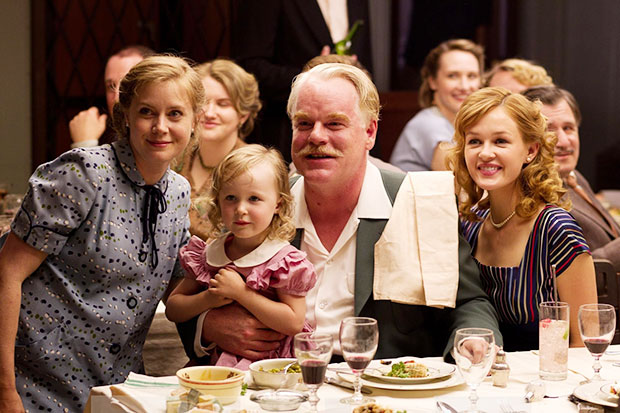 2012 had no greater "Emperor Has No Clothes" movie moment than The Master, a shallow, sodden character study about wayward sailor Freddie Quill (Joaquin Phoenix), a guy who likes to stand akimbo, jut out his jaw, and mumble unintelligibly (Phoenix's sole acting choices) before and after falling under the thrall of an L. Ron Hubbard-style pseudo-philosopher (Philip Seymour Hoffman). Director Paul Thomas Anderson's uncritical preoccupation with power, the select few who hold power, and everyone else who covets power, seems to have devolved into adolescent banality since his genuinely frightening depiction of Tom Cruise's modern-day pied piper in Magnolia. Which is to say that it's hard to imagine why any Scientologist, Cruise included, would be offended by anything in The Master. Anyone have some of Freddie Quill's paint thinner so I can drown my sorrow about this mess of a film?
Or is it the best? (Picked By Matt Patches)
Anderson became the talk of the town in 2012 when he unveiled The Master's stunning 70mm photography, a picture quality so crisp and saturated that even if the film chased its narrative tail for two hours, the visuals would be enough of a pay off. Luckily, he had something incredible to capture in the wide-frame glory. Using religion as an entry point, The Master takes us as close to someone's internal monologue as an outsider can possibly get, with Phoenix and Hoffman's range of skills on full display as they unravel the imbecile Freddie and the seductive Lancaster Dodd. When clashed together, The Master becomes a tense match of wits. Who loses in the end is ambiguous, making the secrets of the human mind the heart of the film.
More:
The Best and Worst TV Episodes of 2012 — Staff Picks
Staff Picks: The 14 Best Songs of 2012 (And 5 We'd Like to Forget)
Staff Picks: The 10 Best Books of 2012 (And 5 That Pretty Much Sucked)
You Might Also Like:

20 Hottest Bikini Bodies of 2012: Megan Fox and More!