The first ten months of the year can be a mixed bag for award contenders. Maybe you'll see a few possibilities sprinkled amongst the comic book blockbusters, the joke-a-minute comedies and whatever else Hollywood has up their sleeves over January to October months, but for the most part, studios hold off to unleash their "Best Picture" challengers until late in the game.
Now that November and the holiday movie season is upon us, we can finally take a size up the competition. What we've seen, what's coming and what movies may make it to the finish line when the Oscars roll around in February. It's anyone's game…or is it?
Get ahead of your office Oscar pool with a look into the 2011 movies that are buzzing the loudest and guesses on who might take the gold!
Albert Nobbs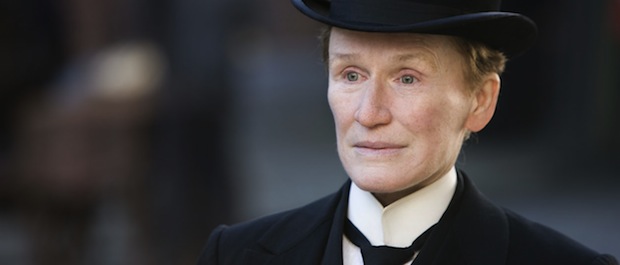 Starring: Glenn Close, Mia Wasikowska, Aaron Johnson
Director: Rodrigo Garcia
Release Date: January 27, 2012
The Buzz: Close first starred as the titular woman-disguised-as-a-man character back in 1982, when she nabbed the leading role in the play The Singular Life of Albert Nobbs in 1982. Now, after years of working to get the project off the ground, the cinematic adaptation is finally coming to theaters. The movie debuted at this year's Telluride Film Festival to mixed reactions, most of the compliments highlighting Close's performance.
Potential: While Albert Nobbs sports a solid cast and creative team, Close's tour-de-force realization of Nobbs may overshadow the other positive (or negative) aspects of the film. Expect the actress to land a spot in the Best Actress race this season.
The Artist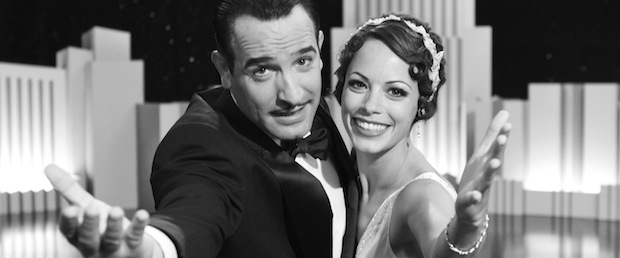 Starring: Jean Dujardin, Bérénice Bejo, John Goodman, Penelope Ann Miller
Director: Michel Hazanavicius
Release Date: November 23, 2011
The Buzz: Director Michel Hazanavicius is a master replicator. His films OSS 117: Cairo, Nest of Spies and OSS 117 – Lost in Rio are pitch perfect spoofs of the Bond movies/spy genre, and his new film The Artist goes beyond mockery and captures the essence of a early 20th century silent film. Completely without dialogue, star Jean Dujardin lights up the screen in this lighthearted look at the evolving movie industry. The movie garnered rave reviews when it played at Cannes back in May, winning a Best Actor award for Dujardin, and has since picked up an Audience Award at the Hamptons International Film Fest. 
Potential: Audience reactions to The Artist have been enthusiastic, while critical response has been favorable, but mellow. There's so much cinema dripping from the picture that it won't be ignored come Oscar time—Dujardin seems like a given, while Hazanavicius could slip into the Best Director race. The Artist is a definite contender for the Best Picture race.
Carnage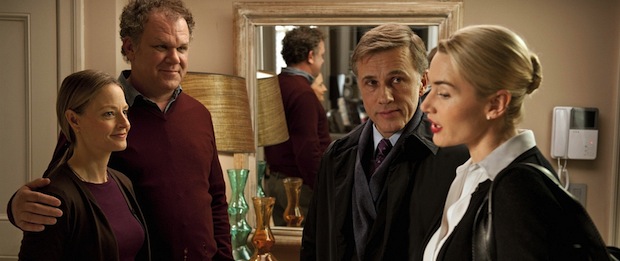 Starring: Kate Winslet, Jodie Foster, Christoph Waltz, John C. Reilly
Director: Roman Polanski
Release Date: December 16, 2011
The Buzz: Legendary director Polanski rounded up four of Hollywood's best actors for an adaptation of the Tony award-winning play God of Carange. The result is a snappy, often-hilarious emotional roller coaster that builds momentum even within its singular location. The movie premiered at the Venice Film Festival where Polanski took home an award for directing. We saw the movie when it played at New York Film Festival and ate it up.
Potential: The movie might feel too theatrical for most movie-focused voters, but Polanski's style is so energetic despite the restraints that he could very well pull through to the top five. With an A-List quartet sharing equal time in the spotlight, it would be hard for any of the four to come out on top. Right now, there isn't anyone championing any specific actor, so the talent in Carnage may slip by unnoticed.
Coriolanus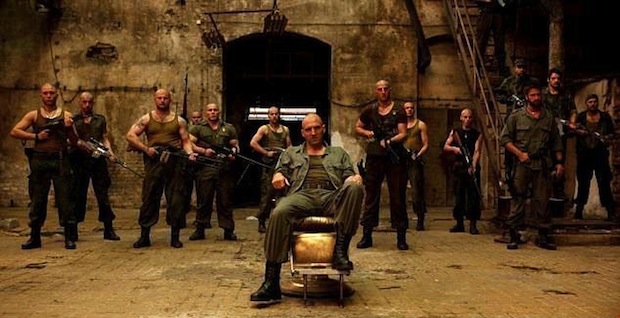 Starring: Ralph Fiennes, Gerard Butler, Vanessa Redgrave, Jessica Chastain
Director: Ralph Fiennes
Release Date: January 13, 2012
The Buzz: Master thespian/man behind Voldemort Fiennes makes his directorial debut with this modern day adaptation of Shakespeare's war and politics. The movie opened the Berlin Film Festival, and while many of the reactions were glowing, they were hushed. The movie scored several nominations alongside some other buzzed about Oscar-possibilities at the British Independent Film Awards, indicating, perhaps, that the louder buzz for Coriolanus has yet to come.
Potential: Fiennes pulls double duty in the film—no easy task, especially with the fragile work of Shakespeare. But the existing reviews of Coriolanus praise his work on both sides of the camera, which might land him a coveted spot in both Actor and Director categories (a feat only achieved twice: first by Laurence Olivier in Hamlet, second by Roberto Begnini for Life Is Beautiful). Word on the street is that Vanessa Redgrave also delivers an award-worthy performance, so she could squeeze her way into Best Supporting Actress territory.
A Dangerous Method
Starring: Michael Fassbender, Viggo Mortensen, Keira Knightley
Director: David Cronenberg
Release Date: November 23, 2011
The Buzz: Cronenberg's inside look into the battle of intellect, science and lust between famed psychoanalysts Sigmund Freud and Carl Jung has run the gamut of award season film festivals, including Venice, Telluride, Toronto and New York. The movie's repressed nature and physically demanding performances weren't everyone's cup of tea—reviews range from "masterpiece" to "floundered drama"—but the pedigree is there. I saw the movie at the NYFF and found it riveting, but it's easy to see why some found it off-putting.
Potential: The pieces are there, but A Dangerous Method might be too odd, too introverted for mass audiences, and more importantly, award voters. It's a talky, tense film and while Fassbender, Mortensen and Knightley all deliver captivating performances, they feel emotionally distant (as they should). Fassbender and Knightley have potential as the two main leads, but the former has another movie to ride and Knightley is the antithesis of charming (again, purposefully).
may be Theron's best performance to date.
Potential: The pedigree might be there, but if Young Adult is too dark, too mean-spirited and puts all its chips on a character voters despise, it may not feel the love Juno saw a few years back. Then again, Theron won her first Oscar for playing a serial killer (Monster), proving that if the talent is there, so are the awards. Cody and Reitman both seem likely to nab respective nominations for writing and directing, but it'll all come down to response once Academy members see the film—which the studio doesn't seem to interested in making happen.