The 30th Anniversary of 'Annie': A Musical That's More Relevant Than Ever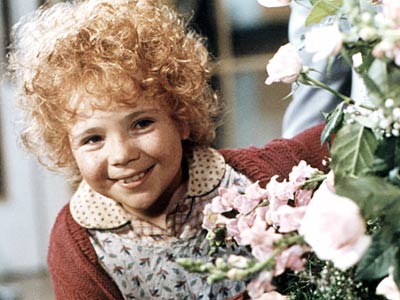 This year, a beloved musical from our childhood turns thirty. Annie, which sang and danced its way into the annals of family filmdom in May of 1982, is the story of a redheaded orphan with a sweet disposition and a heart-lifting voice. Little Aileen Quinn rose to the challenge of her first feature film with great aplomb, bolstered in no small measure by standout supporting characters played by the likes of Albert Finney, Tim Curry, and Carol Burnett and Oscar-winning director John Huston.
As much as I loved this movie as a kid, when a film reaches the three-decade benchmark, the question of its relevance to modern audiences is easily called into question. Annie is faced with a further, unique obstacle in this regard in that it was based on a comic strip from the 1920s, which took its name from a James Whitcomb Riley poem from 1885. So the film was already fighting to make the material relatable to audiences in the early 1980s. However, in spite of the multiple hurdles it faced in this area, Annie remains relevant to this day.
I remember watching the film as a kid and wondering how an orphan could be randomly adopted, even for a short time, by one of the richest men on the planet. Nto be callous, but that is pretty much the best-case scenario for a kid in her position. Even as a child, this seemed a bit of a stretch to me. However, one need only look at Brad Pitt and Angelina Jolie's familial expansion to see how this plot device has been echoed in current events — Annie has story structure that is downright topical. Obviously celebrity adoptions are not a recent development, but with the oversaturation of media in the last few years, never before has this sort of personal altruism been so ensconced in pop culture. Bottom line, you'll probably find it easy to suspend disbelief here.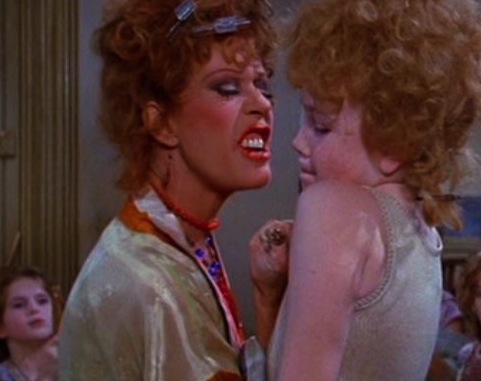 Annie's spirit, the essence of what makes her a memorable character, is epitomized in her songs "It's The Hard-Knock Life" and "Tomorrow." I don't think you need to be an expert observer of the human condition to understand that Annie doesn't have the best of childhoods. She's living in an orphanage run by an abusive alcoholic and takes it upon herself to be a lightning rod, diverting Ms. Hannigan's wrath to herself to protect the smaller kids in the orphanage. It's not quite Oliver Twist's plight, but it sure isn't ideal.
And yet, despite all her adversity, she maintains an unflappable optimism and refuses to abandon the hope that tomorrow carries the promise of a better life. I need not point out the abysmal economical situation in which we still find ourselves as a nation. Adopting Annie's endlessly positive outlook on life would therefore serve us tremendously well.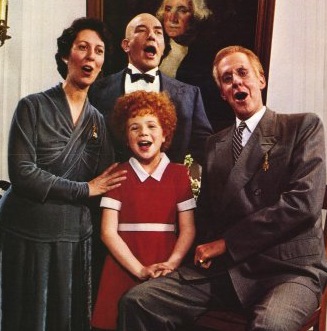 The decision to set Annie in the 1930s, during The Great Depression, seems less an attempt to remain faithful to the comic strip and more an acknowledgment of this theme; the uphill struggle of the country canonized in one hopeful little girl.
Judging Annie based solely on its entertainment value, it is a film that holds up to modern scrutiny. We've reached a point in family cinema wherein a majority of the films are only interested in half-hearted sentiment peppered liberally with aggravatingly idiotic toilet humor and celebrity cameos. Most of these films are aiming squarely at the children, but even then they often seem to land just shy of the IQ of their key demographic. Annie is a film with timeless themes, incredible performances, and an engaging story aided by spectacular music numbers. It's the kind of artfully constructed family movie you'd be happy to show your kids. In addition, the musical genre is one that has never fully retreated from the public consciousness. Baz Luhrmann, Rob Marshall, and the TV series Glee have certainly upheld the popularity of the medium. Annie's score and songs are a major reason for its being heralded as a classic, and I daresay the music will captivate viewers in 2012 just as effectively as it did in 1982.
Check out Annie, which is available now on Netflix's Watch Instantly.
Photo Credit: Columbia Pictures
More:
'My Big Fat Greek Wedding' 10th Anniversary: A Look Back at Then and Now
'Addams Family' on Netflix: Why Tim Burton Shouldn't Touch It