The 9 Wildest Movie Makeup Transformations — GALLERY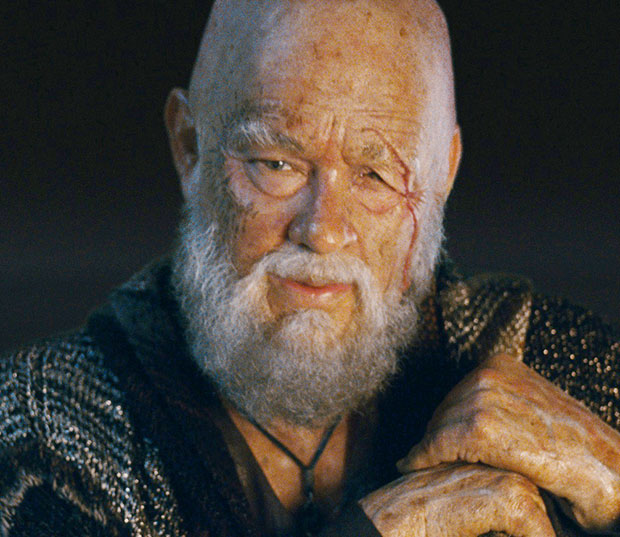 In Cloud Atlas, name stars like Tom Hanks, Halle Berry, Hugh Grant, Jim Strugess, and Hugo Weaving play various characters in a series of interlocking stories. The sprawling epic takes the action from a high seas adventure set in the 1850s to modern day to a futuristic version of Neo Seoul, and in turn, the actors don various costumes and makeup to seamlessly fit into the changing landscapes. Thanks to the outstanding makeup crew employed by directors Lana Wachowski, Andy Wachowski, and Tom Tykwer, Hanks became an elderly storyteller, Berry became the white mistress of a composer, and Weaving the plump female nurse of an old folks home. Nothing was impossible with a bit of creativity and a snug silicone mask.
Inspired by the stunning makeup work on display in Cloud Atlas, we've gathered an equally inspiring set of before and after photos from famous movies whose actor makeovers have stood test of times. Go behind the scenes on movies like Planet of the Apes, Terminator, and Captain America in our gallery…
Before and After The 9 Wildest Makeup Transformations in Film
Follow Matt Patches on Twitter @misterpatches
[Photo Credit: Warner Bros. Pictures]
More:
Tom Hanks and Halle Berry Talk 'Cloud Atlas' and Real Life Soulmates
TIFF 2012: 'Cloud Atlas' Is a Big Picture That Explores the Big Picture
'Cloud Atlas' Collides Past, Present and Future in an Epic Six Minutes — TRAILER
From Our Partners:

Worst Teen Mistakes Made in Movies—'Clueless' and More!
(Moviefone)

(Moviefone)