'The Amazing Spider-Man' Films Should Diversify the Hero Like the Comics Do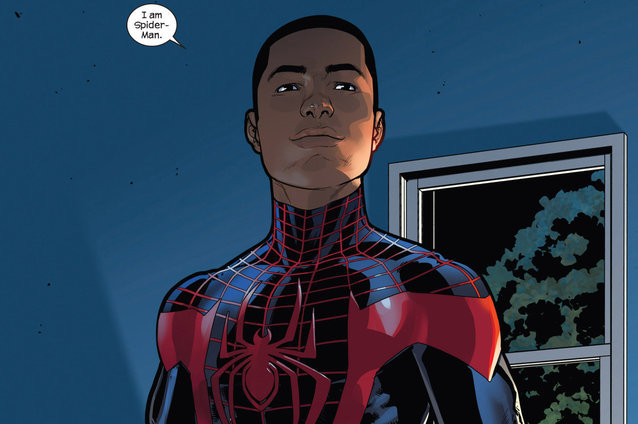 Marvel
With the release of The Amazing Spider-Man 2 there has been some buzz about what will happen to Peter Parker once Andrew Garfield's three-film contract is up with Sony. Will the studio re-cast Peter? Will Peter hand the reigns off to another Spider-Man that has been featured in the comics? And, if so, will that Spider-Man be Miles Morales?
Miles Morales donned the Spidey getup in Marvel's Ultimate Comics: Spider-Man series that ran from 2011 to 2013; he also happened to be the first half-black, half-Hispanic Spider-Man. It would make complete sense for Miles to become a part of Sony's Spider-Man films since the character was partially inspired by the casting of The Amazing Spider-Man. When the studio was originally casting for the film, there was a big push from fans to cast Community's Donald Glover as Peter Parker — and, as a result, a lot of backlash from fans who thought Peter Parker could never be anything other than white. But these events, as well as the election of Barack Obama, led comic book writer Brian Michael Bendis and Marvel editor-in-chief Axel Alonso to the question: "Why does Spider-Man have to be white?" Then they created Miles Morales.
In a recent interview with Comic Book Resources, the current Spider-Man star said he's thought a lot about the inclusion of Miles. "I don't have an answer," Garfield said of whether the transition would happen. "But I think it's actually a really important move. I think it's a really beautiful and important move."
However, producers of The Amazing Spider-Man 2, Avi Arad and Matt Tolmach told Indiewire that they're not planning on straying away from Peter Parker's Spider-Man. Of course, they also said that whoever picks up the reigns after they leave the series (whenever that may be) could have a different vision for the franchise. Plus, Arad and Tolmach argued that they wouldn't try to transition Spider-Man from Peter to Miles because Marvel failed a similar attempt in Spider-Man 3. However, if Marvel Studios pulls off a Captain America transition from Steve Rogers to Bucky Barnes, their argument would be completely moot.
Since Sony is planning on building a whole shared universe around The Amazing-Spider Man, with Sinister Six and Venom movies already announced, it would seem ridiculous to limit the franchise to Peter Parker as the only featured webslinger. A new on-screen version of Spider-Man, especially a non-white take on the beloved character, could make the character appeal to an even wider audience. 
Though it may have taken a long time for comic book heroes to diversify, it has become a reality. Now, those of us who appreciate diverse representation in the comics would like to see a similar push to diversify the cinematic universes — meaning the heroes as well as the villains.