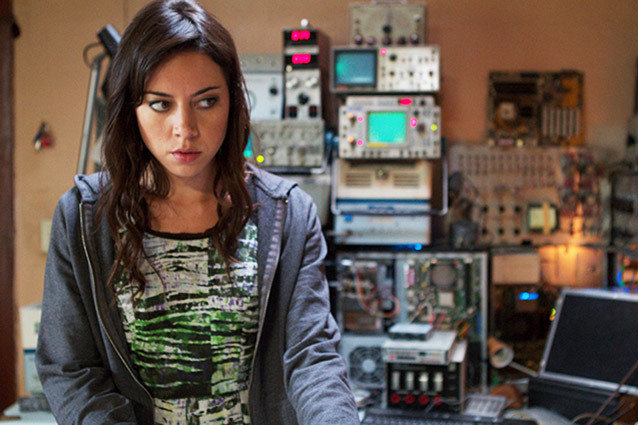 FilmDistrict via Everett Collection
Aubrey Plaza is a bit of a conundrum. The Parks and Recreation player might be one of the more talented comedic actresses working. She doesn't trade on her looks, but has instead built a niche for herself playing characters that are snarky, or odd, or both. That talent, though, hasn't translated into larger-scale mainstream success yet. Thankfully for Plaza and her devoted fans, her riddle is still being solved.
While continuing to do strong work on Parks and Rec — where her disaffected April has proven to be more than just a one-note character and her chemistry with costars Chris Pratt, Nick Offerman, and Amy Poehler helped propel then ensemble comedy — Plaza has been steadily working towards transitioning to a career in movies.Can Plaza become a star on a level that matches her talent? The bigger question might be whether the Delaware native (and how often do you get to say that?) even wants to be.  
Plaza seems to cultivate her oddball persona the way that Miley Cyrus does controversy… relentlessly and in full view. Her publicity stunt for her movie The To Do List involved pulling a Kanye West move by interrupting Will Ferrell's acceptance speech during the MTV Movie Awards and trying to wrestle his award away from him.  She pulled a lower scale prank by seemingly breaking the news to Parks and Rec costar Jim O'Heir that he had been fired from the show as he was being interviewed during a promotional event. She unapologetically marches to her own drumbeat, finding humor in things like Ring Pop addiction for a recent Funny or Die video.
Plaza's first starring role in the aforementioned The To Do List last summer had her cast as a newly graduated high school valedictorian who decides that part of getting ready for college is undergoing a sexual awakening. Her list suddenly includes words like "masturbate" and "orgasm." While the premise was cute, having Plaza play a character that out of touch with things going on all around her felt disingenuous. One thing that Plaza's big eyes normally convey is the impression that she knows something the rest of us don't. 
The actress is trying again with a group of films being released this year. While she has supporting roles in the Chris Evans romantic comedy A Many Splintered Thing and the Johnny Depp drama Mortdecai, it's a different film that presents the best chance for Plaza to make a breakthrough with film audiences. About Alex something of a The Big Chill for the Facebook generation. Plaza plays one of seven college friends that reunite after one of them attempts suicide. Playing a disillusioned college graduate is right in Plaza's wheelhouse. Even if the movie doesn't do much at the box office, it has a chance to set a character type that — like her Parks and Rec work — she can connect with in a way that the audience feels comfortable going along with.  
It's hard to imagine Plaza ever being anything less than interesting, but it would be fun to see what she could do if she were suddenly to start being offered some of the same type of parts that are going to her friend (and costar in the Sundance zombie comedy Life After Beth ) Anna Kendrick. Whether she wants it or not, she should get her shot at cracking the A-list.