The Avengers Are Brought Together on the Entertainment Weekly Cover
UPDATE: In addition to the assembled Avengers on the Entertainment Weekly cover, EW has also released a few photos from the upcoming film. Click the below picture of Captain America (Chris Evans) and Iron Man (Robert Downey, Jr.) to see more images from the The Avengers set (and read on for today's earlier news!).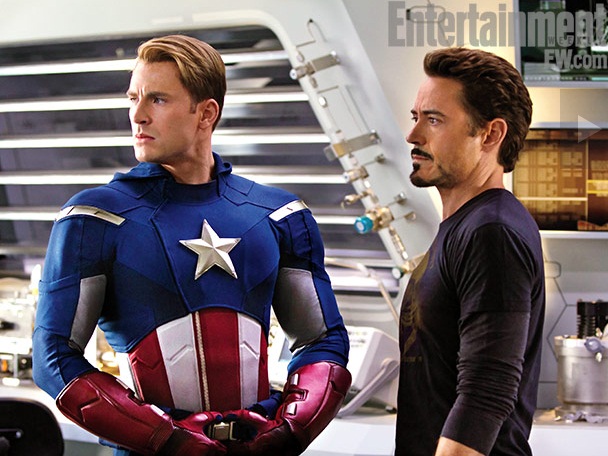 EARLIER: What exactly is the connective tissue that binds together a spider, a Norse god, a man comprised of (or in some other way representing) a 26-proton metal in the first transition series, the ocular organ of a bird of prey, the personification of a federal constitutional republic superpower and an unfit seacraft renovated for use as a warehouse or penitentiary (that's actually what a Hulk is)?
We may never know what inspired this team's creators to link these heroes together. But we could have some of our questions answered in Marvel's The Avengers, coming to theaters May 4, 2012.
Pictured below on the cover of the latest issue of Entertainment Weekly is the team, clockwise from top: Black Widow a.k.a. Natasha Romanoff (Scarlett Johansson), Thor (Chris Hemsworth), The Hulk a.k.a. Dr. Bruce Banner (Mark Ruffalo), Captain America a.k.a. Brooklyn's own Steve Rogers (Chris Evans), Hawkeye a.k.a. Clint Barton (Jeremy Renner) and Iron Man a.k.a. Tony Stark (Robert Downey, Jr.)…all ready to avenge something.
Entertainment Weekly's meeting with the cast and crew, including director Joss Whedon, has revealed that although the Avengers are a team of superheroes, they are not immune to rivalries, jealousies, and just-plain-hating-each-other-ies. We can expect to see as much antagonism coming from within the group as from outside. It will be wildly entertaining to see a group of near-invincible warriors at each other's throats all the while shouldering the responsibility of saving the world every so often.
And until then, we have images the EW cover, the team poster, this dense-with-property-damage image and a bonus clip from the Captain America: The First Avenger Blu-ray to satisfy our cravengers.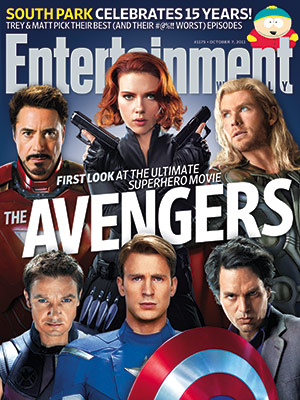 Source: EW, EW via Comingsoon