'The Avengers' Assemble For a Record Summer Kick-Off!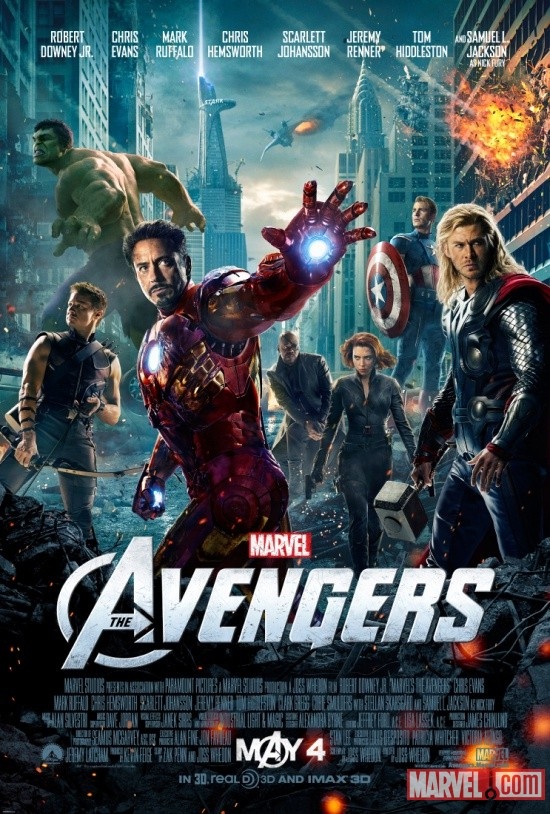 Yes, you read that correctly: $200.3 million! (Far surpassing the $150 million expected!) This is the biggest North American debut in box office history, obliterating the previous record of $169.2 million set by Harry Potter 7, Part 2 last year. Hard to believe it was almost 10 years ago to the day when Sony's first Spider-Man movie kicked off the summer of 2002 with the first (and then unthinkable) $100 million plus opening weekend.
Directed by Joss Whedon, The Avengers features the combined superhero star power of Iron Man, Captain America, Thor, The Hulk, Hawkeye, and Back Widow. As the kick-off film of the summer movie season, this fanboy's dream come true will got added box office horsepower from its 3-D and IMAX showings. IMAX literally ran out of seats w/$15+ million domestic (which is neck and neck with Harry Potter for IMAX record), a $21.1M Global weekend and $31M WW in IMAX since its debut! The international figures are just as astonishing: $151.5 million for the weekend and $441.5 million since the film's debut overseas. In total the film has earned an incredible $641.8 million in worldwide box office!
The Avengers Dailies:
Friday: $80,517,000: Second biggest single day ever
Saturday: $69,729,000: Fifth best single day ever
Sunday: $50,083,000: 17th best single day ever
Total: $200,329,000
Below are key stats courtesy of Disney:
MARVEL'S THE AVENGERS (Marvel): 1st week of release
MARVEL'S THE AVENGERS is projected to make a record-breaking estimated $200.3 million in its domestic debut, positioning it as the highest-grossing debut of all time!
MARVEL'S THE AVENGERS will cross the $600M global box office threshold today after just 12 days of release.
DOMESTIC WKND ESTIMATE (May 4-6): $200.3M at 4,349 locations. Weekend theater average: $46,063.
INTERNATIONAL WKND ESTIMATE (May 4-6): $151.5M
MARVEL'S THE AVENGERS is currently in release in 52 territories representing about 95% of the international market.
ESTIMATED DOMESTIC CUME: $200.3 MILLION
ESTIMATED INTERNATIONAL CUME: $441.5 MILLION
ESTIMATED GLOBAL CUME: $641.8 MILLION
HIGHLIGHTS:
The biggest domestic opening weekend of all time.
Global box office for Marvel's The Avengers has surpassed the global box office totals of Captain America ($364M) and Thor ($449M) and Iron Man ($585M) and Iron Man 2 ($624M).
Domestic: Fastest film to reach $200M (3 days).
Saturday's total of $69.7 million marks the highest Saturday of all time.
Marvel's The Avengers has passed total domestic cume for Captain America and Thor.
International:
Marvel's The Avengers has surpassed the international box office totals of Captain America ($192M), Iron Man, ($266.7M), Thor ($268.3M) and Iron Man 2 ($311.5M) in just 12 days of release.
Biggest opening weekend of all time in Mexico, Brazil, Argentina, Ecuador, Central America, Peru, Bolivia, Hong Kong, Malaysia, New Zealand, Philippines.
Russia (May 3): $17.9M – biggest Marvel opening weekend.
Performance to date – key int'l territories
Territory: GBO
UK: $48.1M
Mexico: $40.2M
Australia: $32.2M
Korea: $31.3M
Brazil: $31.0M
France: $26.4M
Italy: $18.8M
Germany: $18.3M
Russia: $17.9M
China: $17.4M
Spain: $14.4M
Taiwan: $14.3M
Philippines: $11.5M
Other: $119.7M
Total: $441.5M
Exit Data: Cinema Score: A+; Rotten Tomatoes: 94%
The remainder of the top five merely battled for the scraps left over by the box office behemoth at the top of the chart, which earned $192.3 more than the number two film. The overall weekend generated a massive near $250 million in North America.
Sony's Think Like a Man has become a very profitable ensemble comedy for Sony's Screen Gems division earning $8 million its third weekend. As it nears $75 million in North America, the $12 million production budget was obviously money well spent on this adaptation of Steve Harvey's best-selling book.
Lionsgate's Hunger Games, added another $5.7 million to its incredibly impressive North American total as it crosses the $380 million mark by the end of the weekend and pushes its worldwide total well beyond the $600 million mark.
Warner Bros.' romantic drama The Lucky One in its third weekend took fourth place with $5.5 million and has earned nearly $50 million to date.
Rounding out the top five, Sony's second weekend of The Pirates! Band of Misfits offered a very family-friendly PG-rated alternative this weekend and as such wound up with a gross of $5.4 million and a cumulative gross through Sunday of close to $20 million.
The summer season of 2012 has the official distinction of having the strongest start ever and this should lead us to a record-breaking overall summer easily beating last year's $4.4 billion in revenue. Next up is the debut of Warner Bros. Dark Shadows, Universal's Battleship, and Sony's Men in Black 3 among others. Wow! What a great summer this is going to be at the nation's movie theaters!
Weekend Box Office (Estimates)
Shocker! 'Avengers' earns $200.3M — Biggest Opening Weekend Ever!
Movie Weekend Gross / Total to Date
1 The Avengers (PG13) $200.3M / $200.3M
2 Think Like a Man (PG13) $8.0M / $73.0M
3 The Hunger Games (PG13) $5.7M / $380.7M
4 The Lucky One (PG13) $5.51M / $47.9M
5 Pirates! Band of Misfits (PG) $5.4M / $18.6M
[Image Credit: Disney]