'The Avengers': Cobie Smulders Reveals New Clip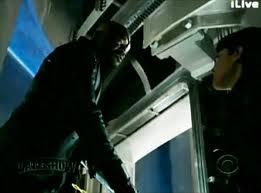 Even with the likes of The Hulk, Iron Man, Captain America, and Thor in their ranks, The Avengers is hardly an exclusive boys club. (As if Joss Whedon would ever let that happen.) Now that we've seen Scarlett Johansson representing for the women of The Avengers as the butt-kicking Black Widow, it was finally Cobie Smulders turn to show excited fans what she's made of as S.H.I.E.L.D. Agent Maria Hill.
The stunning How I Met Your Mother star (HIMYM wardrobe department, take note, please let poor Robin look like this again) stopped by The Late Show with David Letterman on Monday night to debut a clip from the eagerly anticipated film. While the moment isn't nearly as action-packed as Johannson's, viewers still got a taste of a tense conversation between Smulders' Maria and Samuel L. Jackson's Nick Fury. Check out the clip, which Smulders rightly called some "serious business" below:
Ladies and gentleman, The Avengers hits theaters May 4.
Were you psyched to finally get to see Cobie Smulders in action? Or were you hoping to see her in action action like Scarlett Johannson?
More:
Cobie Smulders in The Avengers: First Look
The Avengers Pics: See Joss Whedon as Super-Director