'The Avengers' Joins 'Titanic' and 'Avatar' in $600 Million Club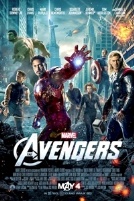 As if The Avengers had any more box office mountains to conquer, the crowd-pleasing superhero juggernaut crossed the $600 million mark ($600.4M) in North American theaters on Tuesday, June 26, after just 54 days in release. The Avengers becomes only the third film in history to ever accomplish this amazing feat with James Cameron's dynamic duo of Avatar and Titanic also in this rarefied field of films to surpass $600 million at the North American box office.
Surprisingly, Avatar will retain its speed record to the $600 million mark having hit that milestone after just 47 days on Tuesday February 2, 2010 (though The Avengers was faster to $500 million hitting the mark in just 23 days vs. 32 days for Avatar). It should be noted however that Avatar played in the much less competitive first quarter timeframe (versus the crazy competitive summer season) and therefore was able to reach $600 million at a quicker rate.
Way back in 1998 Cameron's Titanic hit the $600 million mark after an incredibly long box office voyage of 218 days on Friday, July 24, 1998. It was clearly a different world back then with Titanic opening with just $28.6 million in 2,674 theaters vs. Avatar's weekend debut of $77 million in 3452 locations on Friday, Dec. 18, 2009. The Avengers had an even bigger head start with the biggest ever opening weekend of $207.4 million in 4349 theaters starting on Friday, May 4, 2012.
How high can The Avengers' revenue climb? Well, with two of the most anticipated superhero films on the horizon including The Amazing Spider-Man on Tuesday, July 3, and The Dark Knight Rises on Friday, July 20, the film will have its work cut out for it to challenge the top two films.  Avatar is clearly out of reach at this point having amassed a grand total of $760.5 million.
Titanic is an interesting competitor having taken in $600.8 million in its first run (a number that The Avengers will easily surpass). However, this year's 3D re-release seemingly puts it out of danger with a revised total of $658.6 million. One thing is certain: no what it ultimately earns, The Avengers' place in the box office pantheon is assured and Disney and Marvel have much to celebrate….and who knows, maybe a future re-release could leapfrog the film into second place on the all-time grossing films chart.