'The Avengers' Massive Friday Box Office!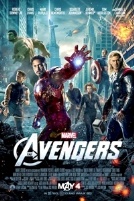 'The Avengers' from Marvel and Disney assembled an incredible $80.517 million on Friday.  
This is the second best single-day gross in box office history behind only 'Harry Potter and the Deathly Hallows, Part 2' and its opening day gross of $91,071,119. 
The achievement is all the more impressive given that 'Potter' had record-breaking midnight grosses of $43.5 million while 'The Avengers' earned "only" $18.7 million in its midnight screenings. 
Could 'The Avengers' have a shot at besting the opening weekend record held by 'Harry Potter and the Deathly Hallows, Part 2' of $169.2 million? 
Well, a CinemaScore of A+ should generate sufficient word-of-mouth to propel the film to at least a spot in the top five openings of all-time. IMAX as always contributed big to this performance with 8% of the gross derived from their big screen locations. 
The 3D showings were also a hit with an estimated 60% of the gross coming from these screens. 
The film's worldwide results are equally impressive with another $30.3 million added to its international total on Friday and already $334.3 million total in the international marketplace. 
Add on the $80.5 million on Friday in North America and the film has a $414.8 million worldwide total that will have it on track to exceed half a billion dollars in global box office by Sunday night!
Avengers Assemble indeed! 
Check out these global Gross Box Office figures:
The Avengers estimated results for Friday May 4:
Int'l: $30.3M
Dom: $80.5M
The Avengers cumulative performance to date:
Domestic GBO: $80.5M
Int'l GBO: $334.3M
Global GBO: $414.8M
Here are the top 5 single-day grosses of all-time:
HARRY POTTER AND THE DEATHLY HALLOWS, PART 2 (WARNER BROS.) – Opened 7/15/11
1 Friday 7/15/2011 $91,071,119
THE AVENGERS (DISNEY/MARVEL) – Opened 5/04/12
2 Friday 5/4/2012 $80,517,000
THE TWILIGHT SAGA: NEW MOON (SUMMIT ENT.) – Opened 11/20/09
3 Friday 11/20/2009 $72,703,754
THE TWILIGHT SAGA: BREAKING DAWN, PART 1 (SUMMIT ENT.) – Opened 11/18/11
4 Friday 11/18/2011 $71,642,526
THE TWILIGHT SAGA: ECLIPSE (SUMMIT ENT.) – Opened 06/30/10
5 Wednesday 6/30/2010 $68,533,840