The Best "Based on a True Story" Movies
This week's Big Miracle, about a duo's (John Krasinski and Drew Barrymore) struggles to save a family of whales, is "inspired by the incredible true story that united the world." While it's not often that movies bear such a heartstring-tugging tagline, it is quite often that they're inspired by or loosely based on real events. Below we list our favorite such movies, not to be confused, however, with biopics, docudramas or alteration-less "true story" fare. So no Schindler's List, etc. Also no Titanic – but not because it doesn't qualify. The Exorcist "True story" notes: Based on the book of the same name – self-adapted by William Peter Blatty – which itself is based on a real-life exorcism that was purported to have included supernatural events.

It is often forgotten that the scariest movie of all time – according to my recurring nightmares – is ultimately "inspired by true events." Or perhaps we just don't want to believe that the devil can inhabit cute little kids and turn their voices into gravel. And enable them spin their heads around. And spider-crawl down the stairs.
"True story" notes: The invasion of Normandy and horrors of war are, of course, the stuff of nonfiction, but the last-surviving-brother plot is largely the result of screenwriter Robert Rodat's imagination (he was inspired after a story of eight siblings who died in the Civil War).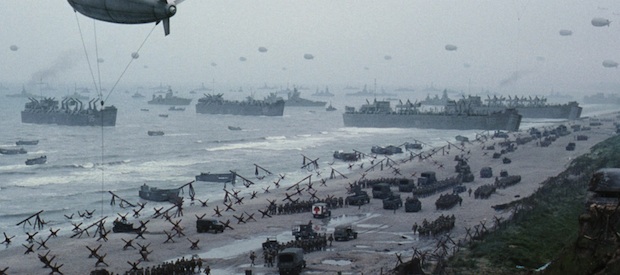 The opening sequence is forever burned in our brains – if there's a moviegoer version of PTSD, it is induced here – but Spielberg masterfully, and characteristically, mixes humanity and adventure with unforgettable visuals.
"True story" notes: Fictional but based loosely on writer/director Cameron Crowe's time as a young writer for Rolling Stone.
Crowe's best movie (sorry, Jerry Maguire fans and Say Anything diehards) captures what the writer/director always seems to be reaching for: the rock 'n' roll of life.
"True story" notes: Adaptation of Nicholas Pileggi's novel Wiseguy, based on real-life mobster-turned-informant Henry Hill; other characters' names were changed but mostly based on actual people.

Pileggi and Martin Scorsese might've changed names and condensed a lot of the Henry Hill saga, but it's hard to imagine Goodfellas feeling any more authentic, even if had it been an all-inclusive 10-hour movie. We'll give The Godfather the top spot and maybe Part II the No. 2 spot, but not many would disagree with Goodfellas being ranked the third-best Mob movie ever.
"True story" notes: Loosely based on/inspired by the life and times of porn star John Holmes.
Our proper introduction to – and thus fascination with – Paul Thomas Anderson commenced with this pseudo-biopic about the Golden Age of porn and the, um, rise of its, ahem, biggest star. Great performances were in abundant supply, but it was Anderson's unwillingness to do anything conventional and/or expected that kept our interest, er, aroused. (Sorry.)
HONORABLE MENTIONS
One of the best-ever sports movies is also quite possibly one of the best "true story" movies – even though it isn't, per se: The only keywords that the movie and real-life story have in common are "Indiana," "basketball" and "high school."
Terrence Malick's mesmerizing feature-film debut – loosely based on a killing spree perpetrated by a teenaged couple, and about a similar couple's (Martin Sheen and Sissy Spacek) murderous road trip … and so much more – earned him the right to make us wait sometimes a decade between each of his films. But if he wants to speed up the pace, as is reportedly the case nowadays, that's OK too.
With The Exorcist (see above) two years after this crime-thriller masterpiece – in which several of the characters have real-life counterparts – director William Friedkin is the sole two-time "true story" director on our list, and he boasts one of the best back-to-back movie runs of all time. How he wound up directing Blue Chips, we'll never know.
The Hitchcock classic is based on a book loosely inspired by infamous murderer/grave robber/body snatcher Ed Gein. So, uh, thanks for being such an unfathomable psychopath, Mr. Gein … ?
Tim Burton could've made an honest, earnest biopic about "one of the worst directors of all time," but it wouldn't have been nearly as interesting or fitting – and it wouldn't have made our list, which was no doubt on Burton's mind at the time – as the zany homage he paid with Ed Wood.