'The Bling Ring' Trailer: That Sofia Coppola is One Celeb-Obsessed Celebrity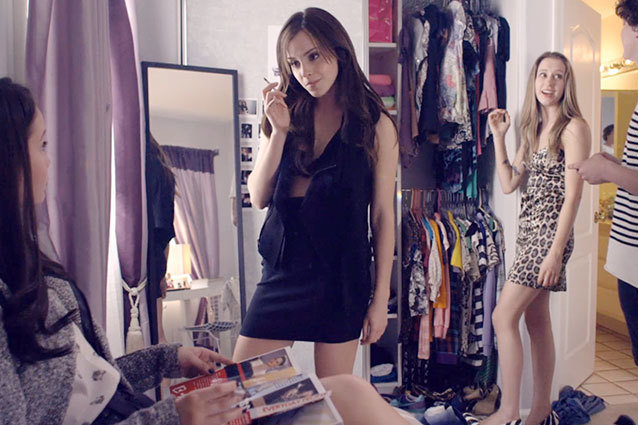 Sofia Coppola loves celebrity. She's a part of it, she grew up in it, and nearly all of her movies are about it. Homegirl has a weird obsession with our culture's own weird obsession with famous people, says the writer on a pop culture website! But it's true — it's everywhere, and seems to only grow more insiduous as the years teeter slowly onward. Which is probably why the director penned The Bling Ring screenplay in the first place. Celebrity worship: you're doing it wrong, America.
For those who prefer their news to actually contain some, well, news, the story of the Bling Ring (yes, that's what they were called) is a fairly simple, if completely confounding one. You see, one day in October 2008, a bunch of already rich, bored teenagers from Calabasas, California (OMG the Kardashians live there SO kewl), decided to start robbing the homes of a bunch of celebrities (with special emphasis on Paris Hilton for lord knows what reason. Symbolism, I guess.) over a period of nearly a year. That's right — these entitled motherf**kers somehow managed to get away with this for a year. Proof that in America literally anything is possible.
Those who need a bit more convincing that this is likely going to be one of the more absurd films to come out in 2013 need look only below at the newly released theatrical trailer. OMG, I wonder what Lindsay Lohan thinks about this trailer. Does she think it's cool!? Does she think it's fun?! Does she think they're like, so totally badass even though they broke into her home and stole her things (if they really are her things, since we all know Lohan has a bit of an affinity for a five-finger discount herself)?! I'm sure the youths (nothin' scarier!) portrayed in this film are just dyyyyying to find out. From jail, obviously, because they're awful.
Leslie Mann and American Horror Story's Taissa Farmiga also star in The Bling Ring, which opens in theaters June 14, 2013. Will you so totally be checking it out? Let us know in the comments.
Follow @AliciaLutes on Twitter
More:
See Emma Watson Pole Dance in 'The Bling Ring'
If Nothing Else, 'The Bling Ring' Will Be Fashionable
Emma Watson Strips Down For Sensual Portrait
---
From Our Partners:


Eva Longoria Bikinis on Spring Break (Celebuzz)


33 Child Stars: Where Are They Now? (Celebuzz)