The New 'The Book Thief' Trailer Reveals a Quiet Oscar Contender
So far, the 2014 Oscar race has been most notable for the amount of films who have pushed back their release date to keep from being swallowed by the competition. But while those films are stepping aside, The Book Thief has quietly stepped up to fill the opening. With the exception of an ad campaign that ran two blank pages in the New York Times, there hasn't been a lot of press surrounding the film, which makes it an unlikely candidate for awards-season buzz. However, based on the new international trailer, it seems like the film is about to gain a lot more attention for its story of hope and the importance of words. 
Based on the beloved and critically acclaimed novel by Markus Zusak, The Book Thief tells the story of Leisel, a young girl who finds solace from the tumultuous start of World War II in books, and finds a family in her adoptive parents and Max Vanderburg, the Jewish man they are hiding in the basement of their home. The cast is a mix of veterans and relative newcomers, led by Geoffrey Rush as Hans Hubermann, Leisel's warm, accordion-playing father and Emily Watson as Rosa, his stern but loving wife, and Sophie Nélisse as Leisel, Ben Schnetzer as Max, and Nico Liersch as Rudy Steiner, the fastest runner in town and Leisel's best friend.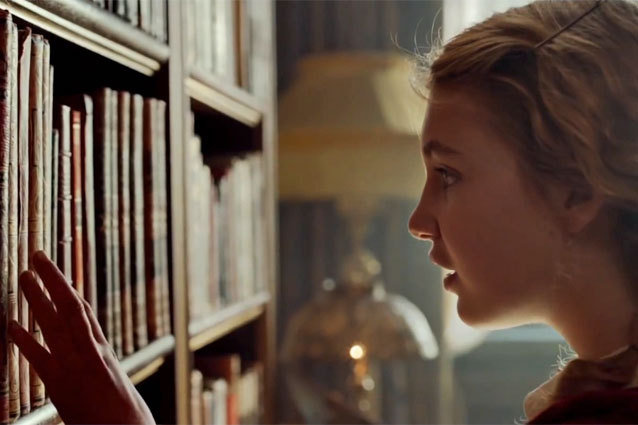 20thcenturyfoxuk/YouTube
Fans of the novel will surely have high expectations for the film, as it contains many elements that will be difficult to translate onto film — most notably, using Death as the narrator — but based on the trailer, it seems that the characters will have made the transition incredibly well. The Book Thief takes a different approach to telling a story set in World War II by focusing on a small group of people in a small German town. While it looks like Rush and Watson are set to give excellent, emotional and understated performances, the real focus will be on Nélisse, who has the difficult task of not only carrying the entire film, but also realizing a character who has been imagined and loved by so many readers. Without a major promotional push, it's unlikely that The Book Thief will end up with any major acting nominations, regardless of how incredible the performance, but hopefully it will be able to earn some recognition for its sets, its visual effects, or its John Williams-composed score. It may be the dark horse of the 2013 awards season right now, but everyone loves to see the underdog come out on top. 
The Book Thief opens in New York and Los Angeles on November 8, and nationwide on November 15. 
Follow @hollywood_comFollow @julesemm