'The Cabin in the Woods' Star Fran Kranz Spills On 'That Bong'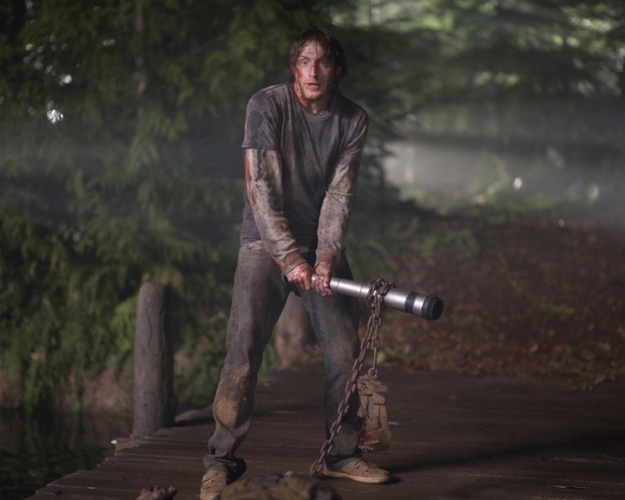 WARNING: CABIN IN THE WOODS SPOILERS AHEAD. ENTER IF YOU DARE.
"That bong. It's getting a lot of buzz." Ahem, so to speak, right, Fran Kranz?
Yep, that bong that played a surprisingly important role in the horror comedy The Cabin in the Woods, which scared up a decent $14.85 million at the box office this weekend. That bong that gets Marty (Kranz) and his pal-in-peril Dana (Kristen Connolly) out of some terrifying life-or-death jams when facing off against Big Brother-manufactured mutant zombies.
Hollywood.com spoke with Kranz last week about all things Cabin, including that already-infamous device (which the actor is wielding here in a scene from the film) that saves the day in Drew Goddard and Joss Whedon's crowd-pleasing flick and how audiences have reacted to it. In fact, the bong scenes seemed to be a favorite of  theatergoers who saw Cabin over the weekend. As one Hollywood.com reader explained, "My audience burst in to applause when Marty retaliated against the zombie through the window with his Thermos-Bong."
But, as it turns out, not only did the characters have a lot riding on the execution of the bong/lethal weapon, so did Cabin's filmmakers.  "We just had that one prototype, which I was told cost $5000 when all was said and done," Kranz revealed, "I think they probably made a lot of different versions until they found what actually worked, so it was sort of an expensive process."
Of course, the bong builders had to get it just right to make it a multifunctional tool for Cabin's intuitive underdog hero. As Kranz put it, "It kills three birds with one stone. You can smoke pot [with it], you can drink your coffee [out of it] and you can kill zombies [with it.] Or at least hold them at bay."
But, as is so often the case with anyone who comes in contact with a bong, he totally spaced on something. "I don't know why I didn't keep it," Kranz said with a laugh, adding, "I'm kicking myself."
[Photo credit: Lionsgate]
Follow Aly on Twitter @AlySemigran
More:
Cabin in the Woods: How Did Your Audience React?
Cabin in the Woods Star Fran Kranz Talks Broadway, Horror Movies, and Joss Whedon
Cabin in the Woods Director Drew Goddard: 'I Wish People Would Just Go to the Theater and Be Surprised'