The 7 Funniest Moments from the 'Catching Fire' Cast's Interview (of Each Other)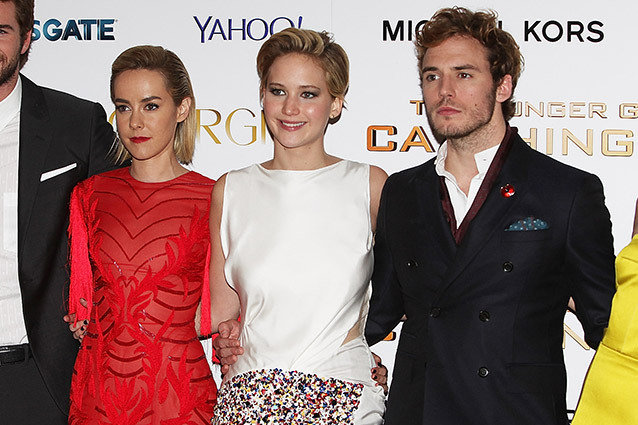 David M. Benett/Getty
Jennifer Lawrence, Josh Hutcherson, Jena Malone, and Sam Claflin from The Hunger Games: Catching Fire sat down to interview each other using questions that fans had sent in. The hilarity that ensued is guaranteed to make you love the cast even more (if that's possible) and will get you more pumped for the sequel, as if you weren't already counting down the minutes (10,440, as of 6 PM tonight). Here's the clip, and the 7 best moments.
1. When asked what the toast at Peeta and Katniss' wedding would be, Hutcherson sputters, "To a long and prosperous life full of… bread and happiness and… (throwing his hands up, looking at Lawrence, and laughing) we're not having a toast! We'll let you do the toast at the wedding. I'm not doin' the toast at the wedding, absolutely not."
2. When asked what her favorite scene to shoot was, Malone says, "Getting interviewed by Caesar… and just seeing Stanley (Tucci) up close… I kind of got to spit all over him." 
3. The cast is asked, "If you could take only one thing from your bathroom into the arena, what would it be?" Hutcherson replied: "A plunger, next question." Laughingly, Lawrence said, "Poop. If someone pulled out poop I'd be like, OKAY!" (Hands raised)
4. Hutcherson asks Claflin, "Was our onscreen kiss the best you've ever had?" Claflin replies, "I definitely had butterflies (and winks at Hutcherson)." New romance alert! But they're probably just referring to when Finnick gives Peeta CPR. Claflin then says, "I've got a tendency to kiss dead people." After an awkward silence he clarifies, "In movies! Like in Snow White!"
5. After Hutcherson asks Lawrence a silent, telepathic question, Lawrence replies, "My favorite part of shooting in Hawaii was running into the water and peeing with you!" (Hutcherson and Lawrence high-five).
6.  When Claflin is asked whether Finnick's trident or his charm is more powerful, Claflin replies, "Um, my trident. I can't kill people with my charm." Hutcherson quickly chimes in with, "Can't you? You are English." (And yes, his accent is oh so charming… definitely a powerful tool). 
7. Malone asks the boys to choose the right underwear for their wetsuits. Hutcherson says, "I wore a thong! Like Cisco!" 
Follow @hollywood_com
| Follow @lexi_smail |