'The Croods' Star Emma Stone Teaches Ryan Reynolds What a GIF Is — VIDEO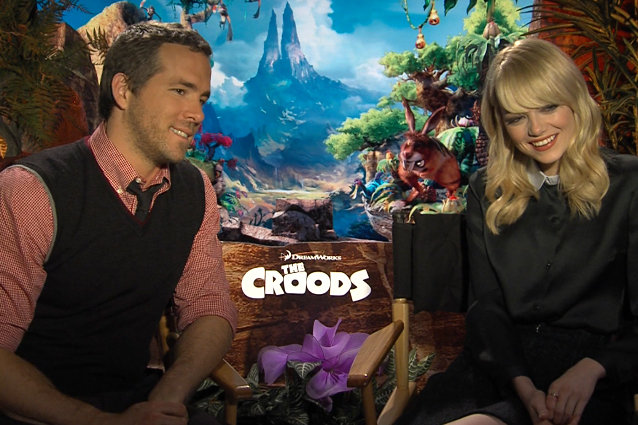 Friday, Emma Stone and Ryan Reynolds are going back in time as Eep the cavegirl and Guy the, well, guy in Dreamworks' The Croods. We sat down with the duo to understand just how into their characters they really got.
RELATED: Emma Stone Learns About Shoes In The Croods Clip
Eep, along with her family led by Grug (Nicholas Cage) are forced out of their cave home when the first apocalypse starts to rip through their world. With the help of Guy, and his adorable sloth friend Belt, they navigate the strange imaginative world beyond their cave, a place where whales walk on land and rabbits are over seven feet tall. The lush scenery surrounds and confounds them all the way, but Guy only has eyes for the strong and independent Eep. 
RELATED: Watch The Croods Trailer
Stone jokes that she really "likes a guy she can throw over her shoulder," something that doesn't make Reynolds feel emmasculated at all. But the real fun starts when Reynolds admits (dunh-dunh-duuuuunh — to steal his furry co-star's favorite line) he doesn't know what a GIF is. Luckily, he's got the queen of GIFs, Stone (who is well aware of her existance on Tumblr as an animated icon), sitting right next to him. She sets him right, complete with a little dance performance, just prime for GIFing. 
Follow Kelsea on Twitter @KelseaStahler