'The Croods' Directors on Why The Movie's Cutest Character Almost Didn't Happen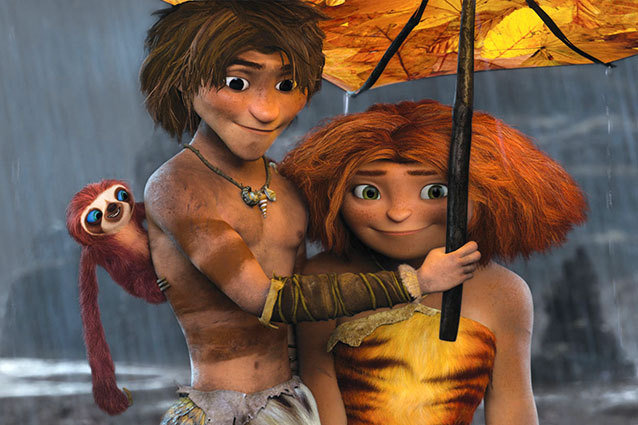 The Croods, which just swept the weekend box office and knocked Oz The Great and Powerful off its pedestal, almost went into production without its adorable breakout star, Belt. Directors Chris Sanders and Kirk De Micco sat down with Hollywood.com (video below) and explained how the lovable sloth-like creature who not only holds up Guy's (Ryan Reynolds) pants, but consistently steals scenes with his giggle-inducing interjections was saved from the fate of prop-hood.
RELATED: 'The Croods' Belt and 14 Other Adorable Cartoon Creatures
"He's interesting character because he really did start as a belt. He was a prop and at the last minute, we gave him a little rigging in case we need him to move around a little bit. We didn't know he was going to become a big star in the movie the way he did," says Sanders, who also voices the furry scene-stealer.
"Normally in Hollywood, it's just extras who try to become stars, but in animation even props become stars," adds co-director De Micco, with a laugh.
RELATED: 'Croods' Star Emma Stone Teaches Ryan Reynolds About GIFs – VIDEO
But it's not just Belt who's making audiences ooh and ahh, the film is full of imaginative creatures including whales that walk, over-sized rabbits, and even a rainbow sabre tooth tiger, all of whom pop up along the way as cavewoman Eep (Emma Stone), her caveman father Grug (Nicholas Cage), and their family follow Reynolds' Guy into the unknown.
Where did all these ideas come from? "Our tiny heads and our tiny brains," says Sanders. "We invented this time period, called the Croodatious … We wanted the audience to explore the new world along with the Croods." It allowed the filmmakers to create landscapes and creatures that only could have existed in their minds, resulting in a field of visual delights for movie goers.
But what's the hazard of having complete and total control over the creation of a multitude of new species? Extreme cuteness. "Even the ones that can eat you are cute," says Sanders. That's certainly fine with us. 
The Croods is in theaters now.
Follow Kelsea on Twitter @KelseaStahler
[Photo Credit: Dreamworks Animation]
---
You Might Also Like:


15 Oscar-Winning Nude Scenes


Young Jack Black Is Totally Unrecognizable