'The Dark Knight Rises' Nears Box Office Launch!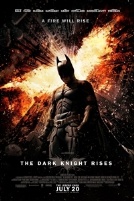 Dark Knight fans rejoice, the big day is almost here! Possibly the most anticipated film of the year hits theaters at 12:01am Friday when The Dark Knight Rises begins its theatrical run…and the whole world will be watching.
At the time of its release, 2008's The Dark Knight posted the biggest opening weekend (F-S-S)of all-time with $158,411,483. This beat 2007's Spider-Man 3 and its $151,116,516 first-ever $150 million plus debut. It also at the time posted the biggest single-day gross of all time on its opening day on Friday, July 18, 2008 of $67,165,092 and this included then record midnight screening grosses of $18.5 million. The film had a second weekend drop of 52.55 percent that showed amazing "legs" for a film that opened that big and thus earned a whopping $75,166,466 in its second weekend. The film became a legendary event earning $533,345,358 in North America and a worldwide gross of just over $1 billion and both Batman Begins and The Dark Knight benefited from their presentations in IMAX.
Of course, the $200 million question is not "if" it will land in the top 5 opening weekends of all-time, but "where" it will land in the top 5 opening weekends of all-time. We will know soon enough when fans start lining up at midnight Thursday to get their first look at the latest Dark Knight. We present the following stats so you can play along at home as the numbers roll in:
HOLLYWOOD.COM BOX-OFFICE – TOP 11 Midnight Screening Figures
Sorted by Gross
Title & Distributor Midnight Gross
1 HARRY POTTER AND THE DEATHLY HALLOWS, PART 2 (WARNER BROS.) $43,500,000
2 THE TWILIGHT SAGA: BREAKING DAWN, PART 1 (SUMMIT ENT.) $30,250,000
3 THE TWILIGHT SAGA: ECLIPSE (SUMMIT ENT.) $30,000,000
4 THE TWILIGHT SAGA: NEW MOON (SUMMIT ENT.) $26,270,000
5 HARRY POTTER AND THE DEATHLY HALLOWS, PART 1 (WARNER BROS.) $24,000,000
6 HARRY POTTER AND THE HALF-BLOOD PRINCE (WARNER BROS.) $22,200,000
7 THE HUNGER GAMES (LIONSGATE) $19,735,000
8 THE AVENGERS (DISNEY) $18,700,000
9 THE DARK KNIGHT (WARNER BROS.) $18,500,000
10 STAR WARS: EPSIODE III – REVENGE OF THE SITH (FOX) $16,900,000
11 TRANSFORMERS: REVENGE OF THE FALLEN (PARAMOUNT) $16,600,000
TOP SINGLE-DAY MOVIE GROSSES OF ALL-TIME
HOLLYWOOD.COM BOX-OFFICE
RANK Day of Release Day of Week Date Single-Day Gross
HARRY POTTER AND THE DEATHLY HALLOWS, PART 2 (WARNER BROS.) – Opened 7/15/11
1 1 Friday 7/15/2011 $91,071,119
THE AVENGERS (DISNEY/MARVEL) – Opened 5/04/12
2 1 Friday 5/4/2012 $80,813,985
THE TWILIGHT SAGA: NEW MOON (SUMMIT ENT.) – Opened 11/20/09
3 1 Friday 11/20/2009 $72,703,754
THE TWILIGHT SAGA: BREAKING DAWN, PART 1 (SUMMIT ENT.) – Opened 11/18/11
4 1 Friday 11/18/2011 $71,642,526
THE AVENGERS (DISNEY/MARVEL) – Opened 5/04/12
5 2 Saturday 5/5/2012 $69,557,990
TOP OPENING WEEKENDS OF ALL-TIME
Hollywood.com Box-Office
Sorted by 3-day opening F/S/S
RANK TITLE DISTRIBUTOR 3-DAY OPENING RELEASE DATE
1 THE AVENGERS DISNEY $207,438,708 Fri, 5/4/12
2 HARRY POTTER AND THE DEATHLY HALLOWS PART II (3-D) WARNER BROS. $169,189,427 Fri, 7/15/11
3 DARK KNIGHT, THE WARNER BROS. $158,411,483 Fri, 7/18/08
4 THE HUNGER GAMES LIONSGATE $152,535,747 Fri, 3/23/12
5 SPIDER-MAN 3 SONY $151,116,516 Fri, 5/4/07
6 TWILIGHT SAGA, THE: NEW MOON SUMMIT ENT. $142,839,137 Fri, 11/20/09
7 THE TWILIGHT SAGA: BREAKING DAWN, PART 1 SUMMIT ENT. $138,122,261 Fri, 11/18/11
8 PIRATES OF THE CARIBBEAN: DEAD MAN'S CHEST BUENA VISTA $135,634,554 Fri, 7/7/06
9 IRON MAN 2 PARAMOUNT $128,122,480 Fri, 5/7/10
10 HARRY POTTER AND THE DEATHLY HALLOWS – PART 1 WARNER BROS. $125,017,372 Fri, 11/19/10