'The Dark Knight Rises' Trailer: And Here…We…LEGO…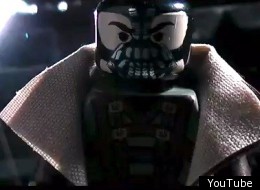 If you thought The Dark Knight Rises trailer couldn't get any better (sans a few hard-to-hear Tom Hardy mumbles), then you're in for a treat. An animated version of the trailer has now hit the web, playfully redoing the non-stop action snippets in full out LEGO style.
But don't worry, Batman enthusiasts: none of the audio has been affected, so you'll still get Tom Hardy's inaudible Bane mumbles (please note that actual hunky Hardy images are sold separately).
Directed by Christopher Nolan and starring Hardy as well as Christian Bale, Anne Hathaway, Joseph Gordon-Levitt, Morgan Freeman, Michael Caine, Marion Cotillard and Matthew Modine, The Dark Knight Rises hits theaters on July 20.
But until that time, feast your eyes on the wonders of online animation and see which form of the masked-man series you prefer. Happy Friday, everyone!
And just so you can compare, here's the original version of the trailer: