The 'Dark Knight' Will Rise at the Box Office!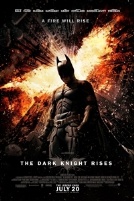 "The Legend Ends"…or so say the one-sheets and giant billboards all over movie theaters and on almost every street corner in America. However, it looks more like a box office legend will be born as Warner Bros.' "The Dark Knight Rises" prepares to make its massive debut. With movie theaters constantly adding more shows to accommodate the demand and on-line ticketing sites seemingly pushed to their limits, this "Dark Knight" looks toward making 2-D box office history and possibly more than that if the planets align. And align they shall at midnight on Thursday when the true fans get a chance to see a movie they have been waiting patiently for since 2008's "The Dark Knight" made its final curtain call on its final day in theaters on Thursday 3/5/09 after playing for a whopping 231 days and earning a North American total of $533,345,358 after earning its final $8,206 in 54 locations.
The film of course is the stuff of legend and rightfully so given the phenomenal and still goose-bump inducing performance of the late Heath Ledger whose untimely death only served to create a mystique that permeated the film and thus the zeitgeist making the film a billion dollar worldwide juggernaut. Christopher Nolan brought his preternatural directing talent into full bloom on the picture and one could just sense the specialness of a film that seemingly redefined the comic-book genre. This was more than just a great "super-hero" movie it was a truly great film by any measure and Heath Ledger's posthumous Best Supporting Actor win was arguably the most-deserved in Academy Award history.
This now brings us full circle to the release of "The Dark Knight Rises," a movie for which the word "blockbuster" was invented. A perfect symphony of release date, marketing materials and simply letting the brand speak for itself has allowed the film to take on a life of its own. As rabid fans prepare to join their fellow "Bat-fans" in 4,404 theaters across the country (and in sold out IMAX theaters!), speculation has run rampant as to how the film will open in terms of midnight gross, single-day gross and of course the all-important opening weekend gross.
The dialogue goes something like this: "Will 'The Dark Knight Rises' beat "The Avengers?" "Hmm, well without 3-D it will be tough to beat that $207.4 million opening weekend." "Well, what if they keep adding theater screens to accommodate the demand?" "Who knows, we underestimated "The Avengers" and look what happened." At the end of the day it really doesn't matter since there have only been five films EVER that have opened with over $150 million and without a doubt "The Dark Knight Rises" will join their illustrious ranks with a likely post a gross somewhere between last year's then record-breaking $169.2 million opening weekend of the 3-D supercharged "Harry Potter and the Deathly Hallows, Part 2" and "The Avengers" aforementioned $200 million plus history making debut. But who knows, we could be witnessing history in the making if another box office miracle happens this weekend.
Believe it or not there are actually other films in the marketplace and some could potentially benefit from the huge crowds that will be clamoring all over movie theaters this weekend. Twentieth Century Fox's "Ice Age: Continental Drift" will drift into its second weekend after continuing to make a huge splash overseas and enters its second weekend with nearly $70 million in North America and a worldwide tally of well over $300 million! This weekend the marketplace's most recent family animated release should prove to be a nice alternative to the decidedly more mature exploits of the caped crusader and wind up with a gross in the $25 million to $30 million range and boost its fortunes near the $100 million mark in N. America.
It is obvious that two superheroes will enjoy a place in the top 5 this weekend as Sony's "The Amazing Spider-Man" re-boot starring Andrew Garfield and Emma Stone enters its third weekend with well over $500 million in worldwide web-slinging dollars. An expected third weekend gross in the mid-teens will land it in the top 5 and with over $200 million already in the domestic bank vault, this is one spider that clearly has some sting left.
This brings us to that mainstay of the Top 5: Seth MacFarlane's "Ted." The adorable, foul-mouthed and much beloved teddy bear of the Universal Pictures release will enjoy another great weekend, its fourth by the way, that will bring the R-rated comedic fantasy another $10 to $13 million in funny bear stuffing and push it well close to the $200 million mark in North America by Sunday night. Starring Mark Wahlberg and Mila Kunis this film further solidifies the notion that R-rated comedies are a hugely successful commodity in the summer movie season.
With an expected gross of just under $10 million, Disney/Pixar's 13th movie release, "Brave" in 3-D will hit the target rounding out the Top 5 in its fifth weekend in theaters and giving family audiences another great alternative.
This will of course be another solid weekend at the summer box office where a tug-of-war with last year's revenues and attendance has been an ongoing source of intrigue for box office watchers around the globe.
TOP OPENING WEEKENDS OF ALL-TIME
Hollywood.com Box-Office – Copyright 2012
Sorted by 3-day opening F/S/S
RANK TITLE DISTRIBUTOR 3-DAY OPENING RELEASE DATE
1 THE AVENGERS DISNEY $207,438,708 Fri, 5/4/12
2 HARRY POTTER AND THE DEATHLY HALLOWS PART II (3-D) WARNER BROS. $169,189,427 Fri, 7/15/11
3 DARK KNIGHT, THE WARNER BROS. $158,411,483 Fri, 7/18/08
4 THE HUNGER GAMES LIONSGATE $152,535,747 Fri, 3/23/12
5 SPIDER-MAN 3 SONY $151,116,516 Fri, 5/4/07
6 TWILIGHT SAGA, THE: NEW MOON SUMMIT ENT. $142,839,137 Fri, 11/20/09
7 THE TWILIGHT SAGA: BREAKING DAWN, PART 1 SUMMIT ENT. $138,122,261 Fri, 11/18/11
8 PIRATES OF THE CARIBBEAN: DEAD MAN'S CHEST BUENA VISTA $135,634,554 Fri, 7/7/06
9 IRON MAN 2 PARAMOUNT $128,122,480 Fri, 5/7/10
10 HARRY POTTER AND THE DEATHLY HALLOWS – PART 1 WARNER BROS. $125,017,372 Fri, 11/19/10