The 'Twilight' Effect: Teen Girls Attempt To Recapture That Box Office Magic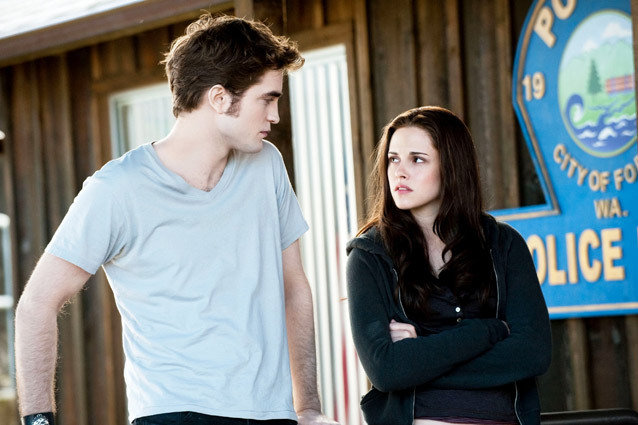 Summit Entertainment
The Twilight trilogy has lovingly left its sparkle in Hollywood, leaving behind a trail of movies to proceed in its dust, sometimes shining bright and sometimes burning out. Achieving that sparkle, or promising to, is known as the Twilight Effect. Studios can't seem to buy scripts fast enough hoping to cast the next Bella, taking young female leads to new heights.
Gone are the days of the popular football jock discovering the hot bod of the nerd under her big sweaters. 
Now the adolescent girls roar their battle cry, "Give us blood! Give us guts! Give us the soulless creatures only we can save! Give us this or give us nothing at all!"
The hero, young Bella, gave grunge girls everywhere hope that they too might score an older, wise, charming, virtuous and strong, blood sucker that looked torn from the pages of a GQ magazine…admittedly, a lot to live up to.
Enter Katniss Everdeen. With her girl-next-door looks and badass attitude, she has come the closest to touching Bella's allure. She isn't just saving her sister when she volunteers for the annual Hunger Games, she is uniting her society that was previously hopeless.
Julie Grigio isn't afraid to get her hands a little dirty. She doesn't merely ignite a beating heart in the once lifeless body of R in Warm Bodies, she saves an entire race of people from being massacred by the ever disgusting-have-been-zombies-too-long Boneys.
Beautiful Creatures perhaps missed the beat on providing the strong female role Twihards have come to need. But the beautifully-woven story about a girl entering into puberty and facing the choice of good or evil can't be completely dismissed, especially after seeing the lovely Emmy Rossum due her evil thing.
It isn't just teenage girls being swooned by the sensational Twilight Effect. Studio executives are seeing the power behind the angst-ridden females. They are listening. "We just want to be loved…loved by dead, pale day-walking blood-sucking vampires who will carry us to the top of trees and beyond."
More:
Jennifer Lawrence and Liam Hemsworth Set Photos
'The Hunger Games: Catching Fire' Tickets On Sale
Runway Looks For The Fanger Wannabe
---
From Our Partners:


40 Most Revealing See-Through Red Carpet Looks (Vh1)


15 Stars Share Secrets of their Sex Lives (Celebuzz)