'The Expendables 2': Schwarzenegger's Shoe Is Bigger Than a Car — TRAILER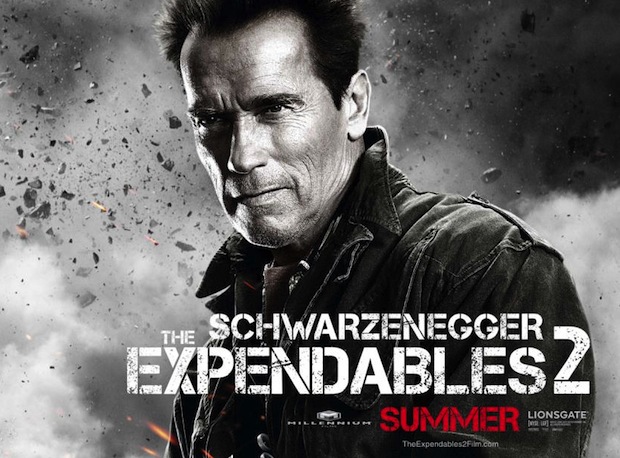 Even with its packed ensemble, the first Expendables movie didn't break any new ground in the action department. Familiar faces made it a fun romp, but other than seeing Sylvester Stallone paired up with the likes of Jet Li and Jason Statham, it didn't make much of an impact. But based on the full trailer for the sequel, The Expendables 2, Stallone and the gang may have finally figured out how to tickle our nostalgia while exploding our senses with high octane action.
Once again, the cast for the balls-to-the-wall follow-up sports an unfathomable cast. Stallone, Li, Statham, Dolph Lundgren, Terry Crews, and Randy Couture all return for Expendables 2, while Jean-Claude Van Damme, Chuck Norris and Liam Hemsworth are added into the mix. The real surprise is the beefed up roles of cameo players Arnold Schwarzenegger and Bruce Willis, who actually do a bit of running and gunning in the sequel.
The biggest, clearest improvement in the sequel is the hiring of director Simon West. Stallone did a decent job as both the star and man behind the camera in the first installment, but West — director of such brilliance as Con Air, Tomb Raider and The Mechanic — is a superior action director. The movie amps up the explosions, butt-kicking and ridiculous banter and, in my opinion, it's all thanks to West playing puppetmaster. Count me in.
The Expendables 2 drives a tank through your local multiplex August 17.
Find Matt Patches directly on Twitter @misterpatches and remember to follow @Hollywood_com!
More:
'Expendables 2': No Character Left Behind — POSTERS
Chuck Norris Forces 'Expendables 2' to Clean Up Its Language for a PG-13 Rating
Sylvester Stallone Tears Down the Wall in 'The Expendables 2'