'The Expendables 2' Will Kick Box Office Butt!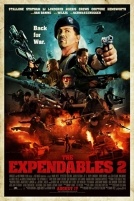 Following the success of the "more action stars than you can shake a stick at" formula of 2010's "The Expendables," Lionsgate unleashes "The Expendables 2" which opens in 3,316 theaters this weekend and the results should be explosive. This time star Sylvester Stallone hands over the directing reins to Simon West ("Con Air," "Laura Croft: Tomb Raider") so he can concentrate on more ass whuppin' and less movie directin'! The first film debuted at number one with $34.8 million and was a surprise mid-August hit and thus it's no surprise that this latest installment will top this weekend's chart with a gross of about $40 million. There is almost not enough room here to list all of the action stars that take part in the mayhem including of course Sylvester Stallone and a supporting cast featuring Jason Statham, Jet Li, Dolph Lundgren, Chuck Norris, Randy Couture, Terry Crews, Liam Hemsworth, Jean-Claude Van Damme, Bruce Willis, and Arnold Schwarzenegger.
Adding to the excitement of this weekend's action movie leanings is Universal's "The Bourne Leagacy" starring Jeremy Renner as Aaron Cross in this re-boot of the "Bourne" franchise. Last weekend the film topped the chart with $38.1 million and has been holding steady all week in first place and crossed the $50 million mark on Thursday after just seven days of release. Solid word-of-mouth will give it a modest second weekend drop, a gross of around $23 million and a North American total by Sunday night of over $70 million.
Besides "The Expendables 2," there are three additional wide release openers that may find themselves in a box office traffic jam of sorts with Focus Features' stop-action animated "Paranorman" in 3-D likely to lead the charge with a gross of around $16 to $17 million. Produced by "Coraline" creators Laika, the PG-rated horror adventure should perform similarly to that film which scared up $16.8 million in its third place debut back in February of 2009.
Also opening this weekend is "Sparkle" from Sony Pictures which should have a debut of around $15 million and thus earn back its modest negative cost in its first three days of release. This is a re-make of the 1976 film which starred "Miami Vice's" Philip Michael Thomas and singer Irene Cara and was co-written by Joel Schumacher (director of "Batman Forever" and "Batman and Robin). This update stars American Idol Season Six winner Jordin Sparks and the late Whitney Houston in her fifth and final screen role in a tale of an up and coming girl group in Detroit in the Motown era 1960's. Both films were inspired by the iconic female singing group The Supremes and this version amps up the star power and the production values to great effect.
Warner Bros.' "The Campaign" starring comedy Will Ferrell and Zach Galifianakis has done well in the mid-week box office primary garnering votes in the mid $2 million range daily. As bitter rivals in a North Carolina congressional campaign, Farrell and Galifianakis duke it out on the campaign trail to comedic effect. In this its second weekend an expected mid-teen gross will put it in the thick of a very contentious fight for a spot in the top three this weekend.
The fourth film making its debut has already banked some green: $2.3 million worth as Disney's "The Odd Life of Timothy Green" gets a head start on the weekend with a Wednesday debut in over 2,551 theaters. The PG-rated fantasy stars Jennifer Garner, Joel Edgerton and CJ Adams in the titular role of Timothy Green a 10 year-old boy who shows up on the doorstep of a couple that has been wishing for a child but unable to conceive. Of course the young boy is much more than he appears to be and strange events ensue. A likely gross of just over $10 million for the weekend should enable the family drama to sprout $15 million for the Wednesday through Sunday period.
Warner Bros.' "The Dark Knight Rises" will also vie for a spot in the top 5 with a possible gross in the low teens and a North American total that will pass the $400 million mark on Friday.
Only three summer box office weekends left (including this one) as we struggle to keep up with last year's summer pace.