'The Expendables' top a crowded Box Office
The introduction of five new wide release openers created a box office mash up at the nation's theatres this weekend. Insanity reigns as a tight group of films fell in behind "The Expendables" and made this one of the toughest weekends to call ever!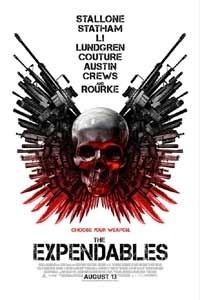 Stallone and Statham fought hard and won out against the spoof-fest that is Fox's "Vampires Suck" as last weekend's number one film, Lionsgate's "The Expendables" somehow managed to fight off all the newcomers and come out on top.   With $16.5 million against a 53% second weekend drop and nearly $65 million in the bank, the he-men beat out the vampire boys. 
Fox's comedy "Vampires Suck" is obviously getting strong word-of-mouth after its $4 million Wednesday debut and performed well with a $12.2 million weekend and $18.6 million for its first five days.  With a laugh out loud trailer and tons of Team Edward and Team Jacob members out there, this very timely spoof gave fans of both the werewolves and vampires a chance to find some comedic common ground at a time when interest in the "Twilight Saga" is running high.
Beyond the number one film there is no other way to say this, but by quoting George Clooney's Fantastic Mr. Fox: it was a total box office cluster cuss.  Sony's "Eat Pray Love," which cooked up a small 48% drop and $12.0 million for the three-days is only $200k behind "Vampires Suck" and has a total approaching $50 million.  Warner Bros.' newcomer "Lottery Ticket" scratched off a fourth place weekend finish with $11.1 million, a healthy haul and the strongest per-theatre average of any film in the Top 12 made this a winning weekend for this modestly budgeted comedy that was just $900k behind "Eat Pray Love."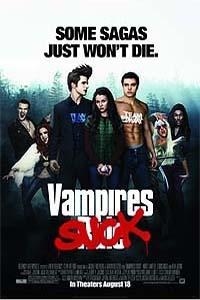 Next in this very tight conga line is Sony's late summer comedy hit, "The Other Guys" with $10.1 million in its third weekend against a 42% drop.  Director Adam McKay is fast becoming the comedy "go to" guy as this Will Ferrell, Mark Wahlberg combination provided the industry with a bona fide late summer comedy hit with a domestic total approaching $90 million.  
Of course snapping just $65k behind "The Other Guys" is Weinstein Co.'s "Piranha 3D" which had surprisingly positive reviews and will ingest about $10.035 million in human fish food by the end of the weekend.  Who knows, if they can keep the budgets modest, perhaps over-the-top and in your face schlocky 3D may be the wave of the cinematic third dimension's future.
As if there was not enough action in the top five, the close calls continue in the seventh and eighth spots.  After a tiny $30k difference separated them on Friday, Miramax's Jennifer Aniston baby-making comedy "The Switch" and Universal's "Nanny McPhee Returns" switched places.  The family-friendly "Nanny" benefited from a strong Saturday showing and wound up with $8.3 million, while a less-than-fertile interest in "The Switch" landed it just behind with $8.1 million (a mere $200k separating the two films).  This leaves poor Jen to suffer yet another box office defeat after years of trying to make her mark on the big screen.  
Summer's almost gone and with just two more weekends to go we stand 3% ahead on revenues yet stubbornly down on attendance with a 2.6% deficit.  Well at least it's been interesting despite the fact that it has been one of the least fulfilling summer seasons on record.  The good news is that the summers of 2011 and 2012 look totally kick ass!