'The Expendables' top Friday box office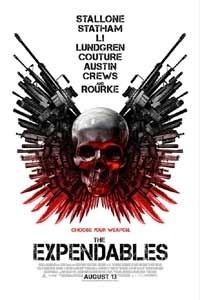 On Friday Sylvester Stallone, Jason Statham, Jet Li, Dolph Lundgren, Eric Roberts, Randy Couture, Terry Crews, Mickey Rourke and Steve Austin topped the box office with a gross of around $13.5 million as "The Expendables" from Lionsgate took on other newcomers and last weekend's number one film, "The Other Guys."
In second place, Julia Roberts represented the female audience in Sony's big screen version of the best-selling novel "Eat Pray Love"  with a Friday gross in the $8 million range.  A very "un-Expendable" style sensitivity, had women lining up at theatres on Friday.
Beyond the box office: a Best Supporting Actor Oscar nomination for the always terrific Richard Jenkins would not be a surprise.
Sony's "The Other Guys" had a solid Friday gross of over $5 million thus bringing its cumulative gross to close to $60 million while Universal's "Scott Pilgrim Vs. The World" starring Michael Cera earned just over $4 million.
Warner Bros.' "Inception" is always a factor in the top-five derby casting its spell to the tune of $3.3 million in early weekend bucks and a domestic total to date of $240.5 million.
This just in!  "Toy Story 3" on the verge of becoming only the eleventh film in history to cross the $400 million mark in domestic revenue, with Friday's take of around $600,000 bringing its total to an "oh so close" to $400 million cume of $399.2 million. See related story at Toy Story 3 to hit $400 million.