The First Movie Based on a David Sedaris Story Shows Words Should Stay on the Page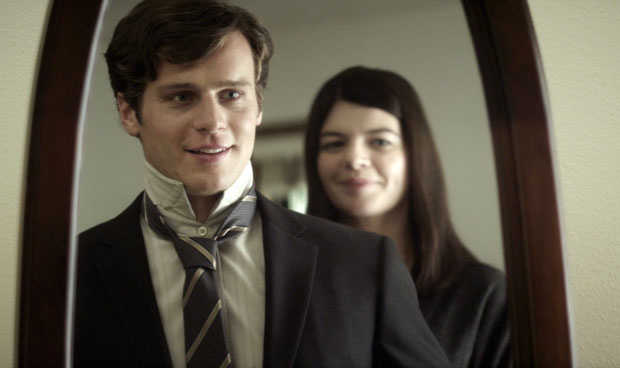 It's hard to become famous as a writer these days, especially as a good writer. Somehow David Sedaris has managed to do it (even if it is his sister Amy who appears on Letterman) with his books like and his essays in such respected periodicals as The New Yorker. However none of been made into a movie. Well, at least until now. C.O.G. which premiered at the Sundance Film Festival shows us why. Stories don't always make the best movies.
Based on one of his stories from the book Naked, this is the first time Sedaris has given permission to a filmmaker, in this case Kyle Patrick Alvarex to turn a story into a feature film. This essay shows David (played by Glee's Jonathan Groff) going to Oregon to work in an apple orchard to see how the other half lives. He changes his name to Samuel (of course, like a gay person, he is David and not Dave, Samuel and not Sam) and sleeps with the Mexican apple pickers. He eventually gets a promotion to the apple factory where he gets promoted again thanks to his new friend Curly (Corey Stoll). When David won't have sex with Curly he flees into the arms of unbalanced evangelist John (the always wonderful Dennis O'Hare) where he has to denounce his homosexuality and embrace god into his atheist heart.
The reason that many people read Sedaris is for the crazy situations he puts himself in, the humor that he gets out of them, and his off-kilter persona. Those are all present in the movie, and Groff does a wonderful job as a prissy Yale alum in this blue collar world. But there are other reasons to read Sedaris, like the insight he takes from his crazy situations. That is not in this movie at all. A long slog that should be a light series of events, David/Samuel never learns a lesson and we don't learn anything about him or about ourselves from start to finish. There is a lot of moving, but there is no journey.
My biggest problem though is that the central incident of the story, a night where Curly tries to have sex with David and he refuses thus putting him into peril is not believable at all. First of all, David has been flirting with Curly since before they even met. Secondly, Curly is crazy hot. He is the kind of butch factory trade that gay men from Broadway to West Hollywood dream about coming on to them in one of these situations. Why does David change his mind? Since that doesn't make sense, neither does anything that comes after.
But the main reason why people read Sedaris, of course, is the writing itself. He is a masterful craftsman of language. While some of the patter we can imagine he had in real life is evident in the movie (particularly the more engaging first half) his words are, of course, missing. Without that, the center does not hold. When the thing that made Sedaris famous is gone what we're left with is just another tale of a spoiled kid who never learns, and that isn't enough to get our attention.
Follow Brian Moylan on Twitter @BrianJMoylan
More:
The Amazing Sundance Movie That Disney Will Never Let You See
Nicole Kidman Wows in Absolutely Insane, Totally Amazing Sundance Movie 'Stoker'
'Before Midnight' Completes a Trilogy at Sundance, Questions True Love