'The First Time' Star Britt Robertson: 'It's Been a While Since I've Met Normal People'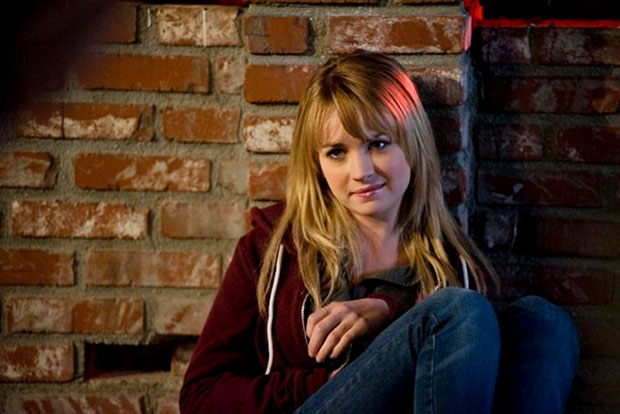 Britt Robertson (Life Unexpected, Secret Circle) has been performing professionally since she was ten years old. Like all actresses who have grown up in the business, Robertson knew there would come a time when she'd have to segue into "adult" material — and she wisely made the image change a slow progression. "As I got older, it made more sense to tackle darker characters, or people who have dealt with things," says Robertson. "Ideally, every actor's dream is to tackle stronger and stronger material and deal with layers."
To shake off the idea that she could only play what she dubs "the doting teenager daughter," Robertson snagged a role in The First Time, the second feature from Jon Kasdan (In the Land of Women) which debuted to raves at this year's Sundance Film Festival. In the film, Robertson plays Aubrey, a straight-taking, slightly neurotic teenager whose romantic life is turned upside down after meeting Dave (Teen Wolf's Dylan O'Brien) at a party. Unlike most high school-set movies, The First Time features kids acting and sounding like high schoolers. Aubrey and Dave grapple with romance and sex (making for the slightly risque content Robertson was keen on tackling), and they do it with dialogue that never feels hokey.
"I think that's Jon. It's a real tribute to his writing and talent," says Robertson. "He was able to craft both Aubrey and Dave out of himself. Both characters are a combination of who he was in high school." Robertson and Kasdan spent the time during rehearsals and shooting The First Time to talk about Kasdan's own experiences. His retention of high school memories, which were incredibly vivid. "Unlike most high schoolers, he was really aware of himself. And aware of his friends, and the people around him, and the conversation around them.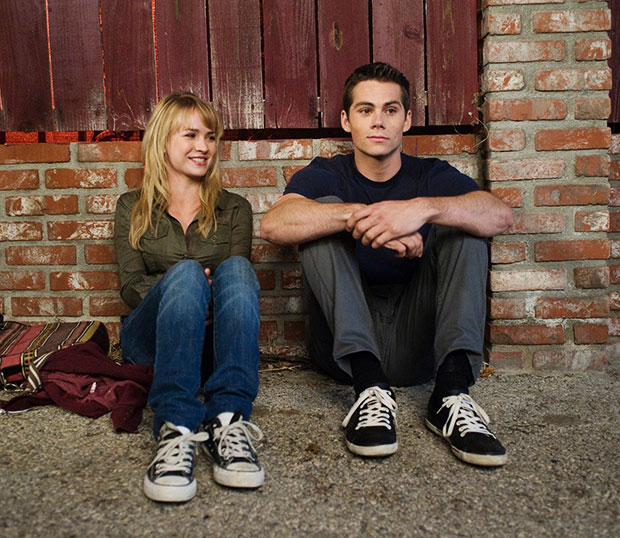 It's about finding someone to have that conversation with. That's where the authenticity of the vernacular comes from."
Through discussions, Robertson was able to incorporate aspects of Kasdan into her performance ("His neurosis. His OCD. [Laughs] All of those characteristics are very much Jon.") and rarely did she contend with him over how teenage girls really act. "It is a little scary how much he knows women so well. That's probably why he's single [laughs]. It's smart not to know — ignorance is bliss!" Kasdan's prep with Robertson also included a lengthy required viewing list. Before tackling Aubrey, Robertson watched everything from Reality Bites to Steve Martin's Roxanne to Woody Allen's short films. "Jon is a very wise fellow and he had a good handle on Aubrey and what he wanted out of her. He's such a romantic."
With The First Time finally rolling into theaters, the next step in Robertson's career progression should wash away any notion of her child star roots. The Delivery Man, which begins shooting this week, stars Vince Vaughn as a former sperm donor who, after discovering he is the father of hundreds of kids, sets out to meet each of them. "I play one of his daughters. I wouldn't consider it a broad comedy. It's going to give you a laugh or two, but it has so much heart in it. Vince is so good with that kind of thing. We had our table read last week, and hearing it out loud… it's going to be so great."
Robertson is in the thick of Hollywood and more in-demand than ever. She admits that "it's been awhile since [she has] met normal people" but Robertson still finds herself relating to material and clinging to films that speak truthfully to young people. "I think my first relationship was a pretty good depiction of what this film is," says the actress. "Jon never had any interest in dumbing down the characters or dumbing down the audience. It's a real 'talk to' film. You feel like you can speak to the audience and the they can relate to these kids. It feels like a movie where everyone gets to participate."
The First Time opens in theaters Oct. 19.
Follow Matt Patches on Twitter @misterpatches
[Photo Credit: Destination Films]
More:
'Spring Breakers' Marks the End of Selena Gomez's Innocent Era
The Best Movies of Sundance 2012