What's In Store for the Future of Captain America on Screen?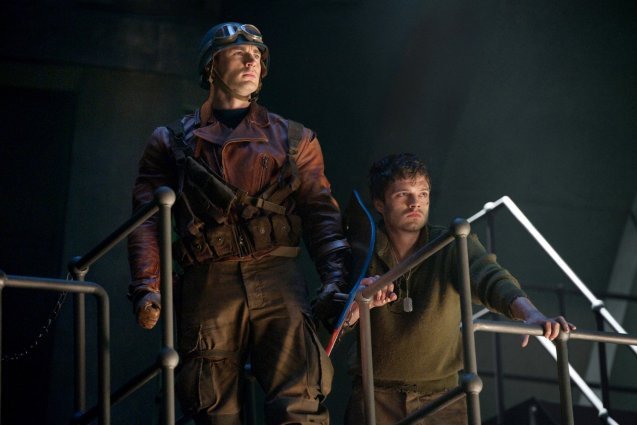 Paramount via Everett Collection
Warning: The following contains a major spoiler for Captain America: The Winter Soldier.
As the Marvel Cinematic Universe grows and becomes even more successful, fans have begun to notice a problem when it comes to the actors' contracts, especially in the case of Captain America. 
Chris Evans has portrayed the lovable Steve Rogers in Captain America: The First Avenger, Marvel's The Avengers, and Captain America: The Winter Soldier — but Evans signed a contract with Marvel Studios to do only six films; he's already halfway done! (Apparently, this Thor: The Dark World cameo didn't count.) Since he will appear in The Avengers: Age of Ultron, and the third Captain America film that has already been greenlit by the studio, Evans will only have one other unspecified movie before he fulfills his contract.
What's curious, and what's drawing most attention from fans, is the fact that Sebastian Stan has a nine-film contract with Marvel. As many know (since it's the worst kept secret in superhero films) Stan portrayed Bucky Barnes in The First Avenger, and again in the newest Captain America film as Bucky/the Winter Solider.
In the comic books, Bucky inherits the costume of Captain America after Steve Rogers dies. Given the contracts of both Stan and Evans, it seems likely that the Captain America films will follow the same, or a similar, story. 
But why does that matter?
It's never been done before in a superhero franchise. Sure, when superheroes are rebooted, new actors are cast in the same role — or in some cases, like the '80s-'90s Batman films, they're recast with no explanation. But a franchise has never had characters pass the reins from one person to the next, even though it's common practice in the comics.
If the Captain America series pulls off the shift from Steve Rogers to Bucky Barnes, it could start the trend of not just Marvel, but DC as well, extending superhero franchises past an actor's contract. Although many speculate that Evans will not extend his Marvel contract, it doesn't affect the Captain America films because the studio won't need him. Basically, superhero franchises could go on forever (instead of just feeling like they do).