The Future of Past 'Star Wars' Films: Will Disney Buy Nix Chances of Full Series Box Set?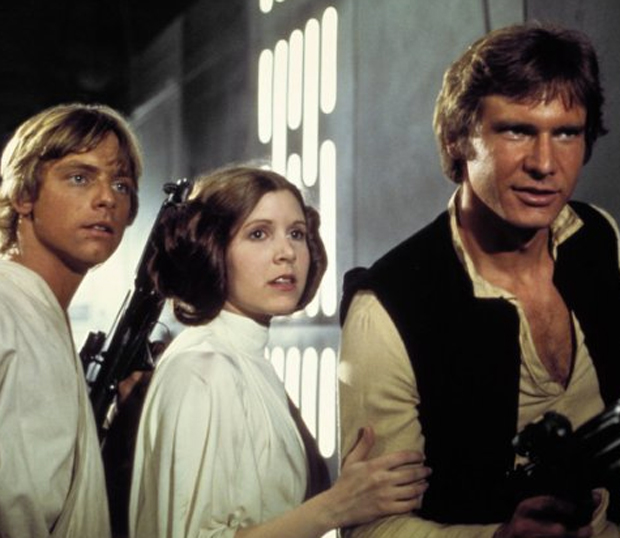 Claim of the universe, the Force, and in essence, the soul of a young Jedi-in-the-making. For all of these things, two sides were once in contention: the Light, represented by an ill-fated Obi-Wan Kenobi, and the Dark, represented by a long corrupted Anakin Skywalker. Today, a dichotomy of similar gravity takes place — at the center, distribution rights of the existing Star Wars films.
As you undoubtedly heard from your forays of entertainment news (or your little brother's Twitter feed) yesterday, Lucasfilms has been purchased by Disney, despite a long history of partnership with 20th Century Fox. In addition to the big screen future of new additions to George Lucas' film series (three more movies are on the way), this raises questions about the future of home distribution, re-releases, spin-off television series and books, and the various other incarnations of Star Wars that will inevitably find their way into pop culture.
Presently, Fox owns permanent distribution rights to the original Star Wars chapter, A New Hope, which released in 1977. Each followup feature is under Fox's ownership until 2020, when Disney will presumably usurp rights. This incongruity with ownership could pose a problem in seeing old Star Wars properties find any sort of distribution, including a long-awaited remastered full series home video product.
Additionally, the multitude of celebrated Star Wars parodies ushered by the likes of Seth MacFarlane (who has so far devoted three extended episodes of Family Guy to the Star Wars series) and Seth Green (who has created parodied Star Wars repeatedly on his Adult Swim cartoon Robot Chicken, several times dedicating full episodes to the material, and has developing an original animated series Star Wars Detours) are in danger. As reported by The New York Times, MacFarlane himself tweeted the following on Wednesday, addressing a fan's concern that his Fox series will no longer be able to crank out Lucas-based parodies:
RT @tuesdayswimguy: WAIT! Since Star Wars was sold to Disney, does that mean no more family guy usage of it? // Alas, I'd bet money on it.
— Seth MacFarlane (@SethMacFarlane) October 31, 2012As such, the future of Star Wars past (that's a heady thought) is a bit murky. The only way that we'll see Star Wars find home or rerelease distribution is if Disney and Fox reach some kind of agreement. But to some, this seems just as unlikely as Obi-Wan and Darth Vader having buried the hatchet instead of dueling to the death.
[Photo Credit: ]
More:
Disney Buys Lucasfilm for $4B, New 'Star Wars' Movie Announced for 2015