'The Great Gatsby' Trailer: The Baz Luhrmann CliffsNotes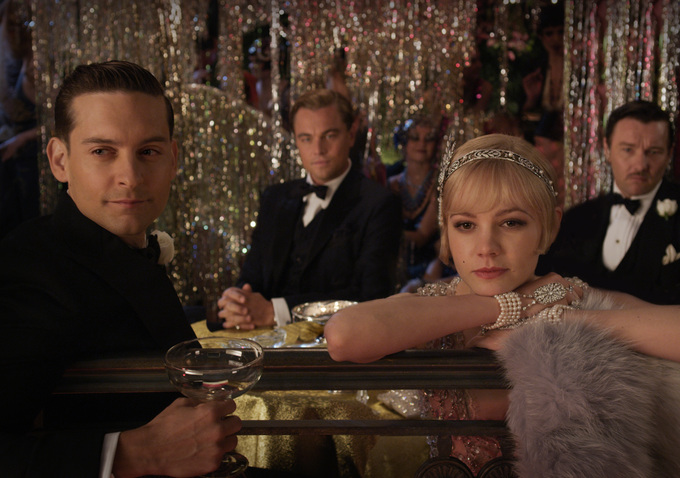 In  F. Scott Fitzgerald's classic 1925 novel The Great Gatsby, we see the opulent world of Jay Gatsby's New York City in the 1920s through the eyes of Midwesterner Nick Carraway. In Baz Luhrmann's 2012 adaptation of the high school English class staple, we still see the opulent world of Jay Gatsby's New York City in the 1920s through the eyes of Nick Carraway (played in the film by Tobey Maguire), only this time he's wearing 3D glasses and listening to Kanye West and Jay-Z's Watch the Throne.
"Who is this Gatsby?" a wide-eyed Nick Carraway asks at the 30-second mark of the love-it-or-leave-it first trailer for the eagerly anticipated film. This Gatsby (Leonardo DiCaprio) is still the mysterious millionaire with a penchant for wild parties and beautiful shirts, whose heart still belongs to Daisy Buchanan (Carey Mulligan) that we know from Fitzgerald's timeless work. But this Gatsby is also quintessential Luhrmann.
Gatsby's parties now have all the makings of a Luhrmann party: It is over-the-top, fast-paced, teeming with gorgeous, dancing women (Moulin Rouge), Leonardo DiCaprio is there and at some point, fireworks are set off (Romeo & Juliet.) There's modern music in lieu of music from the era being portrayed (including Jack White's cover of U2's "Love is Blindness"), there's a heartbreaking love triangle (this time it's Joel Edgerton's interpretation of Tom Buchanan), and there's the worry among purists that Luhrmann's aesthetic overwhelms the core of the story. Still, the trailer (not in 3D, unfortunately) packs more goosebumps and excitement about revisiting Gatsby than the exceedingly dull 1974 adaptation with Robert Redford.
Watch The Great Gatsby trailer below and see how many Luhrmann staples you can spot in just two-and-a-half minutes: