'The Hangover 2' Headed For Thailand, After All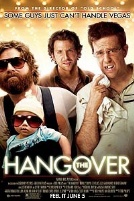 Many of you probably thought that the recently-released teaser trailer for Due Date, Todd Phillips' anticipated follow up to The Hangover was hilarious, but most are just as excited about the sequel to his 2009 blockbuster. The Hangover 2 is set for a Memorial Day 2011 bow, but until today, very little was known about the production. Plot details are still being held close to the chest, but according to an unnamed source close to the production, we now know the film will shoot in Thailand.
The first rumor that popped up about the Thailand shoot came via Latino Review; that report was debunked by Collider's interview with Phillips in late 2009 when he said: "I don't know. There's a lot of rumors. There was rumor also that it was going to Mexico or something and neither are true." Now, Coming Soon has gotten the official word on the location of the shoot.
"We can now confirm that Phillips' comments seem to be a case of misdirection on his part and that Thailand will, indeed, be the primary setting for the sequel, reuniting Bradley Cooper, Ed Helms and Zach Galifianakis as a group of friends who find themselves getting into even more outrageous trouble."
Source: Coming Soon