'The Heat' Red Band Trailer: Melissa McCarthy Goes Nuts While Things Explode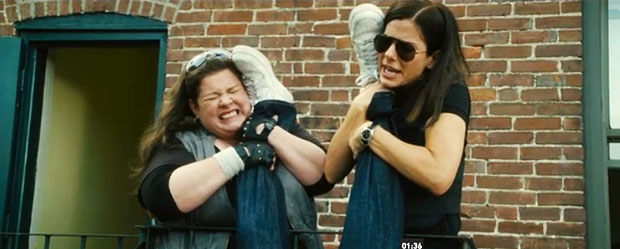 Give stars Sandra Bullock and Melissa McCarthy a few swear words and a couple of explosions, and you've got the latest red band trailer for the female buddy-cop movie The Heat, which has just released:
Bullock and McCarthy star as reluctant partners in The Heat, written by Katie Dippold (Parks and Recreation) and directed by Paul Feig (Bridesmaids). Obviously, the film is following the buddy-cop genre to a T: a cop who plays it safe is paired with a spontaneous rule-breaker who gets the job done. The pair gets a tough, dangerous assignment, and then bond during the ensuing shenanigans.
The deviation that keeps The Heat fresh is not that the main duo is female, but actually because McCarthy commits to her roles so much that you never know what she'll say or do next. Bullock plays the straight role, but even she is given the chance to shine with her own hilarious bits once her character loosens up and has fun. And hey, any chance to hear the sophisticated and classy Bullock yell obscenities while throwing grenades is fine with us. 
The Heat hits theaters on April 5, 2013.
Follow Sydney on Twitter @SydneyBucksbaum
[Photo Credit: 20th Century Fox]
More:
'This Is 40': Judd Apatow on Staying Relevant and P.T. Anderson's Love of 'Heavyweights'
'Anchorman 2' Gets Release Date: 12 Ways to Prepare for the Second Coming of Ron Burgundy
New 'The Great Gatsby' Trailer Reveals Not All that Glitters is Gold — TRAILER
From Our Partners:

'A Few Good Men': Where Are They Now? (Moviefone)

Best Mother and Son Movies: 'Forrest Gump' and More! (Moviefone)