'The Help' Now Available on Blu-ray/DVD on December 6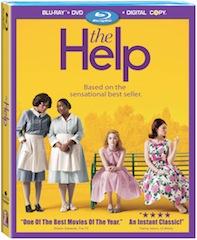 Are you in the mood for a wacky, music-themed comedy about a band of nutty British rock stars on the run from a crazed cult? Well look no furth—what? This is THE Help? Oh… how inappropriate.
The Help, a period drama about a young white aspiring journalist (Emma Stone) in the 1960s returning to her rural community to excavate the stories of the lives and livelihoods of the black servants who work for prosperous white families. Among her interviewees is Aibileen (Viola Davis), housekeeper to close friends of Skeeter's (Stone) family.
Skeeter's project inspires a good deal of unrest in members of the white community who do not wish to disturb the status quo. The Help has been celebrated as a moving, inspirational tale, and is available on Blu-ray and DVD on December 6.
The special features are listed below.
Exclusive Blu-ray Bonus Features: 
The Making of "The Help:" From Friendship To Film
In Their Own Words: A Tribute To The Maids Of Mississippi
Three deleted scenes with introductions by Director Tate Taylor, including 'Humiliated,' 'A Book About Jackson' and 'Johnny's Home' (which is a Blu-ray exclusiveDVD Bonus Features:
Two deleted scenes with introductions by Director Tate Taylor including 'A Senator's Son' and 'Keep On Walkin' 
"The Living Proof" music video by Mary J. Blige 
Exclusive Blu-ray Bonus Features:
The Making of "The Help:" From Friendship To Film 
In Their Own Words: A Tribute To The Maids Of Mississippi 
Three deleted scenes with introductions by Director Tate Taylor including 'Humiliated,' 'A Book About Jackson' and 'Johnny's Home' (which is a Blu-ray exclusive)
DVD Bonus Features:
Two deleted scenes with introductions by Director Tate Taylor, including 'A Senator's Son' and 'Keep On Walkin'
"The Living Proof" music video by Mary J. Blige