'The Hobbit: An Unexpected Journey' Midnight Premiere: Where Were the Fans?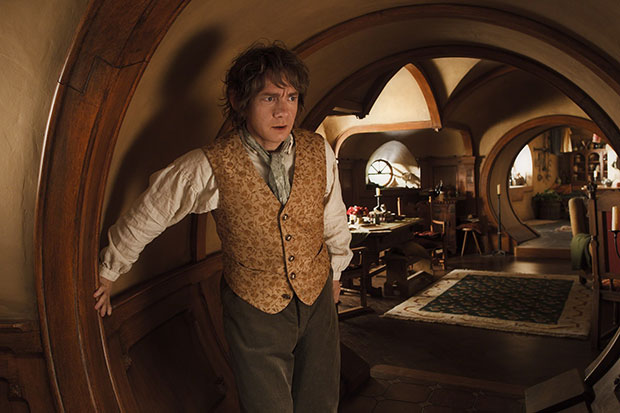 Midnight premieres used to rival the best of Bilbo's birthday parties. Devotees would stand in line, celebrating their mutual passion for a franchise. Midnight screenings would be planned months in advance. Anticipation would peak weeks before, and tickets would would sell out weeks before the premiere. Theaters responded to the midnight screening fan demand, adding more showings that sometimes began just five, 10, and 30 minutes after the first to accommodate the growing audience. But, strangely, something seemed to shift since the days when fans would endure bitter cold or sweltering heat for the latest Harry Potter or Twilight. And despite The Hobbit: An Unexpected Journey's record-breaking numbers, that change was clear last night.
Late Thursday night (well, technically, early Friday morning) at 12:01 am on the dot, Peter Jackson's Lord of the Rings prequel premiered across the country. But for fans at the Regal E-Walk Stadium 13 & RPX in Times Square in NYC, the movie was hardly the focus of conversation. Instead, the question that lingered on everyone's mind: Where were all the fans? 
There were no lines outside the theaters an hour and a half before the movie opened. There were no crowds of excited moviegoers. What was going on? "I'm surprised how empty it is because I know a lot of the showings sold out," Brent Anders, 20, says. "I guess lots of people are coming soon, just not as early as usual." 
Anders has attended the midnight premieres for many movies, including the Lord of the Rings trilogy, where he saw many more fans lining up for Jackson's original trilogy. "I've been waiting for this one since they announced they were making The Hobbit," he says. "My friends and I all coordinated which tickets to buy and we met up here at the theater an hour and a half before the movie. We thought we were being smart since midnight premieres are usually so crazy and busy, but I guess people weren't as excited or something because there wasn't a line." Of course, that's partly because Regal opened its doors early enough to allow fans out of the December cold. A nice gesture, but a change of pace for fans accustomed to — and who enjoy — midnight madness outside theaters. "We got our seats way earlier than we thought," Anders says. "Like, we brought magazines because we thought we were going to be sitting in a line for a while but now we can relax in the theater's seats."
Inside the theater, however, another theater-goer,
Katie Sandmar
, was taken aback by how empty the premiere looked. "I don't know, I guess I just expected the usual crowds and excitement," Sandmar, 33, says. "One time I waited in line for two hours just so I could get the perfect seat. I guess I expected the same thing tonight — I came an hour before the midnight showing but there wasn't a line. They just took my ticket and directed me to the theater and I could go in and sit down like a normal movie. The theater is, like, half full too [an hour before the movie]. It definitely wasn't what I expected."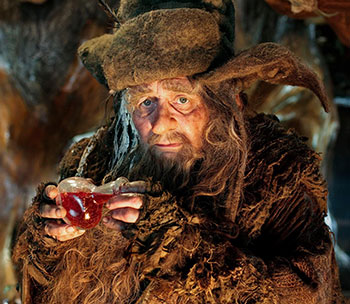 Despite fans' seemingly waning interest,
The Hobbit
 is expected to make bank at the box office.
After all, 
The Hobbit
midnight screenings brought in $13 million,
according to Hollywood.com's Paul Dergarabedian
 — a record for December midnight releases. Still, though fans might be committed to going to the theater, they don't seem to be excited about the prospect. "I went to one midnight premiere for
Lord of the Rings
, but I've seen them all," 
Marco Alvarez
, 24, who arrived at the theater 50 minutes before his showing, says. "I remember talking to complete strangers about the movies. We were all just so excited and everyone was so nice … I guess they opened the theaters a lot earlier or something but it's not really full. I didn't have to worry about finding good seats for me and my girlfriend. A lot of my friends are going tomorrow because they had to work tomorrow morning." Anders agrees midnight screening excitement has dwindled, though he wonders if it is less of a work issue and more of an oversaturation problem. "Midnight screenings used to be such a rare thing, but now all the big movies are doing them so it's kind of not as huge as it used to be," he says. "I go to all the midnight premieres now. It used to be a big deal to see it the Friday night that it came out, but now it's the Thursday night it comes out. It just kind of changed over time. I mean, with all the
LOTR
and
Harry Potter
movies it was this big event and people would dress up in costumes and stuff. I still find it exciting, but I guess it's not as big a deal anymore." But Anders, like many super-fans, is still excited to see the world of Middle-earth play out on the big screen. "I know this one is going to be way different just like tonally and stuff, like the story is so different, so I know to not expect it to feel like the
Lord of the Rings 
movies," he says. "Either way, I'm really excited, especially to see where they end this movie. I can't believe they're splitting up one book into three movies. That's insane. In a good way. It'll last longer that way."
Follow Sydney on Twitter @SydneyBucksbaum
[Photo Credit: Warner Bros. Pictures (2)]
More:
'The Hobbit' Star Richard Armitage on Becoming a Dwarf and What We'll See in Part 2
'Hobbit' Midnighters Who Accidentally Saw the Movie in 48 FPS: We're Here for You
Beards, Quests, and Wizards, Oh My! Why Most Fantasy Looks like Middle-earth

'The Hobbit' Cast: A Who's Who New Character Guide (Moviefone)

Movie Mistakes: Biggest Flubs in Sports Films (Moviefone)