'The Hobbit' big at Friday Box Office!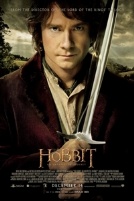 Warner Bros' The Hobbit earned an impressive $37.525 million on Friday (incl. $13 million in midnights) for a first place finish at the box office. The film is on track to beat the December opening weekend record of Warner's own I Am Legend, which opened on Friday, Dec. 14, 2007 with a single-day gross of $30,059,386 and went on to a December opening weekend record of $77,211,321. The $37.525 million represents the biggest-ever Friday gross in December.
In 2009 on Friday, Dec. 18, Avatar had a first-day gross of $26,752,009 and went on to the second biggest December opening weekend with $77,025,481.
Notably, The Lord of the Rings: The Return of the King had a Wednesday opening day of $34.45 million on December 17, 2003, a Thursday gross of $17.0 million, $21.8 million on Friday and went on to the third highest December debut weekend with $72,629,713 and $124.1 million in middle earth dollars after just five days in release.
We think The Hobbit could be on track for a weekend gross $85 to just over $90 million!