The Hobbit Is Front and Center in New 'Hobbit' Poster
Based on the recent trailer for The Hobbit: An Unexpected Journey, Peter Jackson appears to be (rightfully) taking a lighter tone to his upcoming prequel trilogy, which will tell the tale of the events leading up to The Lord of the Rings. Sporting 13 bumbling dwarves, a wise old wizard, and an in-over-his-head halfling, The Hobbit plays up the slapstick and humor of its source material, a book that skews younger than J.R.R. Tolkein's follow-up trilogy.
Whether the departure will click with the audience who ate up the original LOTR trilogy is one of the more exciting revelations that will come our way when An Unexpected Journey bows in theaters on December 14. But to ensure that those folks come back for more Middle Earth adventuring, the new one-sheet for the film drops the colorful palate and fantastical oddities for some serious close up action of the hero, Bilbo Baggins. Actor Martin Freeman delivers the "I'm about to fight some monsters" death stare while clutching his signature weapon: Sting, an Elvish long knife that glows whenever Orcs are near. Not exactly the madcap blockbuster hinted at in the trailers, but an iconic image through and through.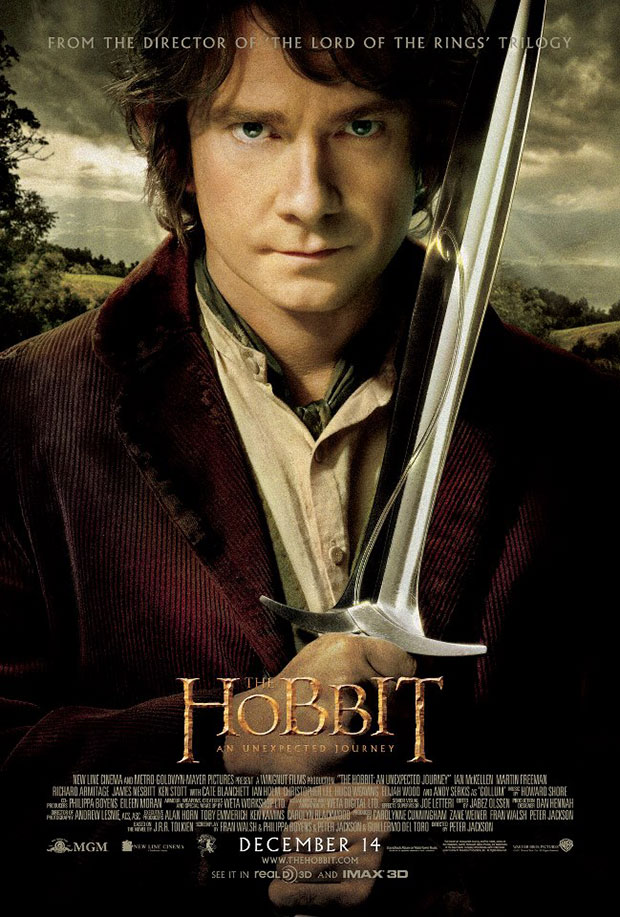 Follow Matt Patches on Twitter @misterpatches
[Photo Credit: Warner Bros. Pictures]
More:
Does 'The Hobbit' Risk George Lucas-ing the 'Lord of the Rings' Trilogy? — TRAILER
'The Hobbit': A Third Movie Officially in the Works
'The Hobbit' and Movies that Took a Really, Really, Really Long Time to Make