'The Hobbit': Predicting Its Box Office Journey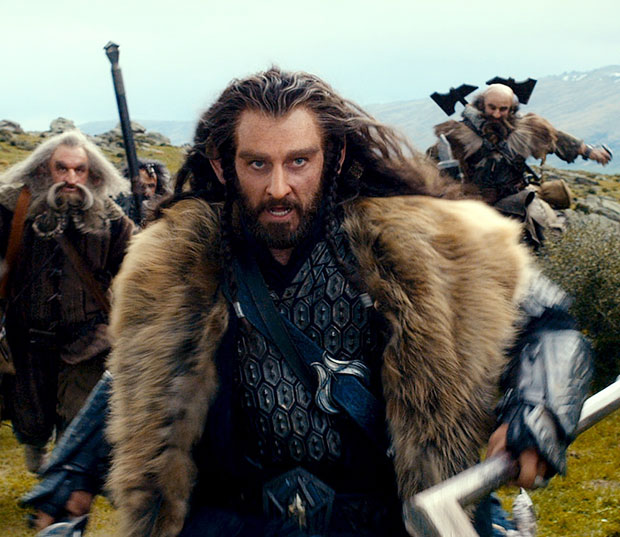 Peter Jackson's much awaited prequel to The Lord of the Rings trilogy, The Hobbit: An Unexpected Journey opened this past weekend to fanfare and high anticipation. Predictions for its opening weekend box office ranged wildly from a low of $75 million to as high as $140 million and everything in between. The final figure after all the dust settled was $84,617,303 in North America (with an impressive $10.1 million from IMAX showings or 12.3% of the weekend) and set a new opening weekend record for the month of December. The previous record belonged to the Will Smith sci-fi action hit I Am Legend which opened over the weekend of Dec. 14, 2007 with $77,211,321. Subsequently nipping right at its heels was the $77,025,481 generated by James Cameron's mega-hit Avatar during the Dec. 18 weekend just two years later.
The Hobbit ended up breaking the December opening record, but for some, it was not enough for those who grossly overestimated its potential and categorized the debut a disappointment. To be fair, I was on the low end of the prediction scale, basing my projection of $75 million plus on the historical opening weekend data for this the final month of the year. There was simply no precedent for a debut even approaching the $100 million mark with the aforementioned I Am Legend holding the record for about five years with a sub-$80 million gross. The $84.6 million opening is therefore a perfectly solid result for the film.
How should The Hobbit perform going forward? Well, let's look back now at the second, third and fourth place December debuts and see how these films fared in their subsequent weekends.
First up, I Am Legend starring Will Smith directed by Francis Lawrence. This is the film that set the bar and proved that Smith was not just "Mr. Summer Box Office," but could open a movie at any time of the year. The opening weekend was solid enough to earn it a spot in the record books, but the film dropped pretty heavily in its second weekend, taking a 57% drop for a Friday through Sunday gross of $33.5 million. Of course the competition was pretty fierce with National Treasure: The Book of Secrets starring Nicolas Cage grabbing first place with a $44.8 million launch and thus fracturing the action audience and stealing a bit of Smith's second weekend thunder.  New Year's weekend the film regained some strength dropping just 18%, earning $27.4 million and accumulating $194.5 million after 17 days in release.  Still, I Am Legend continued a solid run all the way to its $256.4 million domestic total gross.
Next up is the big daddy of them all, James Cameron's Avatar. This juggernaut which began its marathon run to becoming the highest grossing film of all-time, had a $77 million launch on December 18, 2009 and then stunned the box office world when it dropped a mind-blowingly minuscule 2% in its sophomore weekend! That was good enough for $75.6 million, a number that would have at the time given it the juice to rank third among even the top opening weekends in December. Its third weekend was equally impressive drawing $68.5 million against a tiny 9% drop and a fourth weekend that finally saw a drop in the double digits with 27% and still earned $50.3 million and pushed its total to $352 million after just 17 days in theaters. The film became a worldwide sensation, wove itself into the cultural zeitgeist and ultimately sank Cameron's own Titanic as it went on to become the highest grossing film of all-time with $760.5 million domestic and an unbelievable $2.783 billion worldwide.  This is a trajectory that, perhaps, will be unrealizable by any film ever again (except maybe the planned sequel) and so we list it here as a benchmark — not as an fair comparison for The Hobbit.
Finally we look at the third installment of the incredible Lord of the Rings Trilogy, The Return of the King directed by Peter Jackson. This sprawling epic was a major critical and box office success capping a three year run that would propel the franchise to nearly $3 billion worldwide, 30 Oscar nominations and countless devotees and rabid fans around the world. Of any film in our survey, this is the December debut that should provide the greatest insight into how The Hobbit could perform. Considering that the film opened on a Wednesday, the $72.6 million that greeted this King in its first weekend starting December 19, 2003 was particularly impressive giving it the third best December kick off ever and the biggest debut of the franchise to that point. In its second weekend it dropped a modest 30% and grabbed first place again with $50.6 million easily taking down a barrage of newcomers including Cheaper by the Dozen, Cold Mountain, Paycheck and Peter Pan.  Next was New Year's Weekend saw a modest 44% drop thus adding another $28.2 million, taking its domestic total to $290.4 million after just 19 days in release.
If The Hobbit (like The Return of the King) were to drop 30% in its second weekend it would gross $59 million and most certainly lead this coming weekend's box office derby which will see a host of newcomers starting Wednesday with the Pixar re-release of Monster's Inc., the road trip comedy The Guilt Trip, the brilliant Zero Dark Thirty in just 5 theaters and on Friday Cirque Du Soleil in 3-D, Paul Rudd and Leslie Mann in the comedy This Is 40 and Tom Cruise in Jack Reacher.
We think a second weekend number close to $60 million is a big challenge particularly for a film that has generated mixed responses from critics and some viewers, but on the bright side earned a CinemaScore of A from audiences. However, the opening weekend was actually stronger than we expected so perhaps the second weekend will reflect continued audience enthusiasm for Bilbo Baggins and his buddies from Middle-earth. The Hobbit's journey could be quite unexpected.
Follow Paul Dergarabedian on Twitter @PDergarabedian
Follow Matt Patches on Twitter @misterpatches
[Photo Credit: Warner Bros. Pictures]
More:
How Much Does 'The Hobbit' Have to Make This Weekend to Be a Success?
'Hobbit' at Midnight Breaks Record: Did the Film Beat 'Breaking Dawn'?
'Hobbit' Inspires 10 Celebrities Gollum-ized with Gollum Eyes

'Jack Reacher': The Beginner's Guide To The New Tom Cruise Movie

'Les Miserables' Unscripted: Hugh Jackman, Anne Hathaway On Singing And Being Modest