'The Hobbit' Star Richard Armitage on Becoming a Dwarf and What We'll See in Part 2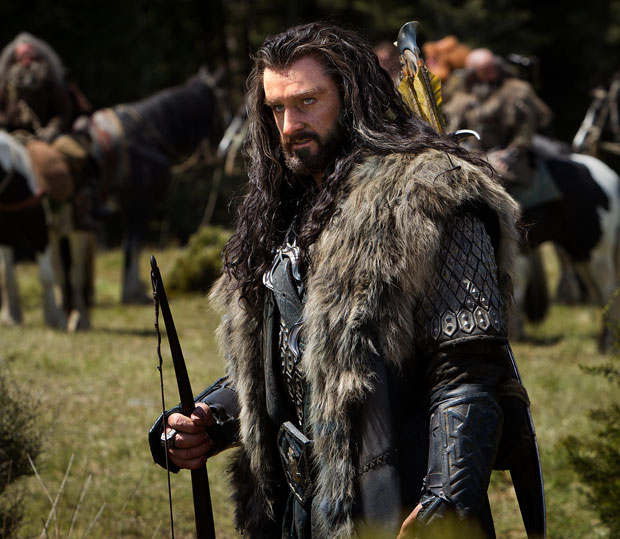 Traveling across the globe to promote a movie is an exhausting endeavor that can quickly suck the enthusiasm out of an actor. The job of throwing oneself into a character, facing the physical challenge of performing each day, making the rounds to discuss a film can be a tiresome, navel-gazing experience. But for Richard Armitage, star of The Hobbit: An Unexpected Journey, it's an absolute joy.
"Doing this with Martin [Freeman] and Andy [Serkis] and Elijah [Wood] and finally getting Ian [McKellen] here, it's just so lovely," Armitage tells Hollywood.com. "I finished at the end of July, but we all finished at different times so people dispersed. I haven't seen Ian in awhile." Armitage grew so close to his Hobbit costar that he even popped by McKellen's pub in London to say hello after they were all done shooting — an experience he highly recommends. "You can probably go see Gandalf pulling pint around the bar!"
Armitage plays Thorin Oakenshield, heir apparent to the dwarven throne and leader to the band of adventurers (including Freeman's Bilbo Baggins) who quest to reclaim the dwarves' home from the evil dragon Smaug. A lot of responsibility for one dwarf, and a lot of demand for Armitage has someone who had to step into the character's shoes. The actor tore through every piece of Tolkien writing he could find, but developing Thorin into a full fleshed character still took work. "Often you find the character through the things they say," Armitage says. "How they talk about other people, how they describe themselves — which is very rare. Also how they are spoken of by other people, including Tolkien himself."
Peter Jackson, Philippa Boyens and Fran Walsh's script for The Hobbit only added to his characterization, Armitage clinging to the "relatively antagonistic relationship" between Thorin, Bilbo, and Gandalf. The script also played up the familial dynamic between the 13 dwarves, which Armitage reveals was even more present early in the script's development. "It was in an early draft that Thorin felt like he didn't want to bring Fili and Kili along on this quest," Armitage says. "He knows the horror that is in that mountain. Leading your own kin to that place… it's such a big thing to do." Luckily, the idea wasn't completely scrapped, but rather infused into the next installment, The Hobbit: A Desolation of Smaug. "Actually, in the film too, they explore the breakdown of that idea. That Thorin doesn't want to continue with his nephews."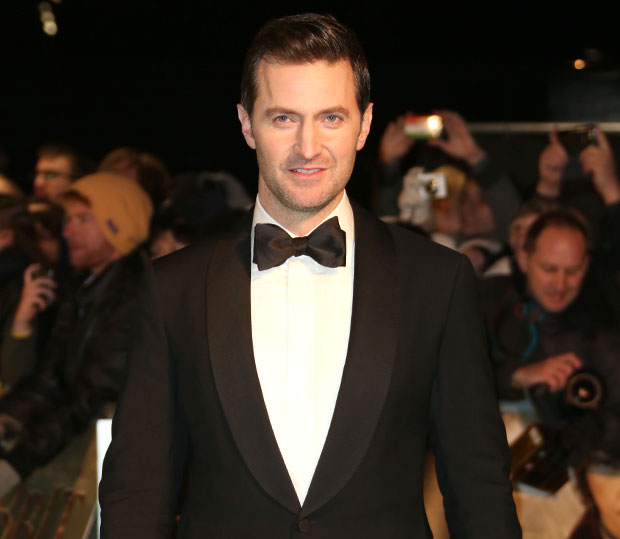 Hoping to beef up Thorin's emotional arc, Armitage discussed with Boyens the addition of backstory elements that would reveal that the dwarf prince lost a loved one. "A princess or someone he was betrothed to," as Armitage describes it. "It was never something they were going to explore but I did keep it in my head that perhaps he was once in love, and it ended with Smaug. He's focused on other things in his life." While Thorin is not the type of character who exudes love or emotion, he is particular and knows what he likes. "I think Thorin loves to smoke with Dwalin," Armitage jokes.
Armitage is looking forward to returning to the guise of Thorin Oakenshield, a makeover that includes four hours worth of prosthetic nose application, a fake forehead that is glued straight into his eyes, and armor that weighs nearly 45 pounds. He'll return to the role when The Hobbit shoots additional footage that will allow the story to be expanded into three films, concluding with The Hobbit: There and Back Again. "The only thing we haven't shot is the end of the story. We haven't shot the battlefield. The final moments of Bilbo and Thorin's relationship." That movie is scheduled for the summer of July 2014, and judging from Armitage's whirlwind experience on An Unexpected Journey, he'll have just as much energy and eagerness for the world of Middle-earth as he does today.
Follow Matt Patches on Twitter @misterpatches
[Photo Credit: Lia Toby/Wenn; Warner Bros]
More:
Remember All the 'Hobbit' Dwarves with This Mnemonic Device
5 'The Hobbit' Clips Show Hungry Dwarves, Vicious Dogs, and One Crazy Gollum — VIDEOS
Beards, Quests, and Wizards, Oh My! Why Most Fantasy Looks like Middle-earth
You Might Also Like:

20 Hot (and Horrifying) Movie Sex Scenes