'The Hobbit': The Dragon Attacks, Bilbo Fights Fire with Shire — VIDEO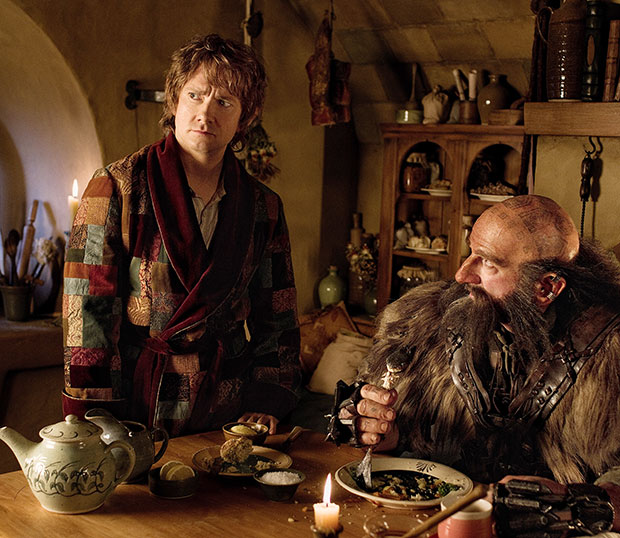 Do not go gentle into that good night — rage, rage against the dying of the light!
Now, you probably recognize this rhyming couplet as one of the most prominent academic challenges facing Rodney Dangerfield at the end of Back to School, but it's a little known fact that the lines actually originate from a poem by Dylan Thomas. Pleading with his dying father, a military man, to "go out fighting," Thomas exemplifies the glory in never backing down, giving it your all, staring down the barrel, and winning one for the Gipper. Such a sentiment is reprised by a poet in his own right Bilbo Baggins in the below TV spot for the upcoming movie The Hobbit. In the clip, Martin Freeman channels the vigor, bravery, and integrity of the good-natured hobbit as he rallies his army of Dwarves to take back their home from the nefarious beast, Smaug the dragon.
See why it might not be so easy for the new fellowship with your first look of Smaug in the below clip. Catch Peter Jackson's The Hobbit: An Unexpected Journey in theaters Dec. 14.
[Photo Credit: James Fisher/Warner Bros]
More:
See 'The Hobbit: An Unexpected Journey' In IMAX at Midnight, Get Stuff — POSTERS
'The Hobbit: An Unexpected Journey' Gets a TV Commercial — VIDEO
'The Hobbit': How Many Dwarves Does It Take to Slay a Dragon? — POSTER

'Friday Night Lights' Movie Not Likely, Says Zach Gilford — EXCLUSIVE

'Les Mis,' 'Dark Knight,' and More: The Best Trailers of 2012