The Hollywood.com Roundtable: Producers Talk Killing Themselves for Someone Else's Vision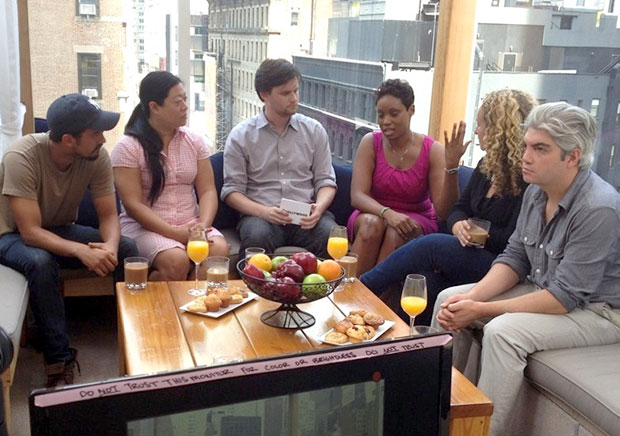 Every movie has producers, and often a long list of them. "Executive," "Associate," "Co-," and straight up "Producer," are a few of the examples of titles you will routinely see scrolling through a film's opening credits. Obviously, these people helped make the film you're about to watch possible, but whereas the work of a writer, a director, and an actor are overt and easily absorbed, the role of producer continues to be one of Hollywood's most ambiguous.
So what does a producer actually do?
To get to the bottom of the movie world's biggest question, Hollywood.com enlisted a group of diverse producers with a wide range of credits to weigh in on the mysterious subject. No one's experiences are the same — from down and dirty tactics to realizing the most ambitious projects to playing buffer between business-minded investors and creative counterparts, each panelist sports their own style of producing that allows them to make a living while bringing great films to life.
Joining Hollywood.com Movies Editor Matt Patches for an exclusive roundtable discussion at New York's Haven Rooftop Bar at the Sanctuary Hotel are Josh Mond (Martha Marcy May Marlene, Simon Killer), Sophia Lin (Take Shelter, Compliance), Michelle-Ann Small (Gun Hill Road, Kiss of Chaos), Riva Marker (What Maisie Knew, The Kids Are All Right), and Jared Goldman (The Magic of Belle Isle, The Wackness). Watch the first of four clips from the interview below or watch the full version right now on RamblingOn.tv.
Follow Matt Patches on Twitter @misterpatches
[Photo Credit: Shoebox Pictures]
More:
Mike Birbiglia Talks 'Sleepwalk with Me' and the Past, Present and Future of Comedy
Arbitrage' Star Susan Sarandon: 'I'm Here Because All My Plans Failed'
'Compliance' Is the Scariest Movie of the Year … Because It's All Too Real