'The Host': We're Giving Away Copies Signed by Stephanie Meyer!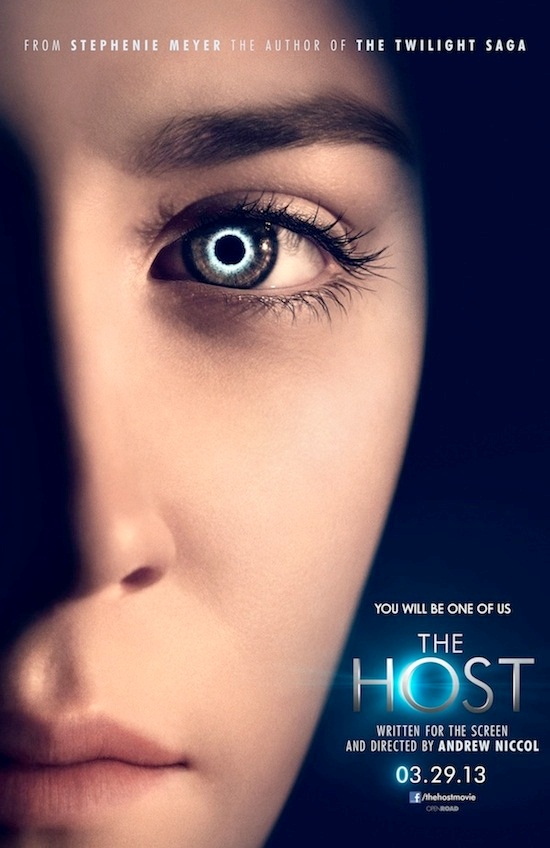 While 2012 marks the release of the final Twilight (farewell, Edward, Bella, and Jacob!), fans of the literary work of author Stephanie Meyer are in luck: there's another adaptation on the way.
The Host, Meyer's riff on classic sci-fi tropes, is currently in production, headed towards a set date of March 29, 2013. Starring Saoirse Ronan (Atonement, Hanna), the movie depicts an alien invasion courtesy of a parasitic extraterrestrial race. Thankfully, not all the aliens are baddies — the being that takes over Melanie (Ronan) embarks on a mission to save the human race.
To better prepare you for the author's latest cinematic phenomenon, Hollywood.com is giving away (2) copies of the original novel signed by Meyer. Summer reading that will keep you in the pop culture know!
Here's What to Do
1) Log onto Twitter today, starting at 11 AM ET
2) Follow @Hollywood_com
3) RT the following phrase: "I can't wait to read Stephanie Meyer's "The Host.' #HollywoodcomHostGiveaway" 
The contest will run until tomorrow, July 6, at 3pm. So tweet now and enter to win! And remember to watch out for more from The Host, leading up to its release next year.
More:
'Twilight' Creator's 'The Host' Trailer: Vampires Out, Glowing-Eye Aliens In
'Twilight: Breaking Dawn – Part 2' Trailer Breaks Records, But It's No 'Dark Knight Rises'
'The Host': Stephanie Meyer Puts an Eclipse in Saoirse Ronan's Eye
[Photo Credit: Open Road Films]
5. PRIZE DRAWING: The potential prize winners will be selected in arandom drawing from all eligible entries received during the Entry Period. Thedrawing will be held by Sponsor on or about July 6, 2012. Sponsor's decisionsare final and binding on all aspects of this Sweepstakes. The potential prizewinners will be notified on or about July 3, 2012 by e-mail or direct twittermessage using the email address/twitter username provided at the time of entryfor the Automatic Entries. Open Road is not responsible if any potential winnernotification is not received for any reason. Failure of any potential prizewinner to respond within five (5) days from such notification referred to abovemay result in disqualification and the selection of an alternate prize winner.
6.CONDITIONS,DISCLAIMERS; RELEASES OF LIABILITY/GENERAL CONDITIONS: By entering this Sweepstakes, each entrant and his orher parent or legal guardian if the entrant is a minor agrees to be bound bythese Official Rules and by all decisions of Sponsor (which decisions are finaland binding on all matters relating to the Sweepstakes, including fact,interpretation, eligibility, procedure and fulfillment), and to comply with allfederal, state and local laws and regulations. In the event of non-compliance, apotential winner will be disqualified and alternate prize winner may be selected.Entries become the property of Sponsor and will not be acknowledged orreturned. None of the Sweepstakes Entities are responsible for incomplete,late, lost, misdirected entries or for any technical malfunction, human orother error, lost/delayed data transmission, omission, interruption, deletion,defect, or line failure in connection with any telephone network, computerequipment, software or any combination thereof. Entries are void if unreadable,inaccurate, incomplete, mutilated, tampered with, forged, produced byautomated/programmed or like process (i.e., other than being manuallykeystroked by entrant or handwritten by entrant), irregular in any way, orotherwise not in compliance with these Official Rules. None of the SweepstakesEntities make any warranties, and hereby disclaim any and all warranties,express or implied, concerning any prize provided in connection with theSweepstakes. Although Sponsorattemptsto ensure the integrity of the Sweepstakes, none of the Sweepstakes Entitiesshall be responsible for the actions of entrants or other individuals inconnection with the Sweepstakes, including entrants' or other individuals'attempts to circumvent these Official Rules or otherwise interfere with theadministration, security, fairness, integrity, or proper conduct of theSweepstakes.The SweepstakesEntitiesare not responsible for injuryor damage to entrant's or to any other person's computer(s), other equipment,or person(s), related to or resulting from participation in the Sweepstakes orany Sweepstakes- or prize-related activity. If, for any reason, the Sweepstakesis not capable of running as planned for any reason, including, withoutlimitation, by reason of damage by computer virus, worms, bugs, tampering,unauthorized intervention, fraud, technical limitations or failures, strikes,bankruptcy or liquidation, marketplace demands, applicable law, unforeseenobstacles, or any other causes which, in the sole opinion of Sponsorcould corrupt, compromise, undermine, orotherwise affect the administration, security, fairness, integrity, viability,or proper conduct of the Sweepstakes, Sponsorreserves the right in its sole and absolute discretion to modify theseOfficial Rulesand/or to cancel,terminate, modify or suspend all or any part of the Sweepstakes, and in theevent of cancellation or termination, to select winner from among all eligiblenon-suspect entries received up to the time of such cancellation, termination,modification, or suspension, as applicable, or by some other means deemed bySponsor in its sole discretion to be fair, appropriate and consistent with thespirit of these Official Rules. Notice of such action by Sponsor will be postedon the Web Site. Proof of submitting entry will not be deemed receipt of suchentry by Sponsor.
IN FURTHERANCE OF THE ABOVE, SWEEPSTAKES ENTITIES SHALL NOT BE RESPONSIBLE ORLIABLE FOR ENTRIES THAT ARE ENTERED BY OTHER THAN HUMAN MEANS (SUCH AS BY ANAUTOMATED COMPUTER PROGRAM OR ANY NON-HUMAN MECHANISM, ENTITY, OR DEVICE), INEXCESS OF THE STATED LIMIT, OR FOR ENTRIES THAT ARE LATE, FORGED, DESTROYED,LOST, MISPLACED, STOLEN, MISDIRECTED, TAMPERED WITH, INCOMPLETE, DELETED,DAMAGED, GARBLED, OR OTHERWISE NOT IN COMPLIANCE WITH THESE OFFICIAL RULES, ANDALL SUCH ENTRIES WILL BE DISQUALIFIED. BY ENTERING THE SWEEPSTAKES, EACHENTRANT AGREES: (I) TO BE BOUND BY THESE OFFICIAL RULES AND BY ALL APPLICABLELAWS AND ALL DECISIONS OF SPONSOR WHICH SHALL BE BINDING AND FINAL; (II) TOWAIVE ANY RIGHTS TO CLAIM ABIGUITY WITH RESPECT TO THE OFFICIAL RULES; (III) TOWAIVE ALL OF HIS/HER RIGHTS TO BRING ANY CLAIM, ACTION, OR PROCEEDING AGAINSTANY OF THE SWEEPSTAKES ENTITIES; AND (IV) TO RELEASE, INDEMNIFY, AND HOLDHARMLESS EACH OF THE SWEEPSTAKES ENTITIES AND EACH OF THEIR RESPECTIVEOFFICERS, DIRECTORS, EMPLOYEES, AGENTS AND REPRESENTATIVES, FROM ANY LIABILITY(INCLUDING, BUT NOT LIMITED TO, LIABILITY FOR ANY PROPERTY LOSS, DAMAGE,PERSONAL INJURY, BODILY INJURY, DEATH, LOSS, EXPENSE, ACCIDENT, DELAY,INCONVENIENCE OR IRREGULARITY), COSTS AND EXPENSES (INCLUDING WITHOUTLIMITATION, REASONABLE OUTSIDE ATTORNEY'S FEES) THAT MAY ARISE IN CONNECTIONWITH: (A) THE ENTRANT'S PARTICIPATION OR INABILITY TO PARTICIPATE IN THESWEEPSTAKES, (B) TYPOGRAPHICAL ERRORS IN THE OFFICIAL RULES OR ANY SWEEPSTAKESPROMOTIONAL MATERIALS, (C) ACCEPTANCE OR POSSESSION, DEFECTS IN, USE, MISUSE ORINABILITY TO USE AN PRIZE (OR ANY COMPONENT THEREOF), (D) ANY CHANGE BY ANYCOMPANY OR ANY OTHER PERSON PROVIDING ANY OF THE COMPONENTS OF A PRIZE DUE TOREASONS BEYOND ANY OF THE SWEEPSTAKES ENTITIES' CONTROL OR AS OTHERWISEPERMITTED HEREUNDER, (E) ANY INTERRUPTIONS IN OR POSTPONEMENT, CANCELLATION, ORMODIFICATION OF THE SWEEPSTAKES, (F) HUMAN ERROR, (G) INCORRECT OR INACCURATETRANSCRIPTION, RECEIPT OR TRANSMISSION OF ANY PART OF THE ENTRY (INCLUDING,WITHOUT LIMITATION, THE ENTRY INFORMATION OR ANY PARTS THEREOF), (H) ANYTECHNICAL MALFUNCTIONS OR UNAVAILABILITY OF THE SWEEPSTAKES SITE, POSTAL OFFICEOPERATIONS OR ANY TELEPHONE NETWORK, COMPUTER ONLINE SYSTEM, COMPUTER DATINGMECHANISM, COMPUTER EQUIPMENT, SOFTWARE, OR INTERNET SERVICE PROVIDER UTILIZEDBY ANY OF THE SWEEPSTAKES ENTITIES OR BY AN ENTRANT, (I) INTERRUPTION ORINABILITY TO ACCESS THE SWEEPTAKES, ANY SWEEPSTAKES-RELATED WEB PAGES, OR ANYONLINE SERVICE VIA THE INTERNET DUE TO HARDWARE OR SOFTWARE COMPATIBILITYPROBLEMS, (J) ANY DAMAGE TO ENTRANT'S (OR ANY THIRD PERSON'S) COMPUTER AND/ORITS CONTENTS RELATED TO OR RESULTING FROM ANY PART OF THE SWEEPSTAKES, (K) ANYLOST/DELAYED DATA TRANSMISSIONS, OMISSIONS, INTERRUPTIONS, DEFECTS, AND/OR ANYOTHER ERRORS OR MALFUNCTIONS, (L) ANY WRONGFUL, NEGLIGENT, OR UNAUTHORIZED ACTOR OMISSIONS ON THE PART OF ANY OF THE SWEEPSTAKES ENTITIES, OR ANY OF THEIRAGENTS OR EMPLOYEES, OR (M) ANY OTHER CAUSE, CONDITION OR EVENT WHATSOEVER BEYONDTHE CONTROL OF ANY ONE OR MORE OF THE SWEEPSTAKES ENTITIES. EACH WINNER HEREBYACKNOWLEDGES THAT THE SWEEPSTAKES ENTITIES HAVE NEITHER MADE NOR ARE IN ANYMANNER RESPONSIBLE OR LIABLE FOR ANY WARRANTY, REPRESENTATION OR GUARANTEE,EXPRESS OR IMPLIED, IN FACT OR IN LAW, RELATIVE TO ANY PRIZE OR COMPONENTTHEREOF, INCLUDING ANY EXPRESS OR IMPLIED WARRANTIES PROVIDED BY ANY OF THEPRIZE SUPPLIERS ASSOCIATED WITH THIS SWEEPSTAKES.
Ifa prize winner is a resident of a jurisdiction that deems him/her to be aminor, his/her respective parent or legal guardian will also be required tosign any document which the prize winner is required to sign pursuant to theseOfficial Rules. Failure to complete, sign and return all required documentationwithin fourteen (14) days of delivery to potential winner's claimed address orreturn of prizes as undeliverable may result in disqualification and selectionof an alternate winner, at the sole discretion of Sponsor.
Byentering this Sweepstakes, unless prohibited by law, each potential winnerconsents to use by Sponsor of his/her respective first name and last initialfor advertising or publicity purposes in connection with the Sweepstakes only.
7.CONDUCT:THE OFFICIAL RULES WILL BE POSTED ATTHE SWEEPSTAKES SITE THROUGHOUT THE ENTRY PERIOD AND/OR YOU CAN REQUEST A COPYOF SUCH RULES VIA MAIL IN ACCORDANCE WITH SECTION 11d BELOW. BY ENTERING ANDPARTICIPATING IN THIS SWEEPSTAKES, EACH ENTRANT REPRESENTS AND WARRANTS THATALL INFORMATION PROVIDED BY ENTRANT IN CONNECTION WITH THE SWEEPSTAKES IS TRUE,ACCURATE AND COMPLETE. SPONSOR RESERVES THE RIGHT, AT ANY TIME AND AT ITSSOLE DISCRETION, TO DISQUALIFY AND/OR DEEMINELIGIBLE TO PARTICIPATE IN THIS SWEEPSTAKESANY INDIVIDUAL IT SUSPECTS: TO BE TAMPERING WITH THE ENTRY PROCESS ORTHE OPERATION OF THE SWEEPSTAKES OR THE WEB SITE; TO BE ACTING IN VIOLATION OFTHE OFFICIAL RULESTO BE ACTING IN BADFAITH OR IN A DISRUPTIVE MANNER, OR WITH THE INTENT TO ANNOY, ABUSE, THREATENOR HARASS ANY OTHER PERSON ANY ATTEMPT BY AN ENTRANT OR ANY OTHER INDIVIDUAL TODELIBERATELY DAMAGE ANY INTERNET SITE OR OTHERWISE UNDERMINE THE LEGITIMATEOPERATION OF THE SWEEPSTAKES IS A VIOLATION OF THESE OFFICIAL RULES AS WELL ASCRIMINAL AND CIVIL LAWS. SHOULD SPONSOR BELIEVE OR BECOME AWARE THAT SUCH ANATTEMPT HAS BEEN, IS BEING, OR WILL BE MADE, SPONSORRESERVES THE RIGHT TO SEEK REMEDIES ANDDAMAGES FROM ANY RESPONSIBLE ENTRANT(S) AND OTHER RESPONSIBLE INDIVIDUAL(S) INTHE ATTEMPTED DAMAGE TO THE FULLEST EXTENT PERMITTED BY LAW, INCLUDING WITHOUTLIMITATION CRIMINAL PROSECUTION.
8.RELEASEAND INDEMNIFICATION: BY ENTERINGTHE SWEEPSTAKES, ENTRANTS RELEASE AND HOLD EACH OF THE SWEEPSTAKES ENTITIES ANDEACH OF THEIR OFFICERS, DIRECTORS, EMPLOYEES, AGENTS AND REPRESENTATIVESHARMLESS FROM AND AGAINST ANY AND ALL LOSSES,DAMAGES, RIGHTS, CLAIMS, AND ACTIONS OF ANY KIND ARISING IN WHOLE OR IN PART,DIRECTLY OR INDIRECTLY, FROM THE SWEEPSTAKES OR PARTICIPATION IN ANYSWEEPSTAKES-RELATED ACTIVITY , OR RESULTING DIRECTLY OR INDIRECTLY, FROMACCEPTANCE, POSSESSION, USE, OR MISUSE OF ANY PRIZE AWARDED IN CONNECTION WITHTHE SWEEPSTAKES, INCLUDING WITHOUT LIMITATION PERSONAL INJURY, DEATH, AND/ORPROPERTY DAMAGE, AS WELL AS CLAIMS BASED ON PUBLICITY RIGHTS, DEFAMATION,AND/OR INVASION OF PRIVACY.
9.LIMITATIONOF LIABILITY: IN NO EVENT WILLANY OF THESWEEPSTAKES ENTITIESBE RESPONSIBLE OR LIABLE FOR ANY DAMAGES ORLOSSES OF ANY KIND, INCLUDING WITHOUT LIMITATION DIRECT, INDIRECT, INCIDENTAL,CONSEQUENTIAL, OR PUNITIVE DAMAGES, ARISING OUT THE ENTRANT'S ENTRY ORPARTICIPATION IN THE SWEEPSTAKES,OF ANY ACCESS TO AND/OR USE OF THE SWEEPSTAKESSITE,OR THE ACCEPTANCE, POSSESSION,USE, OR MISUSE OF, OR ANY HARM RESULTING FROM THE ACCEPTANCE, POSSESSION, USEOR MISUSE OF, OR PARTICIPATION IN, ANY PRIZE AWARDED IN CONNECTION WITH THESWEEPSTAKES.WITHOUT LIMITING THEFOREGOING,ALL PRIZES, ARE PROVIDED"AS IS" WITHOUT WARRANTY OF ANY KIND, EITHER EXPRESS OR IMPLIED,INCLUDING WITHOUT LIMITATION THE IMPLIED WARRANTIES OF MERCHANTABILITY, FITNESSFOR A PARTICULAR PURPOSE, AND NON-INFRINGEMENT. SOME JURISDICTIONS MAY NOTALLOW LIMITATIONS OR EXCLUSION OF LIABILITY FOR INCIDENTAL OR CONSEQUENTIALDAMAGES OR EXCLUSION OF IMPLIED WARRANTIES, SO SOME OF THE ABOVE LIMITATIONS OREXCLUSIONS MAY NOT APPLY TO YOU. CHECK YOUR LOCAL LAWS FOR ANY RESTRICTIONS ORLIMITATIONS REGARDING THESE LIMITATIONS OR EXCLUSIONS.
10. GOVERNINGLAW/DISPUTE RESOLUTION: TheSweepstakes and these Official Rules are governed by and shall be construed inaccordance with the substantive laws of the State of Florida (as distinguishedfrom the choice of law rules) applicable to contracts made and performedentirely in Florida and where the relevant contacts are with such state.Except where prohibited, by participating inthe Sweepstakes, you agree that: (a) any action at law or in equity arising outof or relating to these Official Rules or the rights and obligations of anyentrant and/or Sponsor shall be filed exclusively in the courts of Palm BeachCounty, Florida and you hereby consent and submit to the personal and exclusivejurisdiction of such courts for the purposes of litigating any such action, ANDANY RIGHT TO A TRIAL BY JURY IS HEREBY WAIVED, (b) any and all disputes,claims, and causes of action arising out of or connected with these OfficialRules, and/or the rights and obligations of any entrant and/or Sponsor shall beresolved individually, without resort to any form of class action, and (c) anyand all claims, judgments and awards shall be limited to actual out-of-pocketcosts incurred, including costs associated with participating in thisSweepstakes but in no event attorneys' fees; and (d) under no circumstanceswill any entrant be permitted to obtain awards for and hereby waives all rightsto claim punitive, exemplary, special, incidental, indirect and consequentialdamages and any other damages (whether due to negligence or otherwise), otherthan for actual out-of-pocket expenses, and any and all rights to have damagesmultiplied or otherwise increased.
11.MISCELLANEOUS:
(a)Privacy:Informationsubmitted in connection with an Online Entry only will be treated in accordancewith these Official Rules and Sponsor's Privacy Policy (as may be amended fromtime to time), currently located at www.Hollywood.com provided, that in the eventof any conflict between these Official Rules and such Privacy Policy, the termsand conditions of these Official Rules shall prevail.
(b)By entering this Sweepstakes via the Automatic Entrymethod, each such entrantagrees thatSponsor may share such entrant's personal information withthird parties solely for purposes of prizefulfillment in the event that the entrantis chosen as awinner of theSweepstakes, or in response to an opt-in request by the entrant to receive electronicemail communications from such third party(ies).
(c)Winner's List:For any legally-required list of winners, send a self-addressed stampedenvelope after July 6, 2012 to: Winner's List, The "The Host" Sweepstakes,Hollywood.com, Inc.,560 Broadway, Ste 404, New York, NY. Requests forWinners List must be received within six (6) weeks following the end of theEntry Period. VT residents may omit return postage.
(d)RuleRequests: To receive a copy ofthese Official Rules, send a self-addressed, stamped envelope to: OfficialRules, The "The Host" Sweepstakes, Hollywood.com, Inc., 560 Broadway, Ste 404,New York, NY. Requests for Official Rules must be received during the EntryPeriod.WA and VT residents may omitreturn postage.