'The Hunger Games: Catching Fire' Trailer Reveals a Sequel Much Better Than the Book
Forget everything you know about The Hunger Games, because the first movie was "child's play."
The Hunger Games: Catching Fire trailer, seen above and revealed at Comic-Con this weekend, leaves us hopeful that the sequel will redeem the second Suzanne Collins book in the Hunger Games  trilogy from being not quite as good as the first. Here's how: 
1. Move over, Katniss: CGI is the real star.
The trailer for Catching Fire hints at unbelievably impressive CGI special effects with animations embodying the futuristic city of Panem. Although we don't see much of the 75th Hunger Games' arena, viewers can anticipate a clock-like set up with different sections composed of various "horrors" unleashed by the hour. Look forward to acid fog, blood rain, a tidal wave, carnivorous monkeys, "jabberjays" that repeat the sounds of loved ones screaming in terror, and even more CGI-filled fun.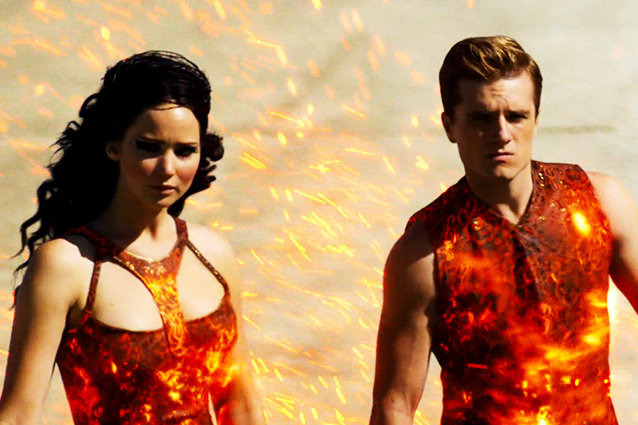 2. Liam Hemsworth sets the screen on fire.
Many fans agree that the biggest disappointment of the first movie is that Katniss' prime love interest Gale (played by Jennifer Lawrence and the steamy Liam Hemsworth, respectively) barely has any screen time. Josh Hutcherson's Peeta is cute, but lezbehonest… he can't hold a candle to the rugged and chiseled Gale HAWThorne. Thankfully, the second movie brings us a whole lotta Hemsworth (think shirtless flogging in the village square) and even a little kissing action (as seen in the teaser trailer). Team Gale for life!
3. Plutarch Heavensbee: Philip Seymour Hoffman's next Oscar-winning role?
As if The Capitol wasn't corrupt enough, Donald Sutherland's slimy President Snow is joined in Catching Fire by the positively peeved Head Gamemaker, Plutarch Heavensbee, played by Philip Seymour Hoffman. There's no denying it: any movie with PSH is bound for greatness.
The Hunger Games: Catching Fire
ignites theaters on November 22, and these games, also starring
Lenny Kravitz
,
Elizabeth Banks
, and
Jena Malone
, are "definitely going to be different." In the best possible way. 
Follow Lauren On Twitter @Lopay92 | Follow Hollywood.Com On Twitter @Hollywood_com
More:
11 Quarter Quell Character Posters From 'The Hunger Games: Catching Fire' 
'The Hunger Games: Catching Fire' Creates Classy Character Portraits
'Catching Fire' Teaser Trailer: The 11 Best Moments
---
From Our Partners


Battle of the Bikini Bodies (Celebuzz)


Complete Guide to Strippers in Movies and TV (Vh1)