Which 'Hunger Games' Star Would Win in the 'Saturday Night Live' Arena?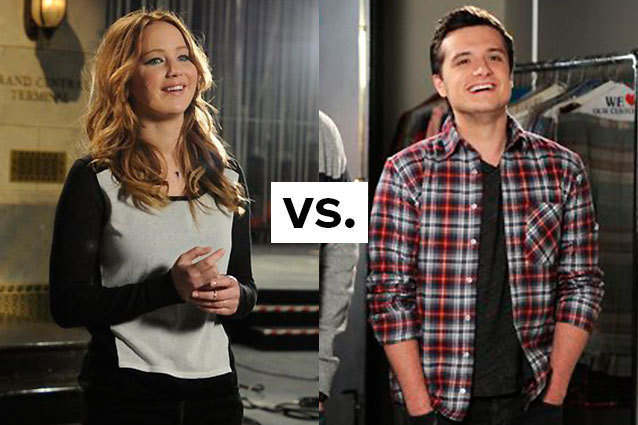 NBC
Yes, we all know that Jennifer Lawrence and Josh Hutcherson know how to kick some serious ass in the Panem arena, but that's just child's play. The toughest arena out there is the infamous Saturday Night Live stage in Studio 8H. Many go in, but only few come out with their heads held high.
Competitors come from far and wide to wield their comedy swords against the fierce beast that is Lorne Michaels, eager to prove that they have what it takes to be both an esteemed performer and a relatable human being. Hunger Games stars such as Lawrence, Woody Harrelson, Julianne Moore, and Lenny Kravitz have taken to the stage before, and soon their fellow dystopia resident Hutcherson is set to master comedy on a chilly Saturday night. While all of our Hunger Games actors might claim to have a funny bone or two, only one can come out victorious. So who will it be?
Jennifer Lawrence
Some might jump the gun and announce J-Law the victor without a second thought, but unfortunately, her natural good humor might just be tricking us into believing that she is the funniest of them all. Lawrence has what it takes to tackle the media and film, but her performance on SNL in January 2013 proved that nerves can get the best of all of us. After handling her monologue with questionable capability, Lawrence exhibited a handful of sketches that were surprisingly awkward. However, she delivered her sketch dressed up as dog quite well. Lawrence is one of those actors who doesn't care if she looks silly (or so we're lead to believe), so her confidence adds 10 points to whatever she's doing.
Woody Harrelson
Don't let the resident Hunger Games sourpuss fool you — Harrelson knows how to make a crowd laugh. Not only did he host in 1989 before either Lawrence or Hutcherson were born, but he took the stage by storm once again in 1992. During his first stint, his monologue consisted of a song mostly inspired from reading a thesaurus, and in 1992 he showed that he wasn't afraid to show some skin when he whipped off his shirt in a sketch aptly titled, "Take off Your Shirt." Not to mention that he was aided by the comedy gold that is Phil Hartman, Jon Lovitz, Kevin Nealon, and Nora Dunn.
Lenny Kravitz
Kravitz is definitely the wildcard in the pack. The singer and actor has never hosted the late-night variety show, but he has been the musical guest twice and has cameoed in sketches. Additionally, he showed his comedy skills when he played a considerable part in Jimmy Kimmel's "Handsome Men's Club" sketch on his talk show. However, until we're able to see Kravitz take on the role of host, we're not sure that he would be able to beat out the other tributes.
Julianne Moore
Moore entered the battlefield in 1998 and proved that she can hold her own up against the likes of Tim Meadows, Ana Gasteyer, Molly Shannon, Cheri Oteri, and Darrell Hammond. Moore made her mark in "The Ladies' Man" sketch where she appeared in a sultry red dress in a bed alongside Meadows, and in the famous Gasteyer and Shannon sketch "The Delicious Dish" where she skillfully bantered on the radio as a brainwashed cult member. (Not to mention that she was paired up with musical guest Backstreet Boys, who were at their prime in the late '90s. Anyone that's deemed good enough for Backstreet Boys in 1998 must be doing something right.)
Josh Hutcherson
This tribute is certainly the newest to the battle (and the youngest), but we have high hopes in his comedy skills. In his promos for SNL, he seemed like a complete natural next seasoned Bobby Moynihan. Moynihan puts him through the "SNL Initiation" to see if he's up for the challenge, and the good news is that he passes all of the tests with flying colors, which makes us think that he'll be quite the competitor. 
Winner: Julianne Moore (mostly because we think she has the experience to handle anything), although we can't count out Hutcherson until this weekend when he hosts SNL alongside musical guest HAIM on Nov. 23 on NBC.